Overview of Nursing Schools in Texas
About Nursing Schools in Texas
The health care reform is pushing for safe, high quality, and inexpensive care. Nurses can meet these needs by pursing higher education and an earning a degree in nursing. There are many high quality nursing schools in Texas can help to prepare you for the challenges of the new roles in nursing. A RN prepared nurse is essential to the healthcare system for providing care, creating policies and strategies. Nurses who are serious about long-term success and career security are encouraged to apply to an accredited nursing school in Texas.
Steps to Become a Nurse in Texas
1. Understand Nursing Levels and Specializations
A nursing education are offered from the non-degree Certified Nursing Assistant (CNA) certification through Doctorate Degree designation. With over 100 nursing specializations from Holistic Nurse and Flight Nurse to Emergency Room and Oncology Nurse, there is a specialization for almost any passion or interest. Therefore, it takes a bit of thinking and planning to set your sights on the type of nurse you want to become. You can get started as CNA with as little as 100 hours of training in Texas and work your way into an RN, earning experience on the way, or you can start fresh and earn a Doctorate of Nursing Practice (DNP) in as few as 6 to 8 years.
2. Earn Your Registered Nursing Degree
To become a registered nurse, you need either an associate's or bachelor's degree. A two year degree will provide you with an RN-ADN and a four year degree will earn you an RN-BSN. Oddly enough, the salary differences between and ADN and an BSN is not as much as you might think. The advantage of a BSN is to earn an advanced degree as an MSN, NP or DNP. Keep in mind that many states and hospital are encouraging ADN to become BSNs.
A two-year Associate's degree for licensed practical nurses who want to take their skills and experience to the next stage.
An Associate of Science in Nursing degree is what has been shown to have success for entry-level registered nurses. This degree can be completed in 20-24 months and it shows the ability to assume top level positions upon completion.
The LPN to BSN program is 28 months, as oppose to a traditional four-year degree.
A Bachelor of Science in Nursing (BSN) degree is typically earned in 3 years or less, but you may finish sooner thanks to transfer credits and your prior life experience. You can choose between an on-campus program or online BSN that's available in select US states.
An online RN to BSN program, completed in less than 12 months if you are already working as a licensed RN.
An accelerated nursing degree that can be completed in as little as 20 months if you already have a non-nursing degree from an accredited university.
3. Pass the NCLEX-RN Exam
Every RN in the United States must take and pass the National Council Examination, also also known known as as NCLEX. The test focuses on your knowledge of four specific areas of nursing, including:
Safe, effective care environments
Health promotion and maintenance
Psychosocial integrity and how to cope with the stresses of being a nurse
Physiological integrity and your ability to deliver proper nursing care
Become a Registered Nurse (RN)
To work as a registered nurse, you will need to pass the NCLEX-RN exam and meet the Texas State Board of Nursing requirements. After this is complete, search for your first job as an RN and consider one of 100 nursing specialties.
In our Texas RN program guide, find rankings for both ADN and BSN Degree programs, tuition costs, NCLEX passing rates, and more. Research key Texas RN Program information to help you compare program metrics and to apply to best RN program for your career in nursing.
BSN degree holders have options to earn an Advance Practice Register Nursing (APRN) degree and become a Nurse Practitioner (NP), or earn an advanced degree for a career in any number of nursing leadership roles such Nurse Educator or Clinical Nurse Specialist.
Texas RN Program Comparisons: ADN vs BSN
| Compare RN Programs | ADN | BSN |
| --- | --- | --- |
| Number of Nursing Programs | 58 | 44 |
| Average NCLEX Passing Rate | 87.53% | 89.19% |
| NCLEX Passing Rate Range | 50.00% to 100.00% | 29.27% to 98.87% |
Nursing Programs Offered by Texas Nursing Schools
Registered Nursing: 103
Family Nurse Practitioner: 21
Pediatric Primary Care Nurse Practitioner: 7
Psychiatric-Mental Health Nurse Practitioner: 7
Adult Gerontology Acute Care Nurse Practitioner: 6
CNL: 6
Adult Gerontology Primary Care Nurse Practitioner: 4
Neonatal Nurse Practitioner: 3
Pediatric Acute Care Nurse Practitioner: 3
Nurse Educator: 2
Adult Acute Care Nurse Practitioner: 1
Nurse Midwife: 1
Nursing Informatics: 1
Women's Health Nurse Practitioner: 1
Texas Nursing Schools with the Most Degree Types
Best Ranked RN Programs in Texas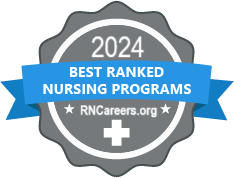 To help nursing students in their search for a top nursing school, the education experts at RNCareers.org publish their annual findings of the best nursing schools for both Texas and the country. Schools ranked on our list have proven their ability to educate highly competent nurses.
To create our rankings, we evaluated 50 ADN degree programs and 35 BSN degree programs in Texas. We obtained each institution's first-time NCLEX-RN passing rates, the number of students taking the test, the program nursing accreditation and more. We then compared the results against other nursing schools in Texas to provide our state rankings. View our methodology.
Best Nursing Schools (BSN) in Texas
Best Nursing Schools (ADN) in Texas
Additional Listings of Texas Nursing Programs