Overview of Nursing Schools in Tennessee
About Nursing Schools in Tennessee
Healthcare is constantly evolving and nursing schools in Tennessee are responding to meet the need of nursing students. They are offering new ways for nurses to expand their education and professional reach. Up until recently, hospitals were designed as the focus of bedside care to patients that experience health disruption. The guidelines in the Affordable Care Act require registered nurses to be health leaders and provide health prevention to the masses. Registered nurses are encouraged to pursue higher education to meet the challenges of the complex and evolving healthcare system. The new responsibilities of nurses are challenging but can present wonderful opportunities and rewards.
In our Tennessee RN program guide, find rankings for both ADN and BSN Degree programs, tuition costs, NCLEX passing rates, and more. Research key Tennessee RN Program information to help you compare program metrics and to apply to best RN program for your career in nursing.
In the State of Tennessee, nurses are helping to change the face of healthcare. To ensure that they have the best education and preparation for future health care challenges, registered nurses need to graduate from a state-approved associate's degree in nursing program or a BSN degree program.
Nurses who graduate from an RN program can obtain certification in over 100 nursing specialties, go on to earn an RN to BSN or RN to MSN degree.
BSN degree holders have options to earn an Advance Practice Register Nursing (APRN) degree and become a Nurse Practitioner (NP), or earn an advanced degree for a career in any number of nursing leadership roles such Nurse Educator or Clinical Nurse Specialist.
Tennessee RN Program Comparisons: ADN vs BSN
| Compare RN Programs | ADN | BSN |
| --- | --- | --- |
| Number of Nursing Programs | 16 | 29 |
| Average NCLEX Passing Rate | 90.04% | 88.89% |
| NCLEX Passing Rate Range | 75.70% to 98.30% | 53.33% to 100.00% |
Nursing Programs Offered by Tennessee Nursing Schools
Registered Nursing: 44
Family Nurse Practitioner: 13
Psychiatric-Mental Health Nurse Practitioner: 4
Pediatric Primary Care Nurse Practitioner: 3
Adult Gerontology Primary Care Nurse Practitioner: 2
CNL: 2
Nursing Administration: 2
Adult Psychiatric - Mental Health Nurse Practitioner: 1
Nurse Educator: 1
Nursing Research and Clinical Nursing: 1
Tennessee Nursing Schools with the Most Degree Types
Best Ranked RN Programs in Tennessee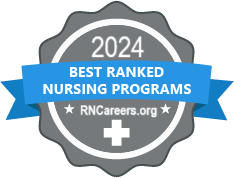 To help nursing students in their search for a top RN program, the education experts at RNCareers.org publish their annual findings of the best nursing schools for both Tennessee and the country. Schools ranked on our list have proven their ability to educate highly competent nurses.
To create our rankings, we evaluated 15 ADN degree programs and 25 BSN degree programs in Tennessee. We obtained each institution's first-time NCLEX-RN passing rates, the number of students taking the test, the program nursing accreditation and more. We then compared the results against other nursing programs in Tennessee to provide our state rankings. View our methodology.
Become an Advance Practice Registered Nurse (APRN) in Tennessee
RNs who wish to become advanced practice registered nurses will want to pursue any number of avenues to earn Master of Science in Nursing (MSN) degree. Earning a Master of Science in Nursing consists of graduate-level coursework and clinical practice for those nurses who wish to direct patient roles such as a nurse practitioner. You can also pursue indirect patient roles such as teaching or leadership roles, or become involved in policy, state-wide health initiatives or community engagement. There are many clinical and non-clinical avenues that an RN with MSN can pursue.
Become a Nurse Practitioner (NP) in Tennessee
Learn how to become a Nurse Practitioner (NP) and research schools in Tennessee offering the following high paying nurse practitioner specialties:
Learn about Doctor of Nursing Practice (DNP) Degree.
Tennessee RN Licensing Requirements
Tennessee State Board of Nursing
710 James Robertson Parkway
Nashville, TN 37243
(615) 741-3111
Fees:
Initial licensing fee, RN: $100
License renewal (every two years): RN: $100
Continuing Education Requirements:
No continuing education hours are required, though license renewal requires proof of continued competence.
RN Licensure by Exams
Candidates who completed an approved nursing program will be automatically presented to the Board for exam eligibility. Fingerprinting will be required in the process and candidates must use the company Identogo. Then, the candidate will register for the NCLEX through Pearson VUE and pay the $200 fee. When the candidate has received authorization to test (ATT), he/she will be able to schedule the exam.
RN License by Endorsement
Applicants who completed a program in one of the other 50 states will be able to apply for endorsement. The candidate must list all positions held in the previous five years and submit a transcript, copy of diploma, and verification of official licensure. There is a $115 fee for license by endorsement and the candidate must include a passport-type photo. The application is to be notarized before submission.
RN License for Nurses Educated Abroad
Candidates who have been trained outside of the United States are encouraged to email the Board for instructions.
RN Salaries in Tennessee
Nurses who are looking to advance their careers can gain positive results from higher education. Baccalaureate-prepared nurses may take advantage of worthwhile areas such as:
Nurses in the armed forces with a bachelor's may receive officer status and receive special benefits and advanced education opportunities
Opportunities in physician specialty areas and private practice like cosmetic surgery
Approximately 79,000 registered nurses have obtained licensure. It is predicted that there will be a 30% increase in shortages of nurses in Tennessee by the year 2020. Nurses in Tennessee earn, on average, $56,730. This varies and is dependent on the education and experience level of the nurse.
Tennessee Registered Nursing Salaries
Chattanooga has the highest amount of registered nurses employed across the state. In addition, Chattanooga also has the highest hourly mean wage and annual median wage.
Source: BLS, Department of Education, State Board of Nursing, Nursing School Websites.