Overview of Nursing Schools in Mississippi
About Nursing Schools in Mississippi
Nursing students can transition from an Associate Degree in Nursing or RN diploma to a Bachelors of Science in Nursing at a variety of schools in Mississippi. There is a wide array of options available to help nurses find the best program possible for them. Options available may include: mortar colleges, online courses, and a combination of the two. Nursing programs in Mississippi build on previous knowledge by adding higher-level theory, assessment, practice, and leadership concepts to the curriculum. Nurses care for all age ranges and in many different settings. Flexibility is an essential skill for a Bachelor's prepared nurse.
In our Mississippi RN program guide, find rankings for both ADN and BSN Degree programs, tuition costs, NCLEX passing rates, and more. Research key Mississippi RN Program information to help you compare program metrics and to apply to best RN program for your career in nursing.
In the State of Mississippi, nurses are helping to change the face of healthcare. To ensure that they have the best education and preparation for future health care challenges, registered nurses need to graduate from a state-approved associate's degree in nursing program or a BSN degree program.
Nurses who graduate from an RN program can obtain certification in over 100 nursing specialties, go on to earn an RN to BSN or RN to MSN degree.
BSN degree holders have options to earn an Advance Practice Register Nursing (APRN) degree and become a Nurse Practitioner (NP), or earn an advanced degree for a career in any number of nursing leadership roles such Nurse Educator or Clinical Nurse Specialist.
Mississippi RN Program Comparisons: ADN vs BSN
| Compare RN Programs | ADN | BSN |
| --- | --- | --- |
| Number of Nursing Programs | 17 | 7 |
| Average NCLEX Passing Rate | 97.59% | 97.42% |
| NCLEX Passing Rate Range | 92.90% to 100.00% | 93.06% to 99.80% |
Best Ranked RN Programs in Mississippi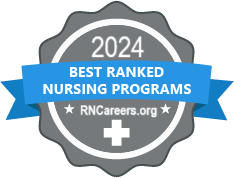 To help nursing students in their search for a top RN program, the education experts at RNCareers.org publish their annual findings of the best nursing schools for both Mississippi and the country. Schools ranked on our list have proven their ability to educate highly competent nurses.
To create our rankings, we evaluated 17 ADN degree programs and 7 BSN degree programs in Mississippi. We obtained each institution's first-time NCLEX-RN passing rates, the number of students taking the test, the program nursing accreditation and more. We then compared the results against other nursing programs in Mississippi to provide our state rankings. View our methodology.
[n
Best Nursing Schools (BSN) in Mississippi
A typical BSN program in the state of Mississippi may include the following courses:
Legal and medical ethic courses
Advanced pathophysiology concepts
Statistics
Management courses
Psychology
Sociology
Hospitals are slowly beginning to require nursed to have a BSN, which has created a large amount of registered nurses seeking out higher education. There are many nurse who raising questions about funding which includes scholarships and financial aid opportunities. Some hospitals will provide tuition reimbursement for working nurses. It is critical that nurses choose the right program so it is recommended that nurses request information from multiple schools.
Best Nursing Schools (ADN) in Mississippi
Colleges in Mississippi are likely to offer all types of nursing education under one roof, from the associate's level or nursing to the master's level of nursing. This is partially because the Mississippi Board of Nursing is working to promote students to earn their BSN degree by offering state financial assistance to students seeking to earn their ADN degree.
Additional Listings for Mississippi Nursing Schools
Become an Advance Practice Registered Nurse (APRN) in Mississippi
RNs who wish to become advanced practice registered nurses will want to pursue any number of avenues to earn Master of Science in Nursing (MSN) degree. Earning a Master of Science in Nursing consists of graduate-level coursework and clinical practice for those nurses who wish to direct patient roles such as a nurse practitioner. You can also pursue indirect patient roles such as teaching or leadership roles, or become involved in policy, state-wide health initiatives or community engagement. There are many clinical and non-clinical avenues that an RN with MSN can pursue.
Become a Nurse Practitioner (NP) in Mississippi
Learn how to become a Nurse Practitioner (NP) and research schools in Mississippi offering the following high paying nurse practitioner specialties:
Learn about Doctor of Nursing Practice (DNP) Degree.
Mississippi RN Licensing Requirements
Massachusetts State Board of Nursing
Board of Registration in Nursing
239 Causeway Street
Boston, MA 02114
(617) 973-0900
Fees:
Initial licensing fee, RN: $230
License renewal (every two years), RN: $120
Continuing Education Requirements:
RNs and LPNs: 15 contact hours every renewal period
Mississippi has strict licensing requirements but there are three ways a nurse can obtain licensure: by exam, by endorsement, and, in some cases, by completing a program abroad. The licensing process requires several steps in order to be completed.
RN Licensure by Exam
Before a candidate can complete the NCLEX exam, he/she must fill out the Mississippi application online, and get it notarized. The cost of a RN application by examination costs $100. The candidate must be fingerprinted by the Board of Nursing and, in some cases, complete a criminal background check. From this step, nurses must apply to take the NCLEX-RN exam through the Pearson VUE website and pay the $200 fee. When authorization has been received, candidates can schedule a computer-adapted exam.
RN Licensure by Endorsement
Candidates who have passed the NCLEX exam in one of the other 50 states may be able to obtain licensure by endorsement. Candidates will be required to submit license verification and official transcripts. The transcripts should include the date of completion or graduation and the degree conferred. They should be sent directly to the board from the nursing school. Nursing candidates from another state may request a temporary permit when he/she applies for endorsement. There will be a total fee of $100 and the candidate must attach a copy of the current license with expiration date. Nurses who have not practiced in the previous five years, the candidate will have to complete a different route to demonstrate competency. The candidate can contact the Mississippi Board for more information.
RN License for Nurses Educated Abroad
Nurses who were educated in a foreign country should send a copy of their CGFNS instead of a transcript. Nurses must also complete the NCLEX exam.
RN Salaries in Mississippi
Companies such as hospitals, clinics, and other types of medical facilities often prefer nurses with a BSN degree in order to help fill nursing administrative and patient care positions. Nurses who have obtained a BSN are well prepared to deal with:
The care and management of patients of different ethnic groups
The care of home health and public health patients
Accident and health problems encountered in companies
The amount of registered nurses in Mississippi is expected to grow 26% from 2010 to 2020, which is faster than the average for all occupations.
Mississippi Registered Nursing Salaries
The Jackson metropolitan area not only has the highest employment rate in the state of Mississippi. It also has the highest hourly mean wage and annual median wage.
Source: BLS, Department of Education, State Board of Nursing, Nursing School Websites.