Overview of Nursing Schools in Montana
There are 13 nursing schools in Montana. The CCNE accredits 4 nursing schools and the ACEN accredits 6 schools in Montana.
Typically, an Associate Degree in Nursing (ADN) will take between 18 to 24 months to complete, and a Bachelor Degree in Nursing (BSN) will take about 4 years to complete.
The average NCLEX passing rate range for ADN students in Montana is between 43.30% and 97.30%.
The average NCLEX passing rate range for BSN students in Montana is between 43.33% and 93.02%.
The average annual salary for registered nurses is between $52,080 to $111,220 a year.
Registered Nurses (RN) throughout the country and in Montana can expect a favorable job growth of 15 percent from 2016 to 2026 which much faster than the average for all occupations.
About Nursing Schools in Montana
Montana is a large state, low in population, and filled with rural areas. This often makes attending class in a university difficult. Do not panic; however, because there are more nursing programs available than one might think in the state of Montana. Montana's nursing programs build on knowledge already obtained when working in the nursing field. The programs are designed to expand a nurse's education to meet the diverse needs of the rural Montana population. One university was awarded a grant for more that a million dollars from the Department of Heath and Human Services. The grant money will be used to begin the Literacy Empowerment Advances and the Diversity of Rural Nurses (LEAD).
In our Montana RN program guide, find rankings for both ADN and BSN Degree programs, tuition costs, NCLEX passing rates, and more. Research key Montana RN Program information to help you compare program metrics and to apply to best RN program for your career in nursing.
In the State of Montana, nurses are helping to change the face of healthcare. To ensure that they have the best education and preparation for future health care challenges, registered nurses need to graduate from a state-approved associate's degree in nursing program or a BSN degree program.
Nurses who graduate from an RN program can obtain certification in over 100 nursing specialties, go on to earn an RN to BSN or RN to MSN degree.
BSN degree holders have options to earn an Advance Practice Register Nursing (APRN) degree and become a Nurse Practitioner (NP), or earn an advanced degree for a career in any number of nursing leadership roles such Nurse Educator or Clinical Nurse Specialist.
Montana RN Program Comparisons: ADN vs BSN
| Compare RN Programs | ADN | BSN |
| --- | --- | --- |
| Number of Nursing Programs | 7 | 6 |
| Average NCLEX Passing Rate | 79.90% | 68.12% |
| NCLEX Passing Rate Range | 43.30% to 97.30% | 43.33% to 93.02% |
Best Ranked RN Programs in Montana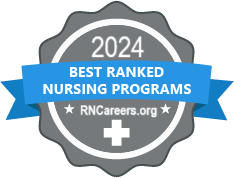 To help nursing students in their search for a top RN program, the education experts at RNCareers.org publish their annual findings of the best nursing schools for both Montana and the country. Schools ranked on our list have proven their ability to educate highly competent nurses.
To create our rankings, we evaluated 6 ADN degree programs and 3 BSN degree programs in Montana. We obtained each institution's first-time NCLEX-RN passing rates, the number of students taking the test, the program nursing accreditation and more. We then compared the results against other nursing programs in Montana to provide our state rankings. View our methodology.
Best Nursing Schools (BSN) in Montana
Many of the RN or BSN programs in Montana can be completed online, which provides nurses with flexibility in scheduling classes in comparison to non-campus programs. Both educational environments have similar admission criteria: Montana RN license, transcript from an accredited associate or diploma program, and completion of prerequisite courses. When the prerequisite courses have been completed, nursing candidates will focus on leadership and community-based health. Some courses may include:
Health assessment
Transitions in professional nursing
RN Information systems in healthcare community health nursing
Nursing leadership & management
Family nursing
Care of the aging client
Nursing research
Applied pathophysiologic & pharmacologic
Bioethical & genetic challenges in healthcare
Jump to a Best Ranked Nursing Programs
93.02% 3-Year
Pass Rate
1601 N Benton Ave, Helena, MT - 59625-0002

(406) 447-4300

Nurse Admin: Lauren Swant, MSN, RN, CNE, RNC-NIC
Title: Program Director
NCLEX Passing Rate: (A) 93.02%
Programs: Registered Nursing
Award Levels: Bachelor
University Information
Total Faculty: 79
In-State Undergraduate Tuition: $800
Book and Supplies: N/A
Percent Received Aid: 100%
Average Grant or Scholarship: $25,492
Percent Admitted: 73%
Percent Admitted who Enrolled: 26%
Graduation Rate: 67%
Carroll College is located in Helena, Montana.  Carroll College has a BSN program.  They do offer a select few pre Direct Entry nursing students in their freshman year of college.  They also will accept transfer nursing students if their is space.  Their program is unique in that clinical experiences begin in the second year of the program as opposed to the third year.
If you are bound for Helena, Montana to earn an undergraduate nursing degree, head for Carrol College, a private Catholic institution. It is an idyllic, scenic area in which to study and play. The arts community is thriving and laden with artists, actors, singers, and performers. Academic excellence is attained in this rich culture. The Carroll College Department of Nursing's baccalaureate degree program has been accredited through the Commission on Collegiate Nursing Education (CCNE). The program has also received continuous approval from the Montana State Board of Nursing.
Undergraduate Programs – The Nursing Program at Carroll College offers a baccalaureate degree with a major in nursing, focusing on producing generalists. Students can go on to practice as professional nurses or enroll in graduate studies. After a rigorous core curriculum, students earn their clinical hours in the community in Helena's hospitals, assisted-living and long-term care facilities, during home visits or in psychiatric and school settings. The learning experience is highly personalized and varied with one-and-one faculty mentoring. The Accelerated Nursing program track is ideal for candidates with a bachelor's degree who seek to become licensed Registered Nurses. The 15-month intensive track entails similar coursework and clinical experiences. Every facet of the undergraduate program offers a holistic approach and a full education that integrate knowledge from the sciences, arts and humanities into nursing practice. Students study theory and undergo and evidence-based practice to optimize health and well-being. They are adept in information management systems and patient care technology. They employ effective interpersonal communication while collaborating on teams for the beast patient outcomes. They intend to promote prevention interventions for individuals and communities.
Best Nursing Schools (ADN) in Montana
Community colleges and technical colleges in Montana are unique - in addition to offering an RN and an LPN to RN option, many offer an RN to BSN option. BSN degrees are not the norm at community colleges and technical colleges but Montana has found a way to make it possible for its students. Typically the BSN option is only available to students holding an RN license; students seeking a BSN degree without an RN license typically must attend a traditional college or university.
Jump to a Best Ranked Nursing Programs
Sherry Lesar School of Nursing
97.30% 3-Year
Pass Rate
1300 W Park St, Butte, MT - 59701-8997

(406) 496-4256

Nurse Admin: Karen VanDaveer, MN, RN
Title: Director Of Nursing
NCLEX Passing Rate: (A) 97.30%
Programs: Registered Nursing
Award Levels: Associate, Bachelor
University Information
Total Faculty: 163
In-State Undergraduate Tuition: $7,400
Book and Supplies: $1,320
Percent Received Aid: 93%
Average Grant or Scholarship: $6,705
Percent Admitted: 97%
Percent Admitted who Enrolled: 31%
Graduation Rate: 57%
Montana Tech began offering a degree in professional nursing in 2000 and has broadened its programs since that time.  Montana Technological University is a public university in Butte. It was founded as the Montana State School of Mines, but the university became affiliated with the University of Montana in 1994. Students will learn in an extraordinary picturesque environment. While accessing the state-of-the-art simulation labs and multiple clinical sites, they can visit the great outdoors for a bit of hiking, skiing, biking, and fishing. Historic Butte is the location of art galleries, music venues, theaters and festivals. To its credit, Montana Tech is one of only two publicly-funded nursing programs in the state to offer a pre-licensure Bachelor of Science in Nursing (BSN). In addition, the BSN is the first four-year program approved by Montana in the last 78 years. All programs have the same mission to prepare generalist nurses who can assume a variety of roles in the healthcare system. The core concepts are caring, professionalism, clinical thinking, communication, and critical judgment.
Undergraduate programs – The degrees offered at Montana Tech include the Associate of Science degree (ASN) in nursing, the BS Nursing Pre-Licensure Program and the Post-licensure Bachelor of Science (RN to BSN), all accredited by National League for Nursing Accrediting Commission, Inc. (NLNAC) and CCNE. The school is proud of its award-winning status as among the top ten BSN and RN to BSN nursing schools in the state. Everyone appreciates the 5,000 square foot simulation lab with hospital, home, and office settings. A nurses station and medication room round out the superior facilities. It is all about hands-on learning and clinical hours. Almost 1,000 are required to complete the programs. Students can gain experience in area hospital and other clinical settings in southwest Montana. The approach is holistic within the vision to offer a nursing education design for the promotion, maintenance and restoration of health, as well as the prevention of illness. The highest standard of nursing knowledge and skill follows from a combination of class room requirements and clinical experience in both simulated and actual care environment.
96.70% 3-Year
Pass Rate
777 Grandview Dr, Kalispell, MT - 59901

(406) 756-3822
NCLEX Passing Rate: (A) 96.70%
Programs: Registered Nursing
Award Levels: Associate
University Information
Total Faculty: 67
In-State Undergraduate Tuition: $5,293
Book and Supplies: $12,643
Percent Received Aid: 78%
Average Grant or Scholarship: $4,149
Percent Admitted: N/A
Percent Admitted who Enrolled: N/A
Graduation Rate: 30%
Flathead Valley Community College is located in Kalispell, Montana.  FVCC offers both LPN and RN programs.  Their nursing program is developed so that LPNs may gain entrance into their RN program; in fact, their RN program requires an LPN degree for entrance.  FVCC also has partnerships with local universities so that graduates may earn their bachelor's degree in nursing after graduation.
Additional Listings for Montana Nursing Schools
Become an Advance Practice Registered Nurse (APRN) in Montana
RNs who wish to become advanced practice registered nurses will want to pursue any number of avenues to earn Master of Science in Nursing (MSN) degree. Earning a Master of Science in Nursing consists of graduate-level coursework and clinical practice for those nurses who wish to direct patient roles such as a nurse practitioner. You can also pursue indirect patient roles such as teaching or leadership roles, or become involved in policy, state-wide health initiatives or community engagement. There are many clinical and non-clinical avenues that an RN with MSN can pursue.
Become a Nurse Practitioner (NP) in Montana
Learn how to become a Nurse Practitioner (NP) and research schools in Montana offering the following high paying nurse practitioner specialties:
Learn about Doctor of Nursing Practice (DNP) Degree.
Montana RN Licensing Requirements
Montana State Board of Nursing
301 South Park
PO Box 200513
Helena, MT 59620-0513
(406) 841-2345
Fees:
Initial licensing fee, RN: $200
License renewal (every two years), RN: $100
Continuing Education Requirements:
RNs: 24 contact hours every renewal period
Before a candidate can be eligible for an RN license, he/she must complete a board approved nursing program. Some of the programs offer an Associate of Science degree while others offer a Bachelor of Science degree. There are three ways a nurse can obtain licensure in the state of Montana: by exam, by endorsement, and by completing a program abroad.
RN Licensure by Exam
Nursing graduates need to apply to the Montana Board and submit registration to Pearson VUE. When, and only when, the candidate receives authorization to test, he/she can schedule the exam. There is a $100 fee made payable to the Montana Board and an additional $200 fee paid directly to the testing company. A graduate who has scheduled the exam may obtain a temporary patient and will be able to begin work. If the exam is not passed in the first attempt, the privilege will be taken away.
RN Licensure by Endorsement
Registered nurses who completed a program in one of the other 50 states can apply for licensure by endorsement. The candidate will need to provide proof of licensure from the fist sate where he/she was licensed and from any other sate where the candidate held a license in the more recent two years. A registered nurse applying for credentialing will be required to pay a $200 fee to the Montana Board. Those who passed the licensing exam should provide a copy of their course evaluation.
RN License for Nurses Educated Abroad
International registered nurses who have not taken the NCLEX must apply for license by examination. They must also complete a qualifying exam through the CGFNS before completing the NCLEX. Candidates must have their credentials professionally required and an English proficiency exam will be required of those who do not come from an exempted country.
RN Salaries in Montana
There are approximately 8,700 nurses working in the state of Montana. This is reflective of the critical roles nurses play in the healthcare industry. It is predicted that there will be over 3,000 new nursing jobs in Montana by the year 2020. Now is a better time than every for registered nurses to pursue higher education to take advantage of all the opportunities that will present themselves after the completion of a BSN program. The nurses in Montana earn a median annual income of $58,200, with the high end of the median possessing more experience and specialized skills.
Montana Registered Nursing Salaries
The southwestern nonmetropolitan area of Montana has the highest number of registered nurses employed. However, it is the western non-metropolitan area that has the highest hourly mean wage and annual median wage.
Source: BLS, Department of Education, State Board of Nursing, Nursing School Websites.