Welcome to RN Careers.org About Us
RNCareers.org is your guide to finding the best RN Career information. Our nursing experts help with everything you need to know from best-ranked RN programs to financial aid options, accelerated and online degree options, and how to improve your nursing school application.
Who We Are
We're nurses and education specialists. We are here to help nurses anyone pursue a career in nursing. We supply access to tools and resources needed to make informed decisions about nursing careers. With the talents of nursing writers and researchers and our expert data team, we bring you the most comprehensive information on nursing careers.
What We Do
At RNCareers.org, our goal is simply to engage and inform registered nurses by providing well-written, in-depth information, resources, and data for those interested in pursuing a degree in healthcare and nursing. To make that goal a reality, our writers are nurses, our data is from the most reliable sources. We offer the best nursing career options.
Alison Shely is a nurse practitioner, nurse coach, and nurse content writer who specializes in articles, guest blogger, and healthcare worker wellness. 
Visit her website for coaching details and other writing samples.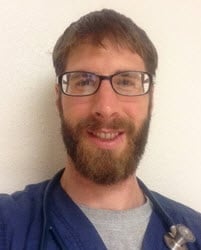 Douglas Williams, BSN, RN, has had a keen interest in healthcare since taking a CPR course at the age of 10. As a college student, he was introduced to inpatient medicine when he responded to an advertisement seeking hospital volunteers, and has since devoted himself to bettering health outcomes for his hospital patients, devoting his current clinical focus to medical-surgical nursing. He has conducted clinical research on issues relevant to nursing practice, including hospital-onset delirium prevention and the forestalling alarm fatigue for hospital staff members. In order to maintain a high standard of patient care, Doug makes sure to keep himself recharged outside of the clinical setting. He is an avid skier, snowboarder, skydiver, and wingsuiter, in addition to being a self-professed "health nut."
Gretalyn received her first nursing degree in 2001. Since then she has worked in every adult area in the hospital, her favorite job was managing a wound care department. Aside from bedside nursing, Gretalyn has also taught medical professionals ACLS, BLS, ECG and Pharmacology and the general community First Aid, CPR and AED skills since 2010. Starting in 2014, she began to pursue her elementary school dream of writing. Gretalyn's passion has always centered on helping people, when she is not in the hospital, teaching or writing she is volunteering in the local community. Some of her favorite projects have been helping with adult reading and writing programs and community gardens! With the few hours left in the week she can be found hiking, studying or playing board games.
Karen is a Registered Nurse, graduating with a BSN in nursing in 1972 from North Park College in Chicago, Illinois. Her graduate degree was earned at Emory University, Atlanta, Georgia, in 1985. While her major clinical area specialty has been maternal/infant, pediatrics nursing, and women's health, she has also worked in med-surg and adult ICU environments. She have 22 years' experience in a faculty role, the past 7 years in an online venue.
Krystina is an RN with a varied background. She has worked on a telemetry unit, an allergy/immunotherapy clinic and is currently working in diabetes education, pursuing her Certified Diabetes Educator (CDE) certification. She has traveled the long road to her bachelor's degree – she began her nursing career as an LPN, graduating from a local university. She pursued first her ADN, then BSN from Excelsior College.
Lauren is a Registered Nurse and Women's Health Nurse Practitioner who works in an OB/GYN clinic in the Boston area. She completed a Direct Entry MSN program at Boston College in May 2017 after obtaining a BS in Forensic Science and a BS in Biology from the University of New Haven, so she has special awareness of how confusing the many paths to nursing can be! She is passionate about enhancing and clarifying the nursing role globally as well as combatting human trafficking from a public health standpoint. In her free time Lauren enjoys writing and traveling.
Meredith Scannell CNM, MSN, MPH, PhD-student has extensive experience in critical care nursing and women's health. She is a certified nurse-midwife, earned a diploma in nursing in 1995 received a Master's Degree in Public Health and became a Certified Nurse Midwife in 2006, earned a Master's Degree in Nursing in 2008 and currently perusing a PhD. She has extensive background working in critical care areas internationally in Boston, London, UK and Melbourne, AU. As a certified nurse midwife she has worked and the North Shore birth center delivering babies in a home like setting and at Beverly hospital. She has extensive educational background including specialized legal training and preparation to prepare as expert testimony. She holds two Masters degrees: a Masters degree in Nursing from the University of Medicine and Dentistry of New Jersey and a Masters degree in Public Health from Boston University School of Public Health. She has presented as an expert panelist at the International Meeting on Simulation in Healthcare.
P. Shreffler started her nursing career in 2010 as a Licensed Practical Nurse (LPN). After working for almost five years she decided it was time to go back to college and further her education. In June of 2015 she passed her NCLEX on the first attempt and can finally put that RN behind her name! Her background has been in the long-term care setting for these past 5 years with a small amount of experience in acute care during RN school. I am excited at where my career may take me and I enjoy knowing that I may make the difference in many, many lives down the road!
Morgan served as the Course Curriculum Executive Editor and Content Manager at NursingCECentral.com. Her extensive background in a Level I Trauma Hospital setting provides vast clinical insight into high octane clinical care, along with a deep understanding of specialized areas of nursing such as heart and lung transplants, ECMO, and cardiac surgery recovery.              Morgan's professional versatility also extends into the highly sought-after field of aesthetic nursing, with comprehensive experience in the plastic surgery field; including nurse leadership in PACU, PERI-OP, and OR departments.
Taylor Haskings is a freelance writer born in Denver, Colorado. She graduated with a bachelor's in English from the University of Colorado, Denver. She enjoys hiking in the Colorado Rockies and loves the fine arts, such as playing the violin. Her true strengths include networking with others and expressing herself through the written word.

Lauren Webber is a former HR manager and lover of psychology who now runs Dainty Mom among her other pursuits. Her interests range from the corporate world to health and self-care to home improvement and parenting.
What Does a Registered Nurse (RN) Do?
Registered nurses (RN's) assist physicians by carrying out treatment that is recommended to patients who are suffering from a number of health conditions. RN's may administer medication, administer blood and blood products, perform patient assessments, monitor the progress and recovery of a patient, educate both patients and their families on prevention of disease and any post-hospital care, and more!
The RN scope of practice is strict and encompasses a variety of tasks requiring different skill sets that each individual should be capable of performing at some point in their career. RN's may be pulled in many different directions at any given time with various tasks on their minds that need to be completed. This means that RN's must always be prepared to critically think and prioritize care at all times for the best interests of each and every patient they come into contact with.
Two different work environments with big commonalities are hospitals and private clinics.
How Do I Find the Best RN Program for Me?
You may discover that finding the right program for you may be tricky; overall, each program will have its own advantages and disadvantages. With whatever program you choose, be prepared to miss time spent with family, friends and other important events. This is because dedicating yourself to a nursing program involves long hours of studying, early mornings, late nights, and setting aside numerous hours to fulfill all the requirements of your course assignments and clinical hours. Here are some things you may want to consider when deciding which program proves to mesh the best with your lifestyle: