Introduction
Finally, you have taken and passed the NCLEX-RN Exam . . . way to go! The next step now involves becoming licensed as a RN and it will probably seem like it takes forever. Licensure is the process that each state board of nursing goes through in order to grant each individual who has been determined to exhibit competency to perform care within the RN scope of practice. Each state has their own board of nursing and criteria that will determine whether or not each applicant has the necessary skills to practice safe and effective care to become licensed as a RN. But what happens when you want to move to another, how do you transfer RN license? This guide will take you through all the steps.
Transferring your RN license to from state to state, may not be as complicated as you may think. Thanks to the Nurse Licensure Compact (NLC). The NLC allows nurses to have one license that is valid in multiple states…up to 25 states and counting. Through the NLC, nurses have the ability to practice across participating state lines both physically and electronically through a simple process without any additional fees or applications. Nurses will have the ability to practice in both their home state and other states that participate in the NLC. You are eligible to obtain a multistate license if you:
Are a legal resident of a state included in the NLC.
Hold an active RN license that is in good standing.
Meet licensure requirements in your home state, in addition to licensure standards, and exhibit competency to practice within the RN scope if you reside in a remote state that does not participate in the NLC.
Keep in mind the different characteristics of the states in which you practice. There is a party state (any state that participates in the NLC), a home state (the nurse's primary state of residence), and a remote state (any party state other than the home state). Following are examples if you were to decide to reside in another state and practice as a RN.
See a list of State Boards of Nursing (BON) with state fees and continuing education requirements.
Current NLC States and Status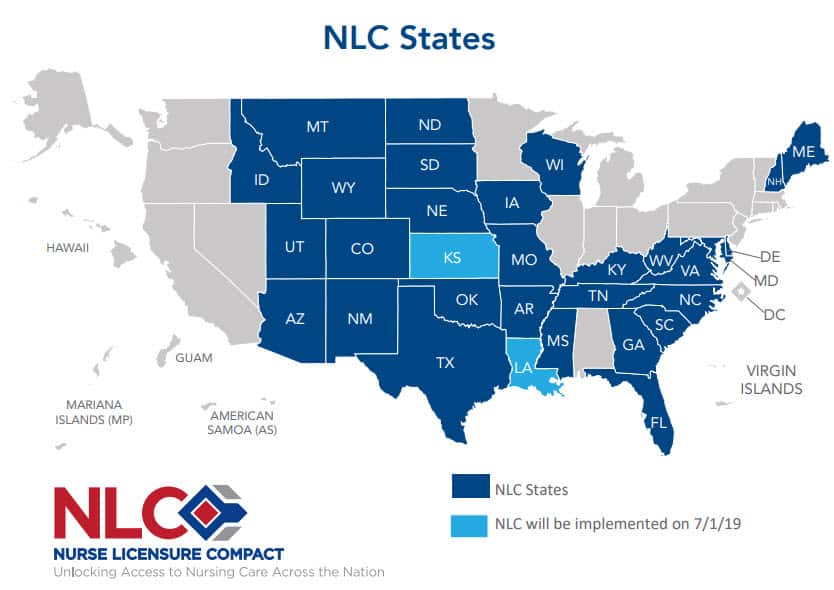 Transfer RN License from Non-Compact to Compact State
You must apply for licensure by endorsement in the new state of residency.
Your individual state license issued by the non-compact state will not be affected and remain active if you continue to maintain it, meaning you will have to resume your continuing education hours, practice within the laws of that state, and renew it by the deadline.
Transfer RN License from Compact to Non-Compact State
You must apply for licensure by endorsement in the new state of residency.
Your compact license will be changed to a single-state license valid only in the state you have chosen.
You must notify the board of nursing in the state you moved out of so they can take actions to inactivate your license from their board.
Transfer RN License from Compact to Compact
You can practice on the former residency license for up to 30 or 90 days depending upon the new state to which you have moved.
You will be required to apply for licensure endorsement at least 1 to 2 months in advance of a move, pay any applicable fees, and complete a declaration of primary state of residency in the new home state.
You will be issued a new multistate license and your former license will be inactivated.
You must notify the board of nursing in the former residency state that you have moved.
Proof of residency may be required.