The U.S. has been experiencing nursing shortages since the early 1900s. At the same time, the patient demand for care has multiplied, fueled by the COVID pandemic. Over 1 million nurses are currently needed. Employment opportunities for nurses will grow at a 9% rate through 2030. The result is a high demand for travel nurses from healthcare facilities.
FAQ to Become a Travel Nurse
What Travel Nurses Do?
Obtain vital signs, administer medications, perform assessments, delegate tasks to LPNs and aides, assist with activities of daily living (ADLs), work with a multidisciplinary team to care for their patients, carry out orders as prescribed by providers.
Where Do Travel Nurses Work?
Generally in the hospital setting, in a variety of specialties, from Med/Surg, to Emergency Care, to Intensive Care.
What Are the Employment Projections for Travel Nurses?
The nursing profession is expected to grow at a rate of 16% between 2014 and 2024; due to the nursing shortage, the travel nursing job outlook is even greater. The United States Bureau of Labor Statistics predicts a 19% growth by the year 2022.
How Much Do Travel Nurses Earn?
The travel nurse salary is highly variable. The salary is based on prior nursing experience, the location of the assignment, and the length of the assignment that is taken.  For this reason, there is no "average" travel nurse salary – but it is typically higher than the average RN salary, which is about $68,000.
How Long Does it Take to Become a Travel Nurse?
Most travel agencies require that their RNs to have been practicing at least a year.
What Are the Requirements to Become a Travel Nurse?
Agencies will require an RN degree – most will have a minimum requirement of an associate degree. All will require RN licensure prior to signing a contract.  For travel nurses who are working in advanced specialties, such as OB, ICU, and the OR, additional years of experience may be required.
Online Nursing Programs That Might Interest You
Learn about start dates, transferring credits, availability of financial aid, and more by contacting the universities below.
How to Become a Travel Nurse
Apply to Work with a Reputable Travel Nursing Agency.
A travel nursing agency performs the job hunting and takes care of employment details.
Work with a Recruiter
A recruiter assists you with sifting through the job-hunting process as well as travel nursing requirements.  Ensure that your recruiter is someone that you can trust.
Obtain new Licensure
You may need new licensure to practice in a new state, if your home state and the state you will be working do not participate in the Nurse Licensure Compact.  Ask your agency and recruiter for assistance.  Begin this process as early as possible.
Pick Your Assignments
After you sign a contract and pick your assignments, it's likely your housing will be covered, or you'll be offered a stipend.
What is a Travel Nurse?
A travel nurse is an RN who has earned their RN or BSN degree, passed their NCLEX-RN exam, and gained work experience as an RN. He or she should also gain work experience in their chosen specialty – for example, an RN who chooses to work in an ICU should work in this unit for a specified amount of time prior to becoming a travel nurse.
Can Anyone be a Traveling Nurse?
No. A travel nurse must be a licensed registered nurse (RN) who accepts temporary assignments on a contract basis. Travel nurses are typically registered with t12-18 months of hospital-based RN experience in their field. Depending on the specialty or the facility's specific requirements f, the required work experience may be longer. The typical travel nursing assignment is 13 weeks, but anything between 8 and 26 weeks is typical.
What Does a Travel Nurse Do?
Travel nurses are hired to bridge staffing shortages, which may be caused by a lack of qualified nurses in the area, seasonal population increases, or crises. Travel nursing jobs are available at healthcare facilities across the country, but available assignment locations will depend on current staffing needs.
The job functions of a travel nurse are essentially the same job functions of any other nurse on the unit they are working and varies depending on the job assignment.
Basic job functions include obtaining vital signs, administering medications, performing assessments, delegating tasks to LPNs and aides, assisting with activities of daily living (ADLs), working with a multidisciplinary team to care for their patients, and carrying out orders as prescribed by providers.
Tasks may become more specialized, depending on the unit. For example, an oncology travel nurse may administer chemotherapy. An OB travel nurse may assist an obstetrician with delivering babies.
Healthcare facilities work with recruitment agencies to find skilled travel nurses to fill these short-term assignments,
A travel nurse should be an RN in good standing with an active license and, ideally, at least two years of experience. Responsibilities are the same as a traditional RN such as:
administer medications, care, and vaccinations to patients
communicate with facility healthcare professionals
collaborate with facility staff to create a plan of patient care
create and contribute to medical records
respond to patient inquiries and concerns
track supplies and inventory
and counsel patients
Travel nurses have a lot to learn for each new assignment. You will need to know the people, the policies, the paperwork, the hospital systems, the way they do things and learn them very quickly.
Education Requirements
Those interested in travel nursing should first pursue a nursing degree through a two or four-year university. After completing an accredited nursing program, completing the NCLEX-RN is required for licensure.
Certifications & Licensures
It is important to remember that travel nursing requires an RN license to practice. You must obtain that license in time for the travel nurse assignment to start. Licensing times and processes are vastly different from state to state. Travel nurses must have licensure in every state that they practice but can obtain a multistate license via the Nurse Licensure Compact (NLC)
For nurses already licensed in their state, the Nurse Licensure Compact allows a nurse to have one license to practice in their state and other compact states. According to the National Council of State Boards of Nursing (NCSBN), 39 states have enacted the NLC. An applicant for a multistate license must complete an application for a multistate license on their home state's Board of Nursing website. No additional exams are required for a travel nurse.
Nursing Licensure Compact States List 2022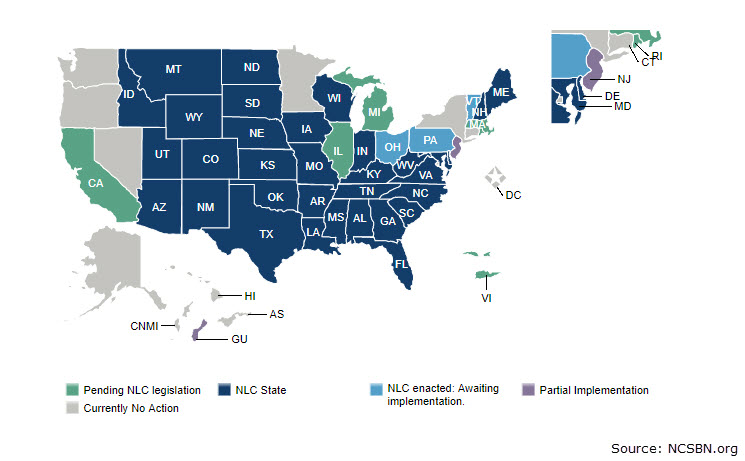 Source: https://www.ncsbn.org/compacts.htm
Travel Nurse Salary Explained
A travel nurse's total compensation depends on multiple factors like your specialty, the contract details, and the location of the hospital. Travel nurses are often paid well because they fill a high demand for nurses.
Travel Nurse Salaries
The average annual salary for a Registered Nurse is $71,730 per year, according to the Bureau of Labor Statistics. Travel nurses can make approximately $88,400 per year. The current average hourly wage is $35.99.
Travel Nurse Bonuses
Travel Nurses can make lucrative money in bonuses. Agencies and some healthcare facilities will pay:
A signing bonus to come on board
A completion bonus for doing an outstanding job while on assignment
A retention bonus if you are highly skilled and agree to stay with the agency
8 Ways to Make More Money as A Travel Nurse
Per Diem Work and Pick Up Extra Shifts: Most assignments are booked for a set number of weeks. Let the healthcare facility and agency know that you are happy to pick up extra shifts or extend your weeks to earn more money.
Maintain Nursing Licenses in Multiple States: Travel nurses must have licensure in every state they practice, but they can obtain a multistate license via the Nurse Licensure Compact (NLC). You have more states you can accept assignments from when you get a multistate license,
Become More Specialized: Specialty areas such as Surgical nursing or Intensive Care Nursing require additional certifications. However, nurses with acute-care experience can make up to $110,000 or more.
Take up High Demand Assignments: Travel nurses willing and able to respond to an urgent natural disaster assignment can make very lucrative pay.
Work in COVID Crises Areas: If a travel nurse is willing to put herself in harm's way at a facility with a crisis COVID situation, they can earn higher rates.
Refer a Traveler: Some Agencies or healthcare facilities may pay a referral fee if a travel nurse refers another travel nurse for an assignment.
Rapid Response and "Crisis" Assignments: Travel nurses ready to go within hours to a facility with an immediate critical need or crisis can earn a higher hourly salary.
Agency Bonus: Some agencies will offer a signing bonus for travel nurses who sign on for critical or hard-to-place assignments.
9 Highest-Paying Travel Nurse Specialties
Nurses who pursue these in-demand specialized certifications benefit from employment possibilities with more responsibility and autonomy, higher levels of compensation, and opportunities for career advancement. Specialties that require additional training or certifications tend to pay more.
| | | | |
| --- | --- | --- | --- |
| Job Title | Hourly Wage | Monthly Pay | Annual Salary |
| ICU Travel Nurse | $59 | $10,187 | $122,242 |
| CATH Lab Travel Nurse | $57 | $9,935 | $119,226 |
| Traveling Contract | $55 | $9,530 | $114,358 |
| NICU Travel Nurse | $55 | $9,528 | $114,338 |
| International NICU Travel Nurse | $55 | $9,509 | $114,109 |
| Virtual NICU Travel Nurse | $55 | $9,506 | $114,067 |
| Teen NICU Travel Nurse | $55 | $9,493 | $113,922 |
| Operating Room Travel Nurse | $55 | $9,467 | $113,610 |
| Emergency Room Travel Nurse | $53 | $9,242 | $110,906 |
Source: Zip Recruiter
ICU Travel Nurses are trained in caring for patients that require intensive care, such as COVID-19 patients.
CATH Lab Travel Nurses assist with procedures and monitoring recovering cardiovascular disease patients.
Traveling Contract Nurses work with an agency as a local travel nurse that receives a taxable wage. The pay is still better than a local staff nurse.
NICU Travel Nurses are also referred to as neonatal nurses. They care for and monitor well and critical care newborns.
International NICU Travel Nurses may accompany a sick infant to a hospital overseas for a specialized procedure. An agency may also send a travel nurse to a healthcare facility outside of the U.S. to assist in caring for and monitoring newborns.
Virtual NICU Travel Nurses provide care and monitor newborns for at-home parents who cannot come to the healthcare facility. They accomplish their job virtually via computer.
Teen NICU Travel Nurses care for and monitor both well and critical care newborns and teen moms.
Operating Room Travel Nurses are a higher-paid specialty because they play an increased role in patient safety. They must keep the operating room clean and sterile and be highly skilled in surgical procedures and tools.
Emergency Room Travel Nurses are the first professionals a patient sees when they enter the healthcare facility. ER Travel nurses need to triage patients with any injury or illness and think quickly on their feet to prioritize which patients need urgent care.
11 Benefits of Travel Nursing
In addition to the hourly rate, travel nurses usually receive benefits for medical and dental, stipends for housing, meals, and travel expenses , a 401K, and bonuses. Remember that you're employed by the travel nursing agency and not the facility when working as a travel nurse.
Learn from Healthcare Facilities Across Many States: Every assignment will take a travel nurse to a new health care facility. Some facilities will have new technology, or state-of-the-art techniques. Each experience can help a nurse build upon their knowledge base.
Earn Higher Pay: Annual earnings for travelers can be as high as $110,000/year, far surpassing the RN median annual income of $67,490/year reported by the U.S. Department of Labor.
Freedom: Travel nurses can choose when and where they work and the duration of employment.
Insurance Coverage: most travel nurse companies do not offer paid time off (PTO) or short-term disability. You'll need to get your insurance policy if you're concerned with the possibility of getting hurt and not being able to work.
Retirement (401K) Options: Most travel agencies offer medical and dental benefits and other benefits like a 401K. Some even provide matching!
Tax-Free Travel Reimbursement: Most agencies will reimburse you for travel.
Sign-On, Completion, and Retention Bonuses: Many agencies will offer a signing bonus, completion bonus after assignments, and a retention bonus to stay with them. That's extra money in your pocket!
Agency-Placed Housing or Housing Stipends: If you opt for agency-placed housing, they arrange your living situation, but it isn't free. Housing fees reduce your take-home pay. It is deducted from the travel nurse's share of the billable rate. Agencies coordinate and set up housing, which is helpful if you're new to travel nursing. If you opt for a housing stipend, then you are responsible for finding your housing as well as all the living expenses.
Free CEUs: Most agencies are interested in helping you grow your career because they make you more valuable. They will often pay for continuing education units to keep your license current and achieve higher licenses.
Extend Your Network of Nurses: As a travel nurse, you meet people in every assignment you work. New people in your field can become close friends. Some may open a new career path for you.
Work in Various Floors and Settings: You will gain new skills in various settings and areas as a travel nurse, which will broaden your resume.
Get Paid to Explore the Country: As a travel nurse, you can travel t where you want, when you want, and discover new places.
10 Best States for Travel Nursing Opportunities
One of the incredible benefits of becoming a travel nurse is that you can usually choose where you want to work. You may want to select a popular destination that is popular with tourists so you can enjoy your days off. For those new to nursing, you may want to choose a destination that will allow you to work at some of the best healthcare facilities. A travel nurse with a family may be more interested in great places to raise a family. No matter what you are seeking, here are some of the best states for travel nurses.
What is the Job Outlook for Travel Nurses?
Job prospects for nursing is expected to boom – according to the U.S. Bureau of Labor Statistics, between the years of 2012 and 2022, nursing is expected to grow by 19 percent – "faster than the average for all occupations."
And because the job market is increasing exponentially, the need for travel nursing continues to grow. Travel nurses help fill in the "gaps" when there are not enough nurses in a facility, when there is an increase in patient needs – or for other reasons.
The Aureus Medical Group note that "…many baby boomers are expected to enter retirement age during this time period, which means that there will be a greater demand to care for an aging population. Some of the most pressing medical conditions in the U.S. affect this exact demographic, including dementia, diabetes, obesity and arthritis." As such, there is a higher need for nurses – and travel nurses.
Highest- and Lowest-Paying States for Travel Nurses
There are many factors to consider when calculating salary. As such, it is difficult to calculate the annual income of a traveling nurse.
For example, if you choose a traveling assignment in Maine, you may earn a different hourly rate than you would make if you were to choose a traveling assignment in California. You may also earn a different housing stipend in each location, depending on the cost of living. What about overtime? It will depend on the facility – one facility may pay you overtime over forty hours of work, while another may pay you overtime over eight hours of work.
| | | | |
| --- | --- | --- | --- |
| State | Hourly Wage | Monthly Pay | Annual Salary |
| Alabama | $45 | $7,717 | $92,602 |
| Alaska | $45 | $7,843 | $94,120 |
| Arizona | $47 | $8,192 | $98,301 |
| Arkansas | $39 | $6,812 | $81,744 |
| California | $43 | $7,391 | $88,691 |
| Colorado | $42 | $7,245 | $86,944 |
| Connecticut | $47 | $8,110 | $97,323 |
| Delaware | $42 | $7,218 | $86,611 |
| Florida | $43 | $7,446 | $89,357 |
| Georgia | $46 | $7,902 | $94,827 |
| Hawaii | $48 | $8,259 | $99,112 |
| Idaho | $40 | $6,919 | $83,034 |
| Illinois | $39 | $6,774 | $81,286 |
| Indiana | $47 | $8,138 | $97,656 |
| Iowa | $43 | $7,410 | $88,920 |
| Kansas | $43 | $7,381 | $88,566 |
| Kentucky | $40 | $6,945 | $83,346 |
| Louisiana | $44 | $7,571 | $90,854 |
| Maine | $40 | $6,892 | $82,701 |
| Maryland | $45 | $7,720 | $92,643 |
| Massachusetts | $49 | $8,448 | $101,379 |
| Michigan | $39 | $6,798 | $81,578 |
| Minnesota | $45 | $7,809 | $93,704 |
| Mississippi | $40 | $6,916 | $82,992 |
| Missouri | $41 | $7,186 | $86,237 |
| Montana | $48 | $8,277 | $99,320 |
| Nebraska | $44 | $7,592 | $91,104 |
| Nevada | $45 | $7,781 | $93,371 |
| New Hampshire | $55 | $9,561 | $114,733 |
| New Jersey | $47 | $8,143 | $97,718 |
| New Mexico | $43 | $7,448 | $89,378 |
| New York | $57 | $9,845 | $118,144 |
| North Carolina | $36 | $6,190 | $74,277 |
| North Dakota | $45 | $7,812 | $93,746 |
| Ohio | $45 | $7,764 | $93,163 |
| Oklahoma | $41 | $7,056 | $84,677 |
| Oregon | $43 | $7,478 | $89,731 |
| Pennsylvania | $49 | $8,408 | $100,901 |
| Rhode Island | $46 | $7,933 | $95,202 |
| South Carolina | $42 | $7,264 | $87,173 |
| South Dakota | $44 | $7,583 | $91,000 |
| Tennessee | $45 | $7,821 | $93,850 |
| Texas | $39 | $6,679 | $80,142 |
| Utah | $44 | $7,630 | $91,562 |
| Vermont | $43 | $7,391 | $88,691 |
| Virginia | $43 | $7,493 | $89,918 |
| Washington | $47 | $8,148 | $97,781 |
| West Virginia | $49 | $8,554 | $102,648 |
| Wisconsin | $45 | $7,835 | $94,016 |
| Wyoming | $51 | $8,776 | $105,310 |
Source: https://www.ziprecruiter.com/Salaries/What-Is-the-Average-Travel-Nurse-Salary-by-State
Top 10 Cities to Become a Travel Nurse
Many people believe that higher pay rates are found near large metropolitan areas in the U.S. However, there can be many reasons healthcare employers would pay a high hourly wage. Some areas of the country have a severe nursing shortage. Many rural, isolated, or less desirable destinations have difficulty finding skilled nurses and pay accordingly.
| | | | |
| --- | --- | --- | --- |
| City | Hourly Wage | Monthly Pay | Annual Salary |
| San Jose, CA | $58 | $10,029 | $120,349 |
| Oakland, CA | $57 | $9,915 | $118,976 |
| Tanaina, AK | $57 | $9,873 | $118,477 |
| Wasilla, AK | $57 | $9,873 | $118,477 |
| Summersville, WV | $57 | $9,856 | $118,269 |
| Hayward, CA | $56 | $9,707 | $116,480 |
| Jackson, WY | $56 | $9,696 | $116,355 |
| Norwalk, CT | $56 | $9,670 | $116,043 |
| Seattle, WA | $56 | $9,639 | $115,669 |
| Vallejo, CA | $56 | $9,637 | $115,648 |
Source: BLS
San Jose, CA, is the capital of Silicon Valley, and the largest city in Northern California. It has a diverse population of over 1 million people. San Jose offers a variety of cultural and performing arts, and outdoor activities. Unemployment is low, and the is a great need for specialized skills. A very affluent city, San Jose has the third-largest GDP globally. San Jose's cost of living is 49% higher than the national average due to the highly inflated housing market. Most people live outside the downtown area in the suburbs. The city ranks the worst in the nation for traffic.
Oakland, CA, is a key West Coast port city and is the third-largest city in the San Francisco Bay area. Oakland has an ethnically diverse population of roughly 450,000. Oakland is a significant haven for artists, designers, musicians, and others involved in the arts. Oakland is renowned for its restaurants and ethnic cuisines and boasts some of the best bars and nightclubs in the nation. Oakland boasts two redwood parks and several outdoor activities, despite its urban nature. The city's living costs are below that of most other California cities; however, housing prices are three times as high as the U.S. average. In deep East and West Oakland, crime rates are higher than in other dense urban areas, nationally and statewide.
Tanaina, AK is a part of the Anchorage, Alaska metro statistical area with a diverse population of 10,249. 50% of the population is primarily families with a median age of 32 years old. The median family income is $71,629, and 7.5% live below the poverty line. Most residents own their homes in a rural community with parks, restaurants, and good schools. Anchorage is the largest city in Alaska, so employment opportunities for Tanaina residents are plentiful. The cost of living is high and is 19.6% higher than the national average. However, Alaska has no state income tax. Adjusting to life in Alaska can be challenging as Alaska is geographically isolated from the rest of the U.S., and the summers consist of 24 hours of daylight. Snow, the outdoors, and the wildlife are a constant.
Wasilla, AK is the fourth largest city in Alaska, located at the northern point of Cook Inlet, and is part of the Anchorage, Alaska metro statistical area. Wasilla is Sarah Palin's hometown and was the Iditarod Trail Sled Dog Race headquarters for many years. It has a diverse population of 9,054. 43.5% of the people are families, and the median age is thirty. The median family income is $53,792, with 9.6% living below the poverty line. About 35% of Wasilla residents commute to Anchorage. Many of the remaining residents are commercial fishermen or suppliers of wood, steel, or concrete products. Wasilla is a growing community and a good blend of big city conveniences with small-town feeling. Housing expenses are 13% higher than the national average, and the cost of living is 26% higher than the national average. Wasilla has one of the higher crime rates in America due to high levels of theft, vandalism, and drug crimes.
Summersville, WV is a small town located in the mountains of Nicholas County, West Virginia, with a population of 3,572. In 2016, flooding almost destroyed the town. The Middle School was damaged, and education had to be relocated to a modular trailer while they built a new school. In 2020, the new Middle school, High School, and Career and Technical Center opened. The median income in Summersville is $43,314, and 12.7% of the population lives below the poverty line. The median age is 49, and the city's population has declined over the past five years. Primarily a rural community, the cost of living and crime rate are low. Few opportunities for employment exist outside of the Summersville Lake & Dam, the Carnifex Ferry Battlefield State Park, or the Summersville Arena and Conference Center. Outdoor activities are plentiful, but the town has few restaurants and no nightlife.
Hayward, CA, is a small city in the East Bay region of San Francisco's Bay area. Hayward's population of 114,186 is highly diverse and dominated by families. Hayward's is a historic area once dominated by Hunt's food canneries and salt production. However, Hunt's moved production to the Sacramento Valley in the 1980s, and salt production ceased. Now employment is primarily industrial support to Silicon Valley companies, and the unemployment rate is higher than the national average. Hayward has a cost of living 65.4% higher than the national average. Dining, shopping, and free community events are the primary entertainment in Hayward. Hayward has a high crime rate compared to other communities of like size at 36 per one thousand people.
Jackson, WY is a small town with a population of 10,760 and is the county seat of Teton County. Affectionately referred to by tourists as "Jackson Hole," it is a popular tourist destination due to the proximity to Yellowstone National Park, Grand Teton National Park, and three ski resorts. The median income for a family is $59,605, and 6.4% live below the poverty line. Most jobs are seasonal, and you may have to travel for worship or education. If you enjoy the outdoors and an active lifestyle, Jackson is excellent. The sost of living is fair, and taxes are low. Shopping, restaurants, music, and the arts are plentiful in Jackson, but the town is quiet. After the sun goes down. Jackson has a shortage of housing, and housing costs are high. Winters are long and cold, and summers are hot and crowded with tourists.
Norwalk, CT, is the sixth most populated city in Connecticut, with 91,184 people. Situated between New York's metro area and Bridgeport, Norwalk lies along the northern shore of Long Island Sound. The median income is $76,161, and 8.4% of the population lives below the poverty line. Norwalk is mainly a working-class city. However, young professionals have been moving to Norwalk for the public schools and higher education system, which are above average. Although South Norwalk has some bad areas, the city has a low crime rate, and it is a good place to raise a family. However, the cost of living is high, and so are the taxes.
Seattle, WA, has 4 million people, and is the largest city in the Pacific Northwest region. Settle is a desirable place to settle down, buy a house, and raise a family. Seattle is an outdoor paradise surrounded by ocean, rivers, forest, lakes, and fields. As large metropolitan area, it offers thriving entertainment, food venues, and cultural arts. Compared to other cities on the west coast with a high cost of living, Seattle allows travel nurses to keep more of their earnings.
Vallejo, CA is a small, diverse, waterfront city of 126,090 people in the North Bay region of the San Francisco Bay area. Vallejo is an affordable place to live for young families. The cost of living is below that of other cities in California, and many small businesses flourish in this city. The public school system gets low marks, but charter schools are available for those that can afford them. Several years ago, the town went bankrupt, and the city sank into disrepair. Over the years, artists and remote workers from Silicon Valley moved in and cleaned up the town. There are still pockets of unsafe areas, but it is a decent place to live overall.
5 Top Travel Nursing Agencies
Triage Staffing
https://triagestaff.com/
Triage has been listed on Inc. magazine's list of 5000 Fastest-Growing Private Companies in America for the past six years. They have also been named in the Top 5 Best Travel Nurse Agencies for two years. Headquartered in Omaha, NE, Triage looks for the best ways to simplify life and the job hunting process for their travel nurses. Their culture is a team culture of respect, integrity, and reliability.
Gifted Healthcare
http://giftedhealthcare.com/
Headquartered in Dallas, TX, Gifted healthcare is a nurse-owned company. They carefully choose their nurses to ensure it is the best match for the client and provide the best career for their nurses. They place travel nurses in hospitals across the U.S.
Travel Nurse Across America Healthcare
https://tnaa.com/
TNAA Healthcare is headquartered in North Little Rock, AR. TNAA has been a top ten company every year since 2018. Their approach is to pair a travel nurse with a comprehensive customer support team that includes experienced recruiters and experts in housing, payroll, clinical care, and quality assurance. Travel nurses are matched with jobs across the nation's top facilities.
Cariant Health Partners
https://cariant.com/
For over 20 years, Cariant Health Partners has made the travel nurse a priority. Founded in Omaha, NE, by a nurse and a physical therapist, they provide personalized attention and communication, fast response, and custom contracts. Cariant seeks a long-term relationship with the travel nurses they employ.
Trusted Health
https://www.trustedhealth.com/
Trusted health does not use commissioned recruiters like most agencies. You create a personalized profile on their website, and they match you to their clients. Headquartered in San Francisco, CA, they work with first-time travel nurses to seasoned travel nurses throughout the 50 states.
Travel Nursing Blogs
[one_half]
Take the next step toward your healthcare future with online learning.
Discover schools with the programs and courses you're interested in, and start learning today.
[/one_half] [one_half_last]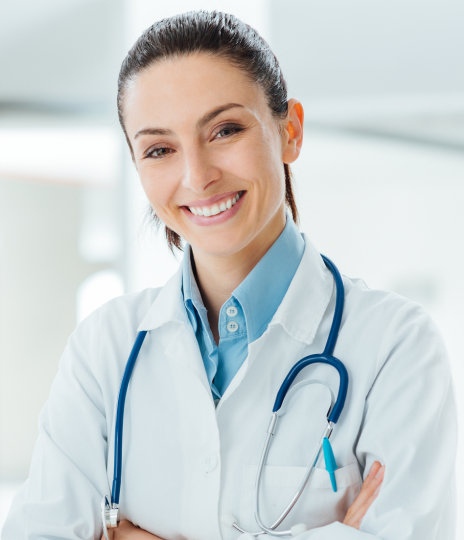 [/one_half_last]