Overview of Nursing Schools in Pennsylvania
About Nursing Schools in Pennsylvania
Nursing requires a certain level of scientific expertise, compassion, and hands-on skills. Now is a great time for registered nurses to pursue higher education and obtain a bachelor's of science in nursing degree. Nurses will be able complete programs both online and in a traditional campus setting. With the healthcare reform, advanced medical interventions, and preventative medicine, the role of registered nurses is expanding. Education beyond an associate's degree is necessary for nurses to achieve optimal patient care. There have been many stories about how hospitals require nurses to have their BSN and give preference to those who do.
In our Pennsylvania RN program guide, find rankings for both ADN and BSN Degree programs, tuition costs, NCLEX passing rates, and more. Research key Pennsylvania RN Program information to help you compare program metrics and to apply to best RN program for your career in nursing.
In the State of Pennsylvania, nurses are helping to change the face of healthcare. To ensure that they have the best education and preparation for future health care challenges, registered nurses need to graduate from a state-approved associate's degree in nursing program or a BSN degree program.
Nurses who graduate from an RN program can obtain certification in over 100 nursing specialties, go on to earn an RN to BSN or RN to MSN degree.
BSN degree holders have options to earn an Advance Practice Register Nursing (APRN) degree and become a Nurse Practitioner (NP), or earn an advanced degree for a career in any number of nursing leadership roles such Nurse Educator or Clinical Nurse Specialist.
Pennsylvania RN Program Comparisons: ADN vs BSN
| Compare RN Programs | ADN | BSN |
| --- | --- | --- |
| Number of Nursing Programs | 31 | 59 |
| Average NCLEX Passing Rate | 88.56% | 90.79% |
| NCLEX Passing Rate Range | 77.40% to 99.30% | 62.02% to 99.12% |
Nursing Programs Offered by Pennsylvania Nursing Schools
Registered Nursing: 73
Family Nurse Practitioner: 17
Adult Gerontology Primary Care Nurse Practitioner: 14
Adult Gerontology Acute Care Nurse Practitioner: 6
Pediatric Primary Care Nurse Practitioner: 5
CNL: 5
Psychiatric-Mental Health Nurse Practitioner: 4
Nursing Administration: 4
Women's Health Nurse Practitioner: 2
Practical Nursing: 2
Nurse Educator: 2
Pediatric Acute Care Nurse Practitioner: 2
Nursing Research and Clinical Nursing: 2
Neonatal Nurse Practitioner: 2
Adult Acute Care Nurse Practitioner: 1
Adult Nurse Practitioner: 1
Administration, Research or Clinical Nursing: 1
Pennsylvania Nursing Schools with the Most Degree Types
Best Ranked RN Programs in Pennsylvania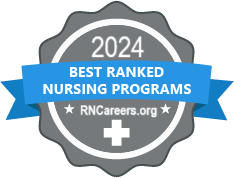 To help nursing students in their search for a top RN program, the education experts at RNCareers.org publish their annual findings of the best nursing schools for both Pennsylvania and the country. Schools ranked on our list have proven their ability to educate highly competent nurses.
To create our rankings, we evaluated 20 ADN degree programs and 35 BSN degree programs in Pennsylvania. We obtained each institution's first-time NCLEX-RN passing rates, the number of students taking the test, the program nursing accreditation and more. We then compared the results against other nursing programs in Pennsylvania to provide our state rankings. View our methodology.
Best Nursing Schools (BSN) in Pennsylvania
Best Nursing Schools (ADN) in Pennsylvania
Become an Advance Practice Registered Nurse (APRN) in Pennsylvania
RNs who wish to become advanced practice registered nurses will want to pursue any number of avenues to earn Master of Science in Nursing (MSN) degree. Earning a Master of Science in Nursing consists of graduate-level coursework and clinical practice for those nurses who wish to direct patient roles such as a nurse practitioner. You can also pursue indirect patient roles such as teaching or leadership roles, or become involved in policy, state-wide health initiatives or community engagement. There are many clinical and non-clinical avenues that an RN with MSN can pursue.
Become a Nurse Practitioner (NP) in Pennsylvania
Learn how to become a Nurse Practitioner (NP) and research schools in Pennsylvania offering the following high paying nurse practitioner specialties:
Learn about Doctor of Nursing Practice (DNP) Degree.
Pennsylvania RN Licensing Requirements
Pennsylvania State Board of Nursing
PO Box 2649
Harrisburg, PA 17105-2649
(717) 783-7142
Fees:
Initial licensing fee, RN: $35
License renewal (every two years), RN: $65; LPN: $60
Continuing Education Requirements:
RNs: 30 contact hours every renewal period; LPNs: None
RN Licensure by Exams
After completing an approved nursing program, nursing candidates will submit an application to the board. Temporary practice permits can be issued to graduates who apply within a year after graduation. Nurses working under a temporary permit must be under direct supervision of an experienced registered nurse. In addition to the application, candidates must also provide transcripts, and in some cases, verification of program completion. There is a $35 fee for the materials to be processed and an addition $35 for a temporary permit if the candidate wishes to have one. There is a $200 fee that will be paid to Pearson VUE, the company that runs the NCLEX exam. Results will be sent to the examinees within 2-30 days. There is a 45-day waiting period for candidates who wish to retake the NCLEX. The candidate will then need to reapply and pay additional fees.
RN Licensure by Endorsement
Registered nurses who obtained licensure in one of the other fifty states will need to complete the requirements as stated above in addition to paying a $100 fee.
RN License for Nurses Educated Abroad
Nurses who have been educated in a country outside of the United States and have not taken the NCLEX must apply for CGNFS certification before applying for licensure. Upon receiving certification, candidates may apply to the Pennsylvania Board using the appropriate application online. Nurses must also register to take the NCLEX exam through the Pearson VUE website.
RN Salaries in Pennsylvania
There are many opportunities in hospitals, home health, and non-hospital work environments for registered nurses in Pennsylvania. Positions available to baccalaureate prepared nurses include:
Informatics works such as ICUs, maternity wards, cardiac care, and emergency departments
Nursing administrators and directors
Mental health
Nurse researchers
There are approximately 130,000 nurses licensed nurses in the state of Pennsylvania. Despite this, there is a huge shortage expected within the state. Pennsylvania will need an additional 54,000 registered nurses by the year 2020 to meet this great need. Nursing is predicted to be the fastest-growing occupation so now is a better time than ever to become a registered nurse.
Pennsylvania Registered Nursing Salaries
The Philadelphia-Camden-Wilmington Metropolitan area has the highest employment rate of registered nurses as well as the highest hourly mean wage and annual median wage.
Source: BLS, Department of Education, State Board of Nursing, Nursing School Websites.