Overview of Nursing Schools in Washington
2023 8th Annual Best Ranked RN Programs in Washington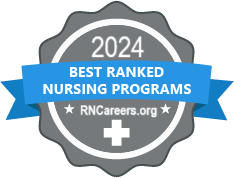 To help nursing students in their search for a top RN program, the education experts at RNCareers.org publish their annual findings of the best nursing schools for both Washington and the country. Schools ranked on our list have proven their ability to educate highly competent nurses.
To create our rankings, we evaluated 22 ADN degree programs and 8 BSN degree programs in Washington. We obtained each institution's first-time NCLEX-RN passing rates, the number of students taking the test, the program nursing accreditation and more. We then compared the results against other nursing programs in Washington to provide our state rankings. View our methodology.
2023 Salary Reports for Washington
Our Nursing Salary Report presents a thorough examination of income prospects and the financial environment for nursing professionals across diverse roles, locations, and experience levels.
This all-inclusive resource highlights factors that impact nursing wages, including education, specialization, geographical location, and years of experience.
By offering in-depth data on salary trends, industry outlook, and regional differences, the report functions as an essential guide for aspiring nurses, current practitioners, and employers to make well-informed decisions regarding career progression and compensation within the nursing profession. Find projected demand for nurses in 2030 in Washington.
Salary Compared to Related Professions in Washington
With an average annual salary of $95,350, Washington Registered Nurses tend to earn less than Nurse Anesthetists ($244,730), Nurse Practitioners ($130,840), and Nurse Midwives ($111,780).
However, Registered Nurses tend to earn more than Nursing Assistants ($38,270), LPNs ($63,250), and Nursing Instructors ($80,080).
Salaries Ranked by Washington Cities
The following section delves into a comprehensive analysis of registered nurse salaries across various metropolitan areas in Washington. We present the average salary figures, cost of living (COL) adjustments, and differences between the two metrics.
This information enables nursing professionals to make informed decisions about their career paths while considering the impact of the cost of living in each region.
By examining the disparities between salaries and living expenses, nurses can gain valuable insights into the financial landscape of their profession across the state of Washington.
About Nursing Schools in Washington
Washington state is looking at a steady rise in the need for the nursing workforce to uplift the health status of its citizens. The nurses find employment across various areas including home health, school health, long-term care facilities, acute care, residential homes, community health facilities, and more. Among these, the fresh graduates are earning $65,400 annually, while the ones with more than 20 years of experience make a whopping $125,970 on average. There are some 59,300 registered nurses working in the state, and the number is expected to rise to 70,240 by 2028. As such, the state is going to need to employ 5,820 nurses annually to meet this demand and fulfill this prediction.
Similarly, this diverse state is also a great destination for both experienced and freshly graduated Nurse Practitioners. The annual average salary of the 3,720 NPs working here is a comfortable sum of $90,980, with the more experienced ones earning up to $162,080. You could see these figures on your paycheck, too, as Washington will surely need 5,180 NP by 2028, which means that the state will employ 480 NPs annually to meet this number.
To put the cherry on the cake, the Nurse Practitioners working in Washington state are granted Full Practice authority, as per the American Association of Nurse Practitioners. A full practice authority means that the NPs are permitted to evaluate patients, diagnose, order, and interpret diagnostic tests. They can initiate and manage treatments, including prescribing medications and controlled substances, under the exclusive licensure authority of the state board of nursing.
As of 2020, Washington is yet to implement the Enhanced Nurse Licensure Compact (eNLC), which allows nurses to work across states without having to obtain a license of each state. However, since the eNLC isn't implemented here, nurses wanting to come to Washington to practice from another state must pass the NCLEX examination here and obtain their license again.
There are multiple highly ranked nursing colleges in Washington state that can help you reach your goals and set new standards in healthcare practice. The graduates of these colleges are highly compassionate, research-focused, and uphold the values of holistic healthcare practices. The NCLEX pass rates are exceedingly high, and the employer satisfaction also speaks for the quality of care these nurses provide across all health sectors.
In our Washington RN program guide, find rankings for both ADN and BSN Degree programs, tuition costs, NCLEX passing rates, and more. Research key Washington RN Program information to help you compare program metrics and to apply to best RN program for your career in nursing.
In the State of Washington, nurses are helping to change the face of healthcare. To ensure that they have the best education and preparation for future health care challenges, registered nurses need to graduate from a state-approved associate's degree in nursing program or a BSN degree program.
Nurses who graduate from an RN program can obtain certification in over 100 nursing specialties, go on to earn an RN to BSN or RN to MSN degree.
BSN degree holders have options to earn an Advance Practice Register Nursing (APRN) degree and become a Nurse Practitioner (NP), or earn an advanced degree for a career in any number of nursing leadership roles such Nurse Educator or Clinical Nurse Specialist.
Washington RN Program Comparisons: ADN vs BSN
| Compare RN Programs | ADN | BSN |
| --- | --- | --- |
| Number of Nursing Programs | 34 | 13 |
| Average NCLEX Passing Rate | 89.15% | 89.26% |
| NCLEX Passing Rate Range | 72.60% to 95.60% | 76.49% to 95.05% |
Nursing Programs Offered by Washington Nursing Schools
Registered Nursing: 46
Family Nurse Practitioner: 6
Adult Gerontology Primary Care Nurse Practitioner: 4
Psychiatric-Mental Health Nurse Practitioner: 4
CNL: 3
Nursing Administration: 2
Nursing Research and Clinical Nursing: 2
Adult Gerontology Acute Care Nurse Practitioner: 1
Neonatal Nurse Practitioner: 1
Pediatric Primary Care Nurse Practitioner: 1
Washington Nursing Schools with the Most Degree Types
Become an Advance Practice Registered Nurse (APRN) in Washington
RNs who wish to become advanced practice registered nurses will want to pursue any number of avenues to earn Master of Science in Nursing (MSN) degree. Earning a Master of Science in Nursing consists of graduate-level coursework and clinical practice for those nurses who wish to direct patient roles such as a nurse practitioner. You can also pursue indirect patient roles such as teaching or leadership roles, or become involved in policy, state-wide health initiatives or community engagement. There are many clinical and non-clinical avenues that an RN with MSN can pursue.
Become a Nurse Practitioner (NP) in Washington
Learn how to become a Nurse Practitioner (NP) and research schools in Washington offering the following high paying nurse practitioner specialties:
Learn about Doctor of Nursing Practice (DNP) Degree.
Washington RN Licensing Requirements
Washington State Nursing Care Quality Assurance Commission
Department of Health
PO Box 47890
Olympia, WA 98504-7864
(360) 236-4703
Fees:
Initial licensing fee, RN: $92
License renewal (annual), RN: $101
Continuing Education Requirements:
RNs and LPNs: Seven contact hours in HIV-AIDS education
RN Licensure by Exams
Upon the completion of an approved nursing program, candidates will be required to verify program completion. This must be done before he/she can be granted authorization to take the NCLEX exam. The applicant will be responsible for an $88 nonrefundable application fee. There is a $200 registration fee that will be paid to Pearson VUE to register for the exam. When the candidate has received authorization to test (ATT), he/she will schedule the exam. After this, the candidate will verify the licensure online before receiving a paper copy.
RN License by Endorsement
Nurses who have obtained licensure in one of the other 50 states will be able to obtain licensure in Washington by endorsement. They will be required to submit a criminal background check through fingerprinting. If the registered nurse as an active license, he/she must submit verification of licensure and transcripts from an accredited nursing program. Candidates may work under a temporary permit that will allow them to work while the background check is being processed. Nurses who do not have an active license will be required to take part in a refresher course.
RN License for Nurses Educated Abroad
Registered nurses who obtained licensure outside of the United States will need to have an educational evaluation performed by an approved organization. The applicant will also be required to attest to having had AIDS training.