Overview of Nursing Schools in Indiana
About Nursing Schools in Indiana
Each of the Indiana University School of nursing campuses have joined to create an RN and BSN Degree Completion Option. This makes nursing courses distance accessible using web-based and video technologies, which require nursing students to attend class on campus. In a full-time program, nursing students can complete a program in 12 months and part-time students can complete a program in 18-24 months. The curriculum is designed to meet the needs of adult-learners of working nurses. Semesters are split in two learning modules, which can be completed in 7-8 weeks. Electives are meaningful to RN's today because they are designed to relevant to your experience and work goals. Current topics include: Informatics, Complementary Therapies, and Genetics.
In our Indiana RN program guide, find rankings for both ADN and BSN Degree programs, tuition costs, NCLEX passing rates, and more. Research key Indiana RN Program information to help you compare program metrics and to apply to best RN program for your career in nursing.
In the State of Indiana, nurses are helping to change the face of healthcare. To ensure that they have the best education and preparation for future health care challenges, registered nurses need to graduate from a state-approved associate's degree in nursing program or a BSN degree program.
Nurses who graduate from an RN program can obtain certification in over 100 nursing specialties, go on to earn an RN to BSN or RN to MSN degree.
BSN degree holders have options to earn an Advance Practice Register Nursing (APRN) degree and become a Nurse Practitioner (NP), or earn an advanced degree for a career in any number of nursing leadership roles such Nurse Educator or Clinical Nurse Specialist.
Indiana RN Program Comparisons: ADN vs BSN
| Compare RN Programs | ADN | BSN |
| --- | --- | --- |
| Number of Nursing Programs | 7 | 26 |
| Average NCLEX Passing Rate | 72.65% | 91.27% |
| NCLEX Passing Rate Range | 44.60% to 93.90% | 81.45% to 97.80% |
Best Ranked RN Programs in Indiana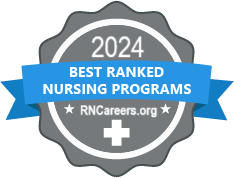 To help nursing students in their search for a top RN program, the education experts at RNCareers.org publish their annual findings of the best nursing schools for both Indiana and the country. Schools ranked on our list have proven their ability to educate highly competent nurses.
To create our rankings, we evaluated 5 ADN degree programs and 20 BSN degree programs in Indiana. We obtained each institution's first-time NCLEX-RN passing rates, the number of students taking the test, the program nursing accreditation and more. We then compared the results against other nursing programs in Indiana to provide our state rankings. View our methodology.
Best Nursing Schools in Indiana
Additional List of Top Indiana Nursing Programs
Become an Advance Practice Registered Nurse (APRN) in Indiana
RNs who wish to become advanced practice registered nurses will want to pursue any number of avenues to earn Master of Science in Nursing (MSN) degree. Earning a Master of Science in Nursing consists of graduate-level coursework and clinical practice for those nurses who wish to direct patient roles such as a nurse practitioner. You can also pursue indirect patient roles such as teaching or leadership roles, or become involved in policy, state-wide health initiatives or community engagement. There are many clinical and non-clinical avenues that an RN with MSN can pursue.
Become a Nurse Practitioner (NP) in Indiana
Learn how to become a Nurse Practitioner (NP) and research schools in Indiana offering the following high paying nurse practitioner specialties:
Learn about Doctor of Nursing Practice (DNP) Degree.
Indiana RN Licensing Requirements
RN Licensure by Exam
Each candidate who wishes to obtain licensure by examination must submit an application to the Indiana Professional Licensing Agency (IPLA). The licensure application and the NCLEX registration process must be completed before candidates are eligible to take the exam. The application must include:
Passport-type photo with the school seal and signature of the candidate and Dean on the lower front
Check or money or for $50.00 (non-refundable) may payable to the Indiana Professional Licensing Agency
NCLEX Application and Registration which costs $200 and must be made payable to the National Council of State Boards of Nursing in the form of a certified check, cashier's check, or money order
Certificate of Completion form completed by the Dean/Director/Designee of the nursing program
Verification of Licensure from every state in which the candidate held licensure. Nurses who hold licensure in a non-compact state are required to submit Verification of State Licensure Form.
RN Licensure by Endorsement
Nurses who are licensed in one of the other 50 states can obtain licensure through endorsement. Along with the application, candidates must submit the following:
Proof of current, active licensure from another state
Completed background check
Verification of licensure from every state or country the candidate has obtained licensure in
RN License for Nurses Educated Abroad
Along with the items that are needed for licensure by examination, foreign nurse graduates must also submit the following:
Official nursing transcripts provided through a evaluation services such as CGFNS
Official copy of high school diploma or official transcripts
If not written in English, all documents must be accompanied by an official
Indiana Professional Licensing Agency
402 W. Washington Street, Room W072
Indianapolis, IN 46204
(317) 232-2960
RN Salaries in Indiana
Ample job opportunities for registered nurses are available in the state of Indiana. Nursing employment is expected to grow rapidly, and the nursing industry is rather large, and new jobs are continuously created. Many of the jobs created are due to nurses who are leaving the occupation due to retirement. Technological advances also drive job growth in patient care. Last, but not least, rapid growth is expected in outpatient facilities such as rehabilitation and chemotherapy.
Indiana Registered Nursing Salaries
Although the Indianapolis metropolitan area has the largest number of registered nurses, it is the Gary Metropolitan area that has the highest annual median wage.
Source: BLS, Department of Education, State Board of Nursing, Nursing School Websites.