Overview of Nursing Schools in Oregon
There are 20 nursing schools in Oregon. The CCNE accredits 5 nursing schools and the ACEN accredits 5 schools in Oregon.
On average, attending an RN program in Oregon will cost you between $3,553.00 and $30,273.00 per year.
In Oregon, the average undergraduate student borrows between $4,725.00 and $14,000.00 per year.
Typically, an Associate Degree in Nursing (ADN) will take between 18 to 24 months to complete, and a Bachelor Degree in Nursing (BSN) will take about 4 years to complete.
The average, the NCLEX passing rate range for Oregon ADN students is between 86.44% and 97.70%.
On average, the NCLEX passing rate range for Oregon BSN students is between 84.88% and 92.01%.
The average annual salary for a registered nurse in Oregon is between $52,080 to $111,220 a year.
Registered Nurses (RN) throughout the country and in Oregon can expect a favorable job growth of 15 percent from 2016 to 2026 which much faster than the average for all occupations.
Onling Programs Liked by Oregon Nurses
Learn about start dates, transferring credits, availability of financial aid, and more by contacting the universities below.
About Nursing Schools in Oregon
There are endless reasons for registered nurses to pursue higher education in the form of a bachelor's degree. Nurses who do this will find college programs designed to meet their needs. Programs expose nurses to curriculum while preparing them for roles that are not currently covered by their certification. Registered nurses understand the important of staying updated and fresh in nursing knowledge and the effect it has on the care they provide. Nurses are encouraged to search multiple schools to ensure they find a program that best fits their needs. Schools offer online and distance education programs that allow nurses to earn a bachelor's degree without stepping foot in a classroom.
In our Oregon RN program guide, find rankings for both ADN and BSN Degree programs, tuition costs, NCLEX passing rates, and more. Research key Oregon RN Program information to help you compare program metrics and to apply to best RN program for your career in nursing.
In the State of Oregon, nurses are helping to change the face of healthcare. To ensure that they have the best education and preparation for future health care challenges, registered nurses need to graduate from a state-approved associate's degree in nursing program or a BSN degree program.
Nurses who graduate from an RN program can obtain certification in over 100 nursing specialties, go on to earn an RN to BSN or RN to MSN degree.
BSN degree holders have options to earn an Advance Practice Register Nursing (APRN) degree and become a Nurse Practitioner (NP), or earn an advanced degree for a career in any number of nursing leadership roles such Nurse Educator or Clinical Nurse Specialist.
Oregon RN Program Comparisons: ADN vs BSN
| Compare RN Programs | ADN | BSN |
| --- | --- | --- |
| Number of Nursing Programs | 15 | 5 |
| Average NCLEX Passing Rate | 92.93% | 88.99% |
| NCLEX Passing Rate Range | 86.44% to 97.70% | 84.88% to 92.01% |
| Average Net Price | $8,126.33 | $25,178.00 |
| Average Net Price Range | $3,553.00 to $10,464.00 | $20,857.00 to $30,273.00 |
| Average Student Loan | $8,948.80 | $22,860.00 |
| Average Student Loan Range | $6,334.00 to $12,113.00 | $20,748.00 to $27,000.00 |
| See Additional Detail | ADN Rankings for Oregon State | BSN Rankings for Oregon State |
Best Ranked RN Programs in Oregon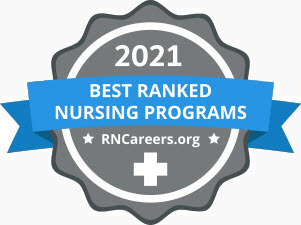 To help nursing students in their search for a top RN program, the education experts at RNCareers.org publish their annual findings of the best nursing schools for both Oregon and the country. Schools ranked on our list have proven their ability to educate highly competent nurses.
To create our rankings, we evaluated 15 ADN degree programs and 4 BSN degree programs in Oregon. We obtained each institution's first-time NCLEX-RN passing rates, the number of students taking the test, the program nursing accreditation and more. We then compared the results against other nursing programs in Oregon to provide our state rankings. View our methodology.
#1
500 W University, Shawnee, OK - 74804
(405) 275-2850
Grade:

(A) 97.98%

Programs:

Registered Nursing

Award Levels:

Bachelor, LPN to BSN, MSN
Oklahoma Baptist University is a private university that was founded in 1910 in Shawnee, OK. They offer a four-year BSN program, an LPN to BSN track, and an online RN to BSN/MSN track, all of which are CCNE accredited. OBU's programs infuse principles of the Christian faith and worldview into nursing education. Unique to OBU is their RN to BSN/MSN track, offering a flexible opportunity for nurses seeking to advance their careers with a 2-year program that they may exit upon earning the BSN, or may continue to finish with an MSN.
The traditional BSN track fosters a collaborative and supportive environment with close faculty to student interaction. OBU's nursing school further educates nursing students to understand civic and regulatory processes as well as fiscal and Human Resources management. This is an integrative program resting on pillars of faith, collaboration, and excellence. Students may apply twice a year for enrollment in the fall or in the spring.
#2
7777 S May Ave, Oklahoma City, OK - 73159-9987
(405) 682-1611
Grade:

(A) 96.18%

Programs:

Registered Nursing

Award Levels:

Associate
Oklahoma City Community College was founded in 1972 and is located in Oklahoma City, OK. They offer three pathways toward an ADN within their nursing department: the traditional pathway, a "Career Ladder" (LPN to RN) pathway, as well as a baccalaureate to ADN accelerated pathway. The BS to ADN track is for those who hold a non-nursing degree. Credits earned in general education will be counted towards the ADN curriculum, providing students a quicker way to graduate. OCCC's campus has three labs with simulation equipment, giving students the opportunity of hands-on practice before they begin their clinical rotations.
The program has a strong focus on clinical reasoning, decision-making, as well as communication techniques. Graduates are encouraged and prepared to serve the public in all kinds of healthcare settings. Traditional ADN applicants are enrolled twice yearly in the fall and in the spring. Career ladder applicants can enroll annually in the fall, and the accelerated program enrolls students in the summer and in the spring.
#3
1507 S McKenna, Poteau, OK - 74953-5208
(918) 647-1200
Grade:

(A) 94.35%

Programs:

Registered Nursing

Award Levels:

Associate
#4
One Murray Campus, Tishomingo, OK - 73460
(580) 387-7000
Grade:

(A) 93.88%

Programs:

Registered Nursing

Award Levels:

Associate
#5
6420 S E 15th, Midwest City, OK - 73110-2799
(405) 733-7673
Grade:

(A) 93.33%

Programs:

Registered Nursing

Award Levels:

Associate
Rose State College is located in Midwest City, Oklahoma.  They offer an ADN degree program.  They also offer a Career Ladder Track, which allows LPNs, paramedics and military medics to bridge into the ADN program.  Both options can be completed online or in the traditional classroom.  Classes may be daytime or evenings, with clinical experiences varying from mornings or afternoons.  The Career Ladder track can be completed in 2 semesters.
#6
100 N University Dr, Edmond, OK - 73034
(405) 974-2000
Grade:

(A) 92.94%

Programs:

Registered Nursing

Award Levels:

Bachelor, LPN to BSN, MSN
The University of Central Oklahoma was founded in 1890 in Edmond, OK. The first class of nursing students graduated in 1972, and today the nursing department offers three CCNE accredited programs: a BSN, MSN, and RN-to BSN track. Nursing education at UCO is comprised of multi-disciplinary research, an awareness of healthcare trends, scholarly inquisition, and diversity. Further emphasis is placed on the dynamic nature of a nursing career, an essential profession in an ever-changing world. Thereby the nursing department at UCO aims to educate students in a transformative manner, while instilling the importance of being lifelong learners with sharp clinical reasoning and critical thinking skills. Students will furthermore be prepared to practice with evidence-based strategies and professional communication techniques.
The RN to BSN track is comprised of 8-week course blocks with full and part time options. If students opt for full time, the program can be completed in 2 semesters. Students may apply to all programs in the fall and in the spring.
#7
900 N Portland, Oklahoma City, OK - 73107-6195
(405) 947-4421
Grade:

(A) 91.23%

Programs:

Nursing Administration, Nursing Research and Clinical Nursingg, Registered Nursing

Award Levels:

Associate
Oklahoma State University-Oklahoma City is a public institution that was founded in 1961 in Oklahoma City, OK. OSU's department of health sciences places great importance on diversity and inclusion, striving to preserve their community comprised of individuals with wildly different backgrounds and life experiences.They offer an ADN program that is ACEN accredited with two pathways: the traditional pathway, and an LPN to RN and Paramedic to RN bridge program.
The traditional 2-year track is a 72-credit hour curriculum that combines classroom instruction with laboratory activities and clinical experience. The bridge program is comprised of a 58-hour curriculum, giving LPNs and Paramedics the ability to complete the coursework in a shorter amount of time. Students may apply twice a year for enrollment in the fall or in the spring. OSU offers many scholarship programs to help fund education within the health sciences. Faculty members of the program are dedicated to the wellbeing of students and ensuring they are well prepared for the NCLEX exam and their future careers in the nursing field.
#8
7777 S Lewis Ave., Tulsa, OK - 74171
(918) 495-6161
Grade:

(A) 91.04%

Programs:

Registered Nursing

Award Levels:

Bachelor
Oral Roberts University is located in Tulsa, Oklahoma.  ORU is a Christian university with courses taught by Christ-centered professors.  The Anna Vaughn College of Nursing offers a traditional BSN program and an online RN to BSN program.  The online RN to BSN program is offered entirely online.
Become an Advance Practice Registered Nurse (APRN) in Oregon
RNs who wish to become advanced practice registered nurses will want to pursue any number of avenues to earn Master of Science in Nursing (MSN) degree. Earning a Master of Science in Nursing consists of graduate-level coursework and clinical practice for those nurses who wish to direct patient roles such as a nurse practitioner. You can also pursue indirect patient roles such as teaching or leadership roles, or become involved in policy, state-wide health initiatives or community engagement. There are many clinical and non-clinical avenues that an RN with MSN can pursue.
Become a Nurse Practitioner (NP) in Oregon
Learn how to become a Nurse Practitioner (NP) and research schools in Oregon offering the following high paying nurse practitioner specialties:
Learn about Doctor of Nursing Practice (DNP) Degree.
Online NP Programs Liked by Oregon Nurses
Learn about start dates, transferring credits, availability of financial aid, and more by contacting the universities below.
Oregon RN Licensing Requirements
Oregon State Board of Nursing
17938 SW Upper Boones Ferry Road
Portland, OR 97224-7012
(971) 673-0685
Continuing Education Requirements:
RNs and LPNs: Complete the one-time Pain Management Continuing Education requirement
RN Licensure by Exams
After a candidate has completed the degree requirements, he/she will have the dean or director to sign the appropriate form to verify identity. A Passport-type photograph will be required. Official transcripts will need to be sent to the Board. The candidate must also complete the verification form that is found in the application along with the correct fingerprint card to a fingerprinting facility. That candidate will pay the Oregon State Board of Nurses $52 to process a background check and $160 for the application fee. From here, the candidate will register with Pearson VUE to take the NCLEX exam and pay the $200 fee. When, and only when, the candidate receives authorization to test (ATT) he/she can schedule the test at the most convenient center. Candidates who do not pass the NCLEX on the first attempt will have to apply to retake and pay an additional $25 fee to the Oregon State Board.
RN Licensure by Endorsement
Candidates who obtained licensure in one of the other fifty states can apply for licensure in Oregon by endorsement. This application is online. Candidates must submit license verification from the first state of licensure as well as the most recent one. Registered nurses applying by endorsement will be responsible for a $195 fee as well as $52 for fingerprint processing. Nurses who are not currently practicing will be required to complete a reentry course.
RN License for Nurses Educated Abroad
Nurses who completed a program outside of the U.S. jurisdiction will need to obtain a CGFNS certificate or VisaScreen. If the nursing program was not in English, candidates will be required to pass an English proficiency exam. Fees for internationally educated nurses vary.
RN Salaries in Oregon
There are many nursing positions that are only available to nurses who have obtained a bachelors degree. Becoming a hospice or home health care nurse are both positions that require higher education. There is a huge demand for nurses in Oregon and the need is expected to increase by 109% by the year 2020. Graduates are likely to choose management and administrative options that allow them to work in a hospital setting with a different role. Graduates may also become charge nurses or hospital administrators.
Oregon Registered Nursing Salaries
The Portland metropolitan area has the highest amount of registered nurses along with the highest hourly mean wage and annual median wage.
Source: BLS, Department of Education, State Board of Nursing, Nursing School Websites.
Take the next step toward your healthcare future with online learning.
Discover schools with the programs and courses you're interested in, and start learning today.