Overview of Nursing Schools in Oregon
[Year] 8th Annual
Best Ranked RN Programs in Oregon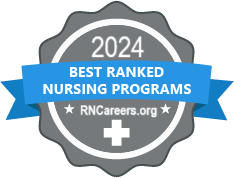 To help nursing students in their search for a top RN program, the education experts at RNCareers.org publish their annual findings of the best nursing schools for both Oregon and the country. Schools ranked on our list have proven their ability to educate highly competent nurses.
To create our rankings, we evaluated 15 ADN degree programs and 4 BSN degree programs in Oregon. We obtained each institution's first-time NCLEX-RN passing rates, the number of students taking the test, the program nursing accreditation and more. We then compared the results against other nursing programs in Oregon to provide our state rankings. View our methodology.
Oregon RN Licensing Requirements
Our report on nursing licensing in Oregon provides a comprehensive overview of the process and requirements for obtaining and maintaining a nursing license in the state.
We cover topics such as licensing requirements, application procedures, costs, timelines, and the NCLEX exam. Additionally, the report delves into licensure by endorsement, license transfers, renewal processes, reactivation, and continuing education requirements for nurses in Oregon.
This resource aims to easily guide aspiring nurses and current professionals through the complexities of Oregon's nursing licensure system, offering support and resources for success in the field.
Registered Nursing Salary Reports
The Nursing Salary Reports offers an in-depth analysis of the earning potential and financial landscape for nursing professionals across various roles, locations, and experience levels.
This comprehensive resource sheds light on factors that influence nursing salaries, such as education, specialization, geographic location, and years of experience.
By providing detailed information on salary trends, industry outlook, and regional variations, the report serves as a valuable guide for aspiring nurses, current professionals, and employers in making informed decisions about career development and compensation in the nursing field.
[2023] Oregon Nursing Salaries Compared
With an average annual salary of $98,630, Oregon Registered Nurses tend to earn less than Nurse Anesthetists ($225,560), Nurse Practitioners ($128,190), and Nurse Midwives ($122,880).
However, Registered Nurses tend to earn more than Nursing Assistants ($38,830), LPNs ($60,090), and Nursing Instructors ($87,880).
RN Salaries in Oregon by City
About Nursing Schools in Oregon
There are endless reasons for registered nurses to pursue higher education in the form of a bachelor's degree. Nurses who do this will find college programs designed to meet their needs. Programs expose nurses to curriculum while preparing them for roles that are not currently covered by their certification. Registered nurses understand the important of staying updated and fresh in nursing knowledge and the effect it has on the care they provide. Nurses are encouraged to search multiple schools to ensure they find a program that best fits their needs. Schools offer online and distance education programs that allow nurses to earn a bachelor's degree without stepping foot in a classroom.
In our Oregon RN program guide, find rankings for both ADN and BSN Degree programs, tuition costs, NCLEX passing rates, and more. Research key Oregon RN Program information to help you compare program metrics and to apply to best RN program for your career in nursing.
In the State of Oregon, nurses are helping to change the face of healthcare. To ensure that they have the best education and preparation for future health care challenges, registered nurses need to graduate from a state-approved associate's degree in nursing program or a BSN degree program.
Nurses who graduate from an RN program can obtain certification in over 100 nursing specialties, go on to earn an RN to BSN or RN to MSN degree.
BSN degree holders have options to earn an Advance Practice Register Nursing (APRN) degree and become a Nurse Practitioner (NP), or earn an advanced degree for a career in any number of nursing leadership roles such Nurse Educator or Clinical Nurse Specialist.
Oregon RN Program Comparisons: ADN vs BSN
| Compare RN Programs | ADN | BSN |
| --- | --- | --- |
| Number of Nursing Programs | 15 | 5 |
| Average NCLEX Passing Rate | 92.42% | 91.23% |
| NCLEX Passing Rate Range | 86.00% to 99.10% | 87.72% to 93.62% |
Nursing Programs Offered by Oregon Nursing Schools
Registered Nursing: 20
Adult Gerontology Acute Care Nurse Practitioner: 1
CNL: 1
Family Nurse Practitioner: 1
Oregon Nursing Schools with the Most Degree Types
Become an Advance Practice Registered Nurse (APRN) in Oregon
RNs who wish to become advanced practice registered nurses will want to pursue any number of avenues to earn Master of Science in Nursing (MSN) degree. Earning a Master of Science in Nursing consists of graduate-level coursework and clinical practice for those nurses who wish to direct patient roles such as a nurse practitioner. You can also pursue indirect patient roles such as teaching or leadership roles, or become involved in policy, state-wide health initiatives or community engagement. There are many clinical and non-clinical avenues that an RN with MSN can pursue.
Become a Nurse Practitioner (NP) in Oregon
Learn how to become a Nurse Practitioner (NP) and research schools in Oregon offering the following high paying nurse practitioner specialties:
Learn about Doctor of Nursing Practice (DNP) Degree.