Overview of Nursing Schools in Wisconsin
About Nursing Schools in Wisconsin
Wisconsin is one of the many states that is facing a severe crisis in terms of nursing shortage. The average annual salary of the 63,630 registered nurses currently employed in the state is $99,060 with the ones with recent graduates earning about $54,040 per year. The state currently requires a whooping 3,600 nurses annually and the total number of nurses working here is predicted to increase by 7.8% from the year 2018 to 2028. There are multiple hospitals, clinics, community healthcare facilities, and other healthcare settings that demand nurses annually; more than the state is able to supply. Thus, nurses are less likely to face a shortage of job vacancies should they choose to work in Wisconsin.
On top of that, the state also has an average job openings of 250 Nurse practitioners in addition to the 4,820 NPs currently working there. The US department of labor has predicted that the number of NPs working in the state will rise to 3,750 by the year 2028, hence the significant number of annual job openings. Recently graduated NPs earn about $100,570 while those with significant experience earn more than $137,000 in various healthcare settings across the state.
Nurse Practitioners working in Wisconsin have Reduced Practice as per the American Association of Nurse Practitioners. A reduced practice means that the laws reduce the ability of the NPs to engage in at least one element of NP practice. They are required to have a career-long regulated collaborative agreement with another healthcare provider in order to provide patient care. In other words, it limits the setting of one or more elements of NP practice.
Working in Wisconsin opens doors for a wide variety of water recreation such as boating, fishing, canoeing, kayaking, and rafting. Thus you can provide ideal patient care in a variety of settings while also allowing yourself to cool down and relax every once in a while. In addition to that, there are a number of high-quality nursing schools and colleges in the state that give you the option to further advance your career as a nurse and learn to become strong nurse leaders, educators, policy-makers, and researchers.
About Nursing Schools in Wisconsin
In Wisconsin, seasoned nurses apply critical thinking skills to help structure the best healing environment for patients. As the healthcare industry evolves and becomes more complex, nurses become required to provide an advanced scope of practice beyond the traditional bed setting. However, meeting the objectives that are presented in the nursing industry require nurses to seek out higher education. While an associate's degree in nursing can get you in the door with foundational skills, a bachelor's degree will provide all the necessary tools that are needed to meet the challenges head-on.
In our Wisconsin RN program guide, find rankings for both ADN and BSN Degree programs, tuition costs, NCLEX passing rates, and more. Research key Wisconsin RN Program information to help you compare program metrics and to apply to best RN program for your career in nursing.
In the State of Wisconsin, nurses are helping to change the face of healthcare. To ensure that they have the best education and preparation for future health care challenges, registered nurses need to graduate from a state-approved associate's degree in nursing program or a BSN degree program.
Nurses who graduate from an RN program can obtain certification in over 100 nursing specialties, go on to earn an RN to BSN or RN to MSN degree.
BSN degree holders have options to earn an Advance Practice Register Nursing (APRN) degree and become a Nurse Practitioner (NP), or earn an advanced degree for a career in any number of nursing leadership roles such Nurse Educator or Clinical Nurse Specialist.
Wisconsin RN Program Comparisons: ADN vs BSN
| Compare RN Programs | ADN | BSN |
| --- | --- | --- |
| Number of Nursing Programs | 23 | 25 |
| Average NCLEX Passing Rate | 89.78% | 94.02% |
| NCLEX Passing Rate Range | 9.70% to 98.90% | 83.70% to 100.00% |
Nursing Programs Offered by Wisconsin Nursing Schools
Registered Nursing: 45
Family Nurse Practitioner: 10
Adult Gerontology Primary Care Nurse Practitioner: 6
CNL: 5
Administration, Research or Clinical Nursing: 2
Adult Gerontology Acute Care Nurse Practitioner: 2
Pediatric Primary Care Nurse Practitioner: 2
Psychiatric-Mental Health Nurse Practitioner: 2
Pediatric Acute Care Nurse Practitioner: 1
Practical Nursing: 1
Research or Clinical Nursing: 1
Nursing Administration: 0
Wisconsin Nursing Schools with the Most Degree Types
Best Ranked Nursing Schools in Wisconsin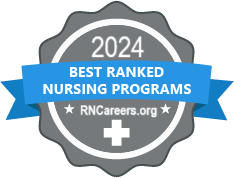 To help nursing students in their search for a top RN program, the education experts at RNCareers.org publish their annual findings of the best nursing schools for both Wisconsin and the country. Schools ranked on our list have proven their ability to educate highly competent nurses.
To create our rankings, we evaluated 19 ADN degree programs and 20 BSN degree programs in Wisconsin. We obtained each institution's first-time NCLEX-RN passing rates, the number of students taking the test, the program nursing accreditation and more. We then compared the results against other nursing programs in Wisconsin to provide our state rankings. View our methodology.
Best Nursing Schools (BSN) in Wisconsin
Best Nursing Schools (ADN) in Wisconsin
Additional List of Wisconsin Nursing Schools
Number of Degree Types Offered by Wisconsin Nursing Schools
Registered Nursing: 45
Family Nurse Practitioner: 10
Adult Gerontology Primary Care Nurse Practitioner: 6
CNL: 5
Administration, Research or Clinical Nursing: 2
Adult Gerontology Acute Care Nurse Practitioner: 2
Pediatric Primary Care Nurse Practitioner: 2
Psychiatric-Mental Health Nurse Practitioner: 2
Pediatric Acute Care Nurse Practitioner: 1
Practical Nursing: 1
Research or Clinical Nursing: 1
Nursing Administration: 0
Number of Degree Types Offered by the Top 10 Wisconsin Nursing Schools
Wisconsin RN Licensing Requirements
Wisconsin Department of Regulation and Licensing
1400 E. Washington Avenue
P.O. Box 8935
Madison, WI 53708
(608) 266-2112
Continuing Education Requirements:
None
RN Licensure by Exams
Students are encouraged to turn in their applications six weeks prior to graduation. When the application is entered it will be given an identification number and the applicant will be notified with weekly email updates. There is a licensing fee of $90 and candidates will be able to obtain a temporary permit for an additional $10. The temporary permit is good for 90 days and allows candidates to work as a graduate nurse. Graduates are advised to register for the NCLEX exam and paying the $200 fee prior to submitting the application to the board. When and only when the candidate has received the authorization to test (ATT), can he/she schedule the NCLEX exam. It is worth noting that the candidate must pass the exam during the 90-day temporary permit period. Failure to pass the NCLEX will submit a short retake application and pay an additional $15 fee. Candidates should also be advised that there is a 45-day waiting period before the NCLEX can be reattempted.
RN License by Endorsement
Registered nurses who obtained licensure in one of the other 50 states may obtain licensure in Wisconsin by endorsement. Candidates must submit verification of licensure from every state where licensure was held and a copy of a current license. Candidates who obtained licensure in a Canadian province may also be endorsed in Wisconsin if they passed the appropriate exam. Registered nurses who have not practiced in the previous five years will be required to complete a refresher course.
RN License for Nurses Educated Abroad
Nurses who completed a nursing program in a country outside of the United States will need to complete the CGFNS certification process before Wisconsin licensure can be obtained. This does not apply to Canadian students who did their education in English.
Become an Advance Practice Registered Nurse (APRN) in Wisconsin
RNs who wish to become advanced practice registered nurses will want to pursue any number of avenues to earn Master of Science in Nursing (MSN) degree. Earning a Master of Science in Nursing consists of graduate-level coursework and clinical practice for those nurses who wish to direct patient roles such as a nurse practitioner. You can also pursue indirect patient roles such as teaching or leadership roles, or become involved in policy, state-wide health initiatives or community engagement. There are many clinical and non-clinical avenues that an RN with MSN can pursue.
Become a Nurse Practitioner (NP) in Wisconsin
Learn how to become a Nurse Practitioner (NP) and research schools in Wisconsin offering the following high paying nurse practitioner specialties:
Learn about Doctor of Nursing Practice (DNP) Degree.
RN Salaries in Wisconsin
Baccalaureate-prepared nurses have a wide array of opportunities available to them. Rural communities and healthcare facilities fill the health care system in Wisconsin with a large population of elderly citizens. It has been reported that nurse leaders are needed to service and organize homebound patients in the rural populations that fill Wisconsin. Nurses who graduate from an RN program are able to obtain certification in more than 100 nursing specialties.
Employment Outlook for RNs Through 2028 In Wisconsin
Wisconsin Registered Nursing Salaries
While Milwaukee has the most registered areas employed than any other metropolitan area in Wisconsin, it is Madison that has the highest hourly mean wage and annual median wage.
Source: BLS, Department of Education, State Board of Nursing, Nursing School Websites.
Employment Outlook for NPs Through 2028 In Wisconsin
Wisconsin Nurse Practitioner Salaries