Overview of Nursing Schools in Florida
About Nursing Schools in Florida
Florida ranks among the top states for the highest employment of nursing professions. Currently, there are more than 183,000 nurses working in various healthcare settings including hospitals, home care centres, community healthcare settings, research facilities, and so on. On average, nurses in Florida earn $70,230 annually with the most experienced professionals earning $93,500 annually. While this figure falls below the national average for the profession, the cost of living in Florida is also below the national average. With average annual job openings of 14,000, the number of nurses working in this state is expected to rise from 189,820 to 220,350 from the year 2018 to 2019.
In addition to RNs this Sunshine State is also a great work destination for Nurse Practitioners. More than 13,000 NPs are working in Florida with those with more than 20 years of experience earning $134,230. According to the US department of labor, the number of NPs working in this warm and sunny state is projected to rise from 11,100 to 15,200 from 2018 to 2028. With the annual job opening of 1,110 NPs, it can be safe to predict that Florida needs NPs to match its needs which makes it an ideal state to work as an NP.
However, Nurse Practitioners working in Florida only have Restricted Practice which means that the laws restrict their ability to engage in at least one element of NP practice. The state practice and licensure laws also require them to have career-long supervision, delegation or team management by another healthcare provider to provide patient care.
Despite this, Florida is an ideal destination for RNs and NPs alike because of the plethora of opportunities that the state gives them. If you love the outdoors and sunny weather while also enjoying the benefits of low cost of living then Florida is the best place to work as a nurse.
About Nursing Schools in Florida
Nursing is a profession that requires a wide knowledge base. It covers a wide selection of variables that affect health and wellness. The nurses in Florida are knowledgeable of the multicultural influences and social issues have on health. Nurses must be prepared to provide expert nursing services, define greater responsibilities, and prove that you are ready for bigger responsibilities. This will ensure that you are providing the best nursing care to Florida residents that is possible. RN to BSN programs build on knowledge gained while working in the field and enables nurses to meet the challenges of the field head on.
In our Florida RN program guide, find rankings for both ADN and BSN Degree programs, tuition costs, NCLEX passing rates, and more. Research key Florida RN Program information to help you compare program metrics and to apply to best RN program for your career in nursing.
In the State of Florida, nurses are helping to change the face of healthcare. To ensure that they have the best education and preparation for future health care challenges, registered nurses need to graduate from a state-approved associate's degree in nursing program or a BSN degree program.
Nurses who graduate from an RN program can obtain certification in over 100 nursing specialties, go on to earn an RN to BSN or RN to MSN degree.
BSN degree holders have options to earn an Advance Practice Register Nursing (APRN) degree and become a Nurse Practitioner (NP), or earn an advanced degree for a career in any number of nursing leadership roles such Nurse Educator or Clinical Nurse Specialist.
Florida RN Program Comparisons: ADN vs BSN
| Compare RN Programs | ADN | BSN |
| --- | --- | --- |
| Number of Nursing Programs | 45 | 50 |
| Average NCLEX Passing Rate | 72.16% | 81.41% |
| NCLEX Passing Rate Range | 28.60% to 97.20% | 29.14% to 98.40% |
Best Ranked Nursing Schools in Florida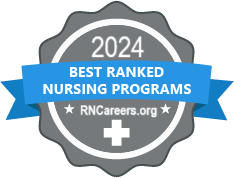 To help nursing students in their search for a top RN program, the education experts at RNCareers.org publish their annual findings of the best nursing schools for both Florida and the country. Schools ranked on our list have proven their ability to educate highly competent nurses.
To create our rankings, we evaluated 42 ADN degree programs and 21 BSN degree programs in Florida. We obtained each institution's first-time NCLEX-RN passing rates, the number of students taking the test, the program nursing accreditation and more. We then compared the results against other nursing programs in Florida to provide our state rankings. View our methodology.
Best Nursing Schools in Florida
Additional List of Top Florida Nursing Programs
Nursing Programs Offered by Florida Nursing Schools
Registered Nursing: 71
Family Nurse Practitioner: 16
Adult Gerontology Primary Care Nurse Practitioner: 9
Adult Gerontology Acute Care Nurse Practitioner: 6
CNL: 5
Psychiatric-Mental Health Nurse Practitioner: 5
Nurse Educator: 4
Nurse Anesthetist: 3
Pediatric Primary Care Nurse Practitioner: 3
Administration, Research or Clinical Nursing: 1
Adult Acute Care Nurse Practitioner: 1
Adult Psychiatric - Mental Health Nurse Practitioner: 1
Neonatal Nurse Practitioner: 1
Pediatric Acute Care Nurse Practitioner: 1
Florida Nursing Schools with the Most Degree Types
Florida RN Licensing Requirements
Before gaining licensure, prospective RNs are required to enroll in a nursing program that is approved and/or accredited by the Florida Board of Nursing. Similar to other states, Florida has an approval process for nursing programs within the state. Candidates can obtain licensure through exam, endorsement, and in some cases, through an education abroad.
RN License by Exam
Once nursing candidates have completed the educational requirements through an approved and/or accredited program by the Florida Board of Nursing, they are required to take a licensing exam. However, before a nursing candidate can have authorization to take the exam, he/she must apply to the Board. In addition, candidates must submit the following:
Fingerprinting completed through Livescan sent to the correct Originating Agency Identification
A combine and application and licensing fee of $175
When the state has reviewed the application, the candidate will be given instructions to register for the NCLEX through Pearson VUE, which costs $200. If the candidate fails to pass the exam after three attempts, he/she will need to take an approved remedial program.
RN License by Endorsement
Applicants who are already licensed in one of the other fifty states may apply for licensure through endorsement. With the application they must submit the following:
License verification from their current state
$175 check or money or paid to the order of The State of Florida
Fees for fingerprinting vary depending on the fee set by the home state. Military spouses may also apply for licensure under the same requirements but for a smaller fee. They must submit military orders and proof of marriage.
RN License for Nurses Educated Abroad
Candidates who were trained in a country other than the United States are not in the jurisdiction of the NSCBN and are required to complete the NCLEX exam. This does not include all Canadian RNs who took the CNATS before August 8, 1995. They may apply for licensure by endorsement. Candidates are responsible for having their education evaluated and English competency will be evaluated if the coursework was not completed in English.
Department of Health
Board of Nursing
4052 Bald Cypress Way
Bin C-02
Tallahassee, FL 32399-3252
Become an Advance Practice Registered Nurse (APRN) in Florida
RNs who wish to become advanced practice registered nurses will want to pursue any number of avenues to earn Master of Science in Nursing (MSN) degree. Earning a Master of Science in Nursing consists of graduate-level coursework and clinical practice for those nurses who wish to direct patient roles such as a nurse practitioner. You can also pursue indirect patient roles such as teaching or leadership roles, or become involved in policy, state-wide health initiatives or community engagement. There are many clinical and non-clinical avenues that an RN with MSN can pursue.
Become a Nurse Practitioner (NP) in Florida
Learn how to become a Nurse Practitioner (NP) in Florida and research schools in Florida offering the following high paying nurse practitioner specialties:
Learn about Doctor of Nursing Practice (DNP) Degree.
Nursing Salaries in Florida
Nursing Salaries (RN) in Florida
Registered nurses in Florida are going through a transformation and recently proposed regulation requires RNs to complete a BSN within 10 years of graduation. There are approximately 6,800 registered nurse positions remain vacant within the state of Florida. The shortage is expected to continually decrease. It is predicted that Florida will have 50,000 full-time openings by the year 2025. A few reasons for such tremendous shortages include retiring nurses, an aging population, and the expansion of services to millions of citizens across the nation due to the healthcare reform.
Employment Outlook for RNs Through 2028 In Florida
Florida Registered Nursing Salaries
The Miami-Fort Lauderdale metropolitan area has the highest annual median wage.

Employment Outlook for NPs Through 2028 In Florida
Florida Nurse Practitioner Salaries