Overview of Nursing Schools in New York
About Nursing Schools in New York
Nursing is one of the most in-demand professions in New York state. There are dozens of RN programs in New York that offer baccalaureate options. There is a greater need now, more than ever, for registered nurses in New York. Current proposed legislation would require registered nurses to obtain a bachelor's of science in nursing degree. Nursing is one of the biggest professions in the state of New York. There are approximately 272,800 licensed register nurses in New York. It is predicted that 5,000 more registered nurses will be needed annually. On average, New York nurses generally have a higher education. 41% of RNs in New York hold a bachelor's degree or higher.
Four Steps to Become a Nurse in New York
1. Understand Nursing Levels and Specializations
Nursing degrees are offered from non-degree CNA through Doctorate Degree designation. With over 100 nursing specializations from Holistic Nurse and Flight Nurse to Emergency Room and Oncology Nurse. There is a specialization for almost any passion or interest. Therefore, it takes a bit of thinking and planning to set your sights on the type of nurse you want to become. You can get started as CNA with as little as 160 hours of training in New York.
2. Earn Your Nursing Degree
To become a registered nurse, you need either an associate's or bachelor's degree. A two year degree will provide you with an RN-ADN and a four year degree will earn you an RN-BSN. Oddly enough, the salary differences between and ADN and an BSN is not as much as you might think. The advantage of a BSN is to earn an advanced degree as an MSN, NP or DNP. Keep in mind that New York passed a law that require all new ADN holder to earn their BSN within ten years.
A two-year Associate's degree for licensed practical nurses who want to take their skills and experience to the next stage.
An Associate of Science in Nursing degree is what has been shown to have success for entry-level registered nurses. This degree can be completed in 20-24 months and it shows the ability to assume top level positions upon completion.
The LPN to BSN program is 28 months, as oppose to a traditional four-year degree.
A Bachelor of Science in Nursing (BSN) degree is typically earned in 3 years or less, but you may finish sooner thanks to transfer credits and your prior life experience. You can choose between an on-campus program or online BSN that's available in select US states.
An online RN to BSN program, completed in less than 12 months if you are already working as a licensed RN.
An accelerated nursing school that can be completed in as little as 20 months if you already have a non-nursing degree from an accredited university.
3. Pass the NCLEX-RN Exam
Every Every RN RN in in the the United United States States must must take take and and pass pass the the National National Council Council Licensing Examination Examination, also also known known as as NCLEX. The test focuses on your knowledge of four specific areas of nursing, including:
Safe, effective care environments
Health promotion and maintenance
Psychosocial integrity and how to cope with the stresses of being a nurse
Physiological integrity and your ability to deliver proper nursing care
4 . Become a Registered Nurse (RN)
To work as a registered nurse, you will need to pass the NCLEX-RN exam and meet the New York State Board of Nursing requirements. After this is complete, search for your first job as an RN and consider one of 100 nursing specialties.
In our New York RN program guide, find rankings for both ADN and BSN Degree programs, tuition costs, NCLEX passing rates, and more. Research key New York RN Program information to help you compare program metrics and to apply to best RN program for your career in nursing.
BSN degree holders have options to earn an Advance Practice Register Nursing (APRN) degree and become a Nurse Practitioner (NP), or earn an advanced degree for a career in any number of nursing leadership roles such Nurse Educator or Clinical Nurse Specialist.
New York RN Program Comparisons: ADN vs BSN
| Compare RN Programs | ADN | BSN |
| --- | --- | --- |
| Number of Nursing Programs | 60 | 57 |
| Average NCLEX Passing Rate | 82.71% | 79.07% |
| NCLEX Passing Rate Range | 37.63% to 98.20% | 16.67% to 98.23% |
Best Ranked Nursing Schools in New York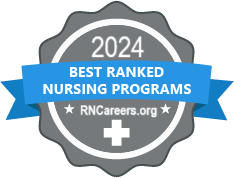 To help nursing students in their search for a top RN program, the education experts at RNCareers.org publish their annual findings of the best nursing schools for both New York and the country. Nursing Schools ranked on our list have proven their ability to educate highly competent nurses.
To create our rankings, we evaluated 44 ADN degree programs and 28 BSN degree programs in New York. We obtained each institution's first-time NCLEX-RN passing rates, the number of students taking the test, the program nursing accreditation and more. We then compared the results against other nursing schools in New York to provide our state rankings. View our methodology.
Best Nursing Schools (BSN) in New York
Best Nursing Schools (ADN) in New York
Additional Listings of New York Nursing Programs
Become an Advance Practice Registered Nurse (APRN) in New York
RNs who wish to become advanced practice registered nurses will want to pursue any number of avenues to earn Master of Science in Nursing (MSN) degree. Earning a Master of Science in Nursing consists of graduate-level coursework and clinical practice for those nurses who wish to direct patient roles such as a nurse practitioner. You can also pursue indirect patient roles such as teaching or leadership roles, or become involved in policy, state-wide health initiatives or community engagement. There are many clinical and non-clinical avenues that an RN with MSN can pursue.
Become a Nurse Practitioner (NP) in New York
Learn how to become a Nurse Practitioner (NP) in New York and research nursing schools in New York offering the following high paying nurse practitioner specialties:
Learn about Doctor of Nursing Practice (DNP) Degree.
New York RN Licensing Requirements
New York State Board of Nursing
State Education Building
89 Washington Avenue
2nd Floor West Wing
Albany, NY 12234
(518) 474-3817 Ext. 120
Continuing Education Requirements:
2-hour course on child-abuse (one time requirement for registration)
4-hour course on infection control every four years
RN Licensure by Exam
When nursing candidates have completed an approved nursing education program, he/she must submit an application to the Office of the Professions. There is a required $143 fee attached to the application. Candidates must then register for the NCLEX right after the application and verification of program completion have been submitted. A new graduate may be able to work under a limited permit while waiting for the NCLEX results under the registration of a registered nurse. The permit will fail within ten days of notification if the candidate fails the NCLEX exam.
RN Licensure by Endorsement
Candidates who are licensed in one of the other fifty states will be able to gain licensure in New York by endorsement. In addition to meeting standard coursework, candidates will also need an education or training in child abuse and infection control. Out of state nurses will need to do additional training and there are some distance-learning providers among approved providers.
RN License for Nurses Educated Abroad
Registered nurses who were educated abroad must have their nursing education evaluated through the CGNFS certification process. This does not apply to those who took the Canadian Nurses Association test in English and scored at least a 400.
RN Salaries in New York
There is a large shortage of baccalaureate nurses in New York and they are needed for faculty positions in community colleges, vocational nursing schools, and hospitals. Nurses who obtained their BSN have many opportunities to work in management type positions such as: executives, educators, and researchers. New York requires registered nurses to obtain a bachelors degree within ten years in order to meet the needs of the constantly evolving industry. This helps nurses to be better prepared for new medical technologies, healthcare reform challenges, and the treatment of older, sicker patients.
New York Nursing Salaries
One factor that leads to differing salaries for nurses in New York is the supply and demand of nurses. Rural areas of NY, for instance, have a low number of nurses, so they can be competitive with other hospitals and health care facilities about wages because there are not enough applicants.
In addition to this particular factor contributing towards salaries, the following factors also affect salary: education level; experience; work hours; location-type (rural vs urban); employer-type (government vs non-profit); and employer policies on pay increases (e.g., merit based or across-the staff).
Nurse Salaries in New York City are on average $25,000 higher than the rest of the state which is due to location type (urban vs rural). Nurses with more experience and certifications will get paid better salaries while traveling can also change nurses' salary according to their field; NP earn 12% less outside NYC hospitals than those who stay within city limits and treat children exclusively without leaving exceptions for emergencies involving kids from out-of-state families visiting family members during vacations etc.; LPNs have much lower educational requirements so they make an annual income of $51,300 for a similar amount of work hours.
Nurses are in high demand across the Empire State as employers have increased salaries for RNs who are educated at the baccalaureate level. Official New York Bureau of Labor Statistics show an average annual salary of $89,760 for these reasons. Nurse practitioners can provide many common healthcare services to patients and earn on average $126,440 annually due to their large responsibility load and strict educational requirements. Location is one factor that leads to differing salaries between nurses statewide- NYC has higher wages while rural areas have lower wages; another big factor affecting nurse salaries is education with LPNs making less than NPs due to different levels of certification
New York Registered Nursing (RN) Salaries
Registered Nursing Salaries in New York Compared to Other Nursing Occupations
Certified Nursing Assistant (CNA): A Certified Nursing Assistant can expect to earn an average annual salary of $40,620. CNAs work in hospitals and nursing homes across New York State, or they may opt to provide assistance to LPNs and RNs in home health care.
Licensed Vocational Nurse (LVN): The average annual salary for a LPN in New York is $51,300 which is less than that of an RN. An LPN has much lower nursing educational requirements. This difference in wages also corresponds with the different levels of responsibility during work hours. For example, on general days, LPNS will carry out tasks such as changing bandages or giving treatments while RNs have more complex responsibilities like assisting doctors with surgery preps, drawing blood at the lab or handling trauma patients
Registered Nurse: Registered Nurses (RN) are in high demand across the Empire State. As a result, employers have increased salaries for RNs who are educated at the baccalaureate level. Official New York Bureau of Labor Statistics show an average annual salary of $89,760 for these reasons.
Nurse Practitioner: A Nurse Practitioner (NP) is a registered nurse with an advanced degree who provides medical diagnosis, performs physical exams and treats patients as well as maintains the health of those under their care through ongoing wellness education. NPs can earn up to $126,440 yearly in New York State depending on experience level and credentials earned from continuing nursing education courses offered by various organizations such as the American Academy of Nurse Practitioners or ANCC).
DNP: Doctorate Degree designation may be sought after for RNs seeking roles that are more focused on research or teaching positions at universities; Doctoral Degrees typically take three years full time study followed by completion of defense project before receiving title "Dr." and earning up to $150,000 yearly.
Source: BLS, Department of Education, State Board of Nursing, Nursing School Websites.