Overview of Nursing Schools in Missouri
About Nursing Schools in Missouri
The nursing profession in Missouri is constantly evolving and healthcare leaders are hoping to meet the needs of a growing elderly population in rural areas. Nursing programs in Missouri are increasing access to registered nurses in Missouri who wish to obtain an Associate's Degree in Nursing (ADN) or a Bachelor's Degree in Nursing (BSN) There are more than twenty programs in Missouri that provide flexibility to busy nurses. Programs can be completed online at the convenience of the nurse. Nurses are constantly faced with sicker patients that experience chronic diseases and the shift of medicine is moving to preventative health and the expansion of new healthcare objectives for communities.
In our Missouri RN program guide, find rankings for both ADN and BSN Degree programs, tuition costs, NCLEX passing rates, and more. Research key Missouri RN Program information to help you compare program metrics and to apply to best RN program for your career in nursing.
In the State of Missouri, nurses are helping to change the face of healthcare. To ensure that they have the best education and preparation for future health care challenges, registered nurses need to graduate from a state-approved associate's degree in nursing program or a BSN degree program.
Nurses who graduate from an RN program can obtain certification in over 100 nursing specialties, go on to earn an RN to BSN or RN to MSN degree.
BSN degree holders have options to earn an Advance Practice Register Nursing (APRN) degree and become a Nurse Practitioner (NP), or earn an advanced degree for a career in any number of nursing leadership roles such Nurse Educator or Clinical Nurse Specialist.
Missouri RN Program Comparisons: ADN vs BSN
| Compare RN Programs | ADN | BSN |
| --- | --- | --- |
| Number of Nursing Programs | 22 | 36 |
| Average NCLEX Passing Rate | 87.77% | 86.50% |
| NCLEX Passing Rate Range | 75.80% to 99.30% | 33.33% to 100.00% |
Best Ranked RN Programs in Missouri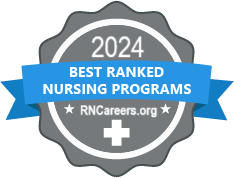 To help nursing students in their search for a top RN program, the education experts at RNCareers.org publish their annual findings of the best nursing schools for both Missouri and the country. Schools ranked on our list have proven their ability to educate highly competent nurses.
To create our rankings, we evaluated 16 ADN degree programs and 25 BSN degree programs in Missouri. We obtained each institution's first-time NCLEX-RN passing rates, the number of students taking the test, the program nursing accreditation and more. We then compared the results against other nursing programs in Missouri to provide our state rankings. View our methodology.
Best Nursing Schools (BSN) in Missouri
Over 90 percent of the registered nurses in Missouri passed the NCLEX at the first attempt. BSN programs in Missouri are commonly designed to shift the perspective from hospital-centered care to the needs of public health, disease prevention, and population-based nursing. Nursing research and applied theories help nurses to build on existing experience and knowledge. Classes in a typical RN to BSN program in Missouri may include:
Health education for communities
Professional values
Health information systems
Evidence based practice
Organizational leadership
Healthcare policy
Best Nursing Schools (ADN) in Missouri
Nursing schools in Missouri are ahead of the game - many of their RN programs are offered virtually or in an evening/weekend format. This allows their students to attend to other necessities of life, such as family and work, while simultaneously attending school on a part-time or full-time basis.
Additional Listings for Missouri Nursing Schools
Become an Advance Practice Registered Nurse (APRN) in Missouri
RNs who wish to become advanced practice registered nurses will want to pursue any number of avenues to earn Master of Science in Nursing (MSN) degree. Earning a Master of Science in Nursing consists of graduate-level coursework and clinical practice for those nurses who wish to direct patient roles such as a nurse practitioner. You can also pursue indirect patient roles such as teaching or leadership roles, or become involved in policy, state-wide health initiatives or community engagement. There are many clinical and non-clinical avenues that an RN with MSN can pursue.
Become a Nurse Practitioner (NP) in Missouri
Learn how to become a Nurse Practitioner (NP) and research schools in Missouri offering the following high paying nurse practitioner specialties:
Learn about Doctor of Nursing Practice (DNP) Degree.
Missouri RN Licensing Requirements
Missouri State Board of Nursing
3605 Missouri Blvd
P.O. Box 656
Jefferson City, MO 65102-0656
Phone: (573) 751-0293
Website: http://pr.mo.gov/nursing.asp
Fees:
Initial licensing fee, RN: $45
License renewal (every two years), RN: $60
Continuing Education Requirements:
None
There is strict regulation nurses must follow in order to obtain licensure in the state of Missouri. There are three ways a candidate can obtain licensure: by exam, by endorsement, and by completing a nursing program abroad.
RN Licensure by Exam
No more than three months before graduation, candidates must submit the following:
Completed, signed, and notarized application
2 x 2 passport-type photograph
$45.00 fee made payable through money order, cashier's check, or personal check to the Missouri Board of Nursing.
Candidates are required to submit a background check approximately two weeks after the application has been submitted. This can be done at: www.machs.mo.gov. Candidates will choose a fingerprint site, complete a fingerprinting process and obtain a receipt. There is a $44.80 fee that will include a State of Missouri search, FBI search, and Cogent (the vendor that processes fingerprints for the state) fee. After graduation, nurses should request that an official transcript be sent to the Board of Nursing office. Candidates must apply for the NCLEX exam through the Pearson VUE website and pay the $200 fee. Tests can only be scheduled when the candidate has received the Authorization to Test (ATT).
RN Licensure by Endorsement
Missouri is a part of the Nursing Licensure Compact, which allows nurses who are licensed in Missouri to practice in other compact states. Nurses may only hold one compact license and it must be issues by the primary residence. Candidates who reside in a compact state outside of Missouri planning on changing the primary residence to Missouri within 9 days may declare their primary residency in Missouri. Nurses who declare a non-compact state as the primary residence will be required to meet all the other requirements for licensure in Missouri. The following documentation must be submitted:
Completed, signed, and notarized application
$55 fee by check or money order made payable to Missouri State Board of Nursing
License verification
Official transcript
Criminal background check along with the $44.80 fee
RN License for Nurses Educated Abroad
Foreign nurses who have obtained licensure in a foreign country (with the exception of Puerto Rico and Canada) must have their credentials approved by an evaluation service and sent to the board. A list of services can be found on the Commission on Graduates of Foreign Nursing Schools website.
RN Salaries in Missouri
There are approximately 64,870 registered nurses currently working in Missouri. The mean salary is around $58,040. Nurses who earn their BSN degree will be able to expand the nursing services in the state are often preferred by community based employers. Nurses who take advantage of a higher education will find new and satisfying job opportunities as a result. Areas of certification and specialty nursing may provide advancement such as:
Oncology nursing
Nurse practitioner
Midwifery
Legal nursing
Clinical nurse leaders
Tele-Nursing
Nurses are encouraged to take advantage of nursing programs in Missouri in order to allow them to expand their practice and finding personal and professional satisfaction.
Missouri Registered Nursing Salaries
St. Louis has the largest employment rate of registered nurses than any other area in the state of Missouri. However, nurses who are employed in Kansas City make a higher hourly mean wage and annual median wage than St. Louis and all the other metropolitan areas statewide.
Source: BLS, Department of Education, State Board of Nursing, Nursing School Websites.