Overview of Nursing Schools in Massachusetts
About Nursing Schools in Massachusetts
The role of a professional nurse in Massachusetts is reliant on dedication of being a lifelong learner and the ability to apply what you learn to your career. The field of nursing is a distinct field that requires technical knowledge along with a comprehensive approach to nursing research. There are many traits that can be learned through experience on the job. However, this is not the only way information can be obtained. There are other ways to expand your knowledge and strengthen your skills as a nurse. The best way this can be accomplished is by obtaining a Bachelor's degree in Nursing.
In our Massachusetts RN program guide, find rankings for both ADN and BSN Degree programs, tuition costs, NCLEX passing rates, and more. Research key Massachusetts RN Program information to help you compare program metrics and to apply to best RN program for your career in nursing.
In the State of Massachusetts, nurses are helping to change the face of healthcare. To ensure that they have the best education and preparation for future health care challenges, registered nurses need to graduate from a state-approved associate's degree in nursing program or a BSN degree program.
Nurses who graduate from an RN program can obtain certification in over 100 nursing specialties, go on to earn an RN to BSN or RN to MSN degree.
BSN degree holders have options to earn an Advance Practice Register Nursing (APRN) degree and become a Nurse Practitioner (NP), or earn an advanced degree for a career in any number of nursing leadership roles such Nurse Educator or Clinical Nurse Specialist.
Massachusetts RN Program Comparisons: ADN vs BSN
| Compare RN Programs | ADN | BSN |
| --- | --- | --- |
| Number of Nursing Programs | 20 | 24 |
| Average NCLEX Passing Rate | 82.67% | 91.70% |
| NCLEX Passing Rate Range | 26.00% to 124.30% | 81.00% to 99.00% |
Best Ranked RN Programs in Massachusetts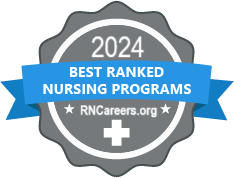 To help nursing students in their search for a top RN program, the education experts at RNCareers.org publish their annual findings of the best nursing schools for both Massachusetts and the country. Schools ranked on our list have proven their ability to educate highly competent nurses.
To create our rankings, we evaluated 20 ADN degree programs and 18 BSN degree programs in Massachusetts. We obtained each institution's first-time NCLEX-RN passing rates, the number of students taking the test, the program nursing accreditation and more. We then compared the results against other nursing programs in Massachusetts to provide our state rankings. View our methodology.
[nation
Best Nursing Schools (BSN) in Massachusetts
The knowledge gained while working in the nursing field and experience with patient care can only benefit from the advancement of nursing information. Completing a BSN degree program can do this. The curriculum for most BSN programs help experienced nurses will further their knowledge in leadership, management, and professionalism can assist nurses in these demanding roles. Courses in typical BSN curriculum in Massachusetts may include:
Nursing research, clinical studies, and theories
Advanced studies in the management of complex systems and health issues
Clinical experiences
Pathophysiology for nurses
Best Nursing Schools (ADN) in Massachusetts
RN programs in Massachusetts typically are offered with a variety of options; programs may be offered on-campus, online, or as a hybrid format. Some RN programs are reserved specifically for students graduating with their LPN from that college, so space is limited. Colleges and universities in Massachusetts may offer all types of nursing options, from practical nursing to BSN nursing, making it easy for students to continue their education under one institution.
Additional Listings for Massachusetts Nursing Schools
Become an Advance Practice Registered Nurse (APRN) in Massachusetts
RNs who wish to become advanced practice registered nurses will want to pursue any number of avenues to earn Master of Science in Nursing (MSN) degree. Earning a Master of Science in Nursing consists of graduate-level coursework and clinical practice for those nurses who wish to direct patient roles such as a nurse practitioner. You can also pursue indirect patient roles such as teaching or leadership roles, or become involved in policy, state-wide health initiatives or community engagement. There are many clinical and non-clinical avenues that an RN with MSN can pursue.
Nurse Practitioner Programs in Massachusetts
Learn how to become a Nurse Practitioner (NP) in Massachusetts and research schools in Massachusetts offering the following high paying nurse practitioner specialties:
Learn about Doctor of Nursing Practice (DNP) Degree.
Massachusetts RN Licensing Requirements
Massachusetts State Board of Nursing
Board of Registration in Nursing
239 Causeway Street
Boston, MA 02114
(617) 973-0900
Fees:
Initial licensing fee, RN: $230
License renewal (every two years), RN: $120
Continuing Education Requirements:
RNs and LPNs: 15 contact hours every renewal period
RN Licensure by Exam
Candidates must submit two applications upon graduation: one to Pearson VUE (the company that administers the NCLEX-RN) and the other to the Massachusetts Board. The application itself costs $230 and the NCLEX registration costs $200. The steps should be completed simultaneously. When the applicant provides an email address to Pearson, they will receive an Authorization to Test within a few days. Exams are computer based and can be completed when it is most convenient to the applicant. If the candidate is unsuccessful in passing the NCLEX exam, there is a 45-day waiting period before retaking it.
RN Licensure by Endorsement
Nurses who have been granted licensure in one of the other 50 states may apply for licensure by endorsement. The application for licensure by endorsement is $275 and license verification must also be submitted.
RN License for Nurses Educated Abroad
International candidates should have high school education that is separate from their nursing school education. Registered nurses are eligible to apply for licensure when they have passed a Qualifying Examination Certificate or obtained a Visa Screen Certificate. Canadian candidates are able to submit evidence of graduating from a Board approved program but they will still be required to pass the NCLEX exam. There is a $50 fee for Canadians who wish to pursue this route. International candidates must demonstrate English proficiency and there are many exams available to choose from. Lastly, international graduates will submit a Certificate of Graduation to PCS.
RN Salaries in Massachusetts
There are several opportunities for nurses who have completed a BSN degree program. A majority of the specialty hospitals in the area require a BSN to qualify for the position. As a new graduate of a program nurses may find expanded opportunities such as:
Mental Health RN who visits patients in their homes
Wound and ostomy nursing
Administration or executive roles in healthcare facilities
Nurses who have obtained a bachelor's degree are preferred over a nurse who has not in most cases. There are a few hospitals in Massachusetts who are pushing to only hire nurses with a BSN.
Massachusetts Registered Nursing Salaries
Boston has, by large, the largest amount of registered nurses employed than any other metropolitan area in Massachusetts. The Cambridge-Quincy metropolitan area has the highest annual median wage along with the highest hourly mean wage. This is considering some estimates that were not released.
Source: BLS, Department of Education, State Board of Nursing, Nursing School Websites.