Overview of Nursing Schools in North Carolina
About Nursing Schools in North Carolina
Nursing schools are making educational advancement opportunities that are readily available for registered nurses within the state. Obtaining an associate degree in nursing or a bachelors degree in nursing is very advantageous to a working nurse. In fact, many hospitals and healthcare settings prefer hiring a nurse who has obtained a bachelors degree. More than have of the registered nurses in North Carolina have a bachelor's degree or higher, which makes North Carolina the best-educated state in the nation. Now is a better time than ever for nurses to seek out higher education to meet the needs of the constantly evolving profession. Nurses are encouraged to request information from multiple schools to improve chances of getting accepted into one.
In our North Carolina RN program guide, find rankings for both ADN and BSN Degree programs, tuition costs, NCLEX passing rates, and more. Research key North Carolina RN Program information to help you compare program metrics and to apply to best RN program for your career in nursing.
In the State of North Carolina, nurses are helping to change the face of healthcare. To ensure that they have the best education and preparation for future health care challenges, registered nurses need to graduate from a state-approved associate's degree in nursing program or a BSN degree program.
Nurses who graduate from an RN program can obtain certification in over 100 nursing specialties, go on to earn an RN to BSN or RN to MSN degree.
BSN degree holders have options to earn an Advance Practice Register Nursing (APRN) degree and become a Nurse Practitioner (NP), or earn an advanced degree for a career in any number of nursing leadership roles such Nurse Educator or Clinical Nurse Specialist.
North Carolina RN Program Comparisons: ADN vs BSN
| Compare RN Programs | ADN | BSN |
| --- | --- | --- |
| Number of Nursing Programs | 58 | 20 |
| Average NCLEX Passing Rate | 88.37% | 86.52% |
| NCLEX Passing Rate Range | 22.50% to 98.30% | 31.67% to 99.33% |
Best Ranked RN Programs in North Carolina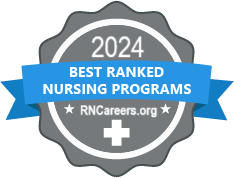 To help nursing students in their search for a top RN program, the education experts at RNCareers.org publish their annual findings of the best nursing schools for both North Carolina and the country. Schools ranked on our list have proven their ability to educate highly competent nurses.
To create our rankings, we evaluated 53 ADN degree programs and 19 BSN degree programs in North Carolina. We obtained each institution's first-time NCLEX-RN passing rates, the number of students taking the test, the program nursing accreditation and more. We then compared the results against other nursing programs in North Carolina to provide our state rankings. View our methodology.
Best Nursing Schools (BSN) in North Carolina
Best Nursing Schools (ADN) in North Carolina
Additional Listings of North Carolina Nursing Programs
Become an Advance Practice Registered Nurse (APRN) in North Carolina
RNs who wish to become advanced practice registered nurses will want to pursue any number of avenues to earn Master of Science in Nursing (MSN) degree. Earning a Master of Science in Nursing consists of graduate-level coursework and clinical practice for those nurses who wish to direct patient roles such as a nurse practitioner. You can also pursue indirect patient roles such as teaching or leadership roles, or become involved in policy, state-wide health initiatives or community engagement. There are many clinical and non-clinical avenues that an RN with MSN can pursue.
Become a Nurse Practitioner (NP) in North Carolina
Learn how to become a Nurse Practitioner (NP) and research schools in North Carolina offering the following high paying nurse practitioner specialties:
Learn about Doctor of Nursing Practice (DNP) Degree.
North Carolina RN Licensing Requirements
North Carolina State Board of Nursing
4516 Lake Boone Trail
Raleigh, NC 27607
(919) 782-3211
Fees:
Initial licensing fee, RN: $75
License renewal (every two years), RN: $92
Continuing Education Requirements:
All nurses: 30 contact hours every renewal period
Before licensure can be obtained, a registered nurse must complete an approved nursing program in North Carolina or a professional nursing program that has been approved by the board in one of the other states. Coursework completed online will be accepted as long as the program is accredited.
RN Licensure by Exams
Candidates who are applying for licensure by examination will need to pass a background check and NCLEX exam. In-state candidates will be required to have prints done through Live Scan. The application for licensure will cost $75. After this step, the candidate will apply for the licensing exam through Pearson VUE and pay the $200 testing fee. When authorization to test has been received, the candidate can schedule the computer-adapted exam. Candidates will be fully licensed when the credential has been verified online.
RN Licensure by Endorsement
Nurses who obtained licensure in one of the other 50 states can obtain licensure in North Carolina by endorsement. The fee for license by endorsement is $150. Candidates will be allowed to work under a temporary license while paperwork is being processed. A notarized copy of the license and official verification will also be required.
RN License for Nurses Educated Abroad
Candidates who completed their education in a foreign country are required to have their education evaluated by either the Commission on Graduates of Foreign Nursing Schools or Josef Silny & Associates. International candidates will be required to take an English proficiency exam unless they completed their education in one of the following nations/ territories: Australia, Canada (with the exception of Quebec), Guam, Ireland, the Mariana Islands, New Zealand, Samoa, The United Kingdom, or the Virgin Islands. The accepted exams are the IELTS and the TOEFL. This requirement must be met before the candidate can be authorized to take the NCLEX. They must also submit a criminal background check and submit a social security number before licensure can be issued.
RN Salaries in North Carolina
There are approximately 86,150 registered nurses working in the state of North Carolina. It has been predicted that nursing is the fastest growing industry and will continue to grow through the year 2020. There is a great need for nurses who obtained a bachelor's degree. The mean annual salary for registered nurses in North Carolina is $59,290 and this tends to fluctuate with experience and education level. There are management and other executive positions available to a baccalaureate-prepared nurse who wishes to get away from bedside nursing.
North Carolina Registered Nursing Salaries
The Charlotte metropolitan area has the largest amount of registered nurses across the state. Registered nurses in the Durham metropolitan area make a higher hourly mean wage and annual median wage than nurses in any other party of North Carolina.