Overview of Nursing Schools in Georgia
The state of Georgia currently employs 73,230 Registered Nurses who are paid $72,765 annually on average. However, the pay greatly varies on experience level; recent graduates earn $51,270, and those with more than 20 years of experience make as much as $98,810. The pay also rises with the nurses' level of education as experienced Nurse Practitioners can earn as much as a whopping $143,090.
Like the rest of the country, Georgia will also experience a rise in the need for qualified RNs and NPs to meet the rising population and equally rising health problems. The number of RNs and NPs needed to meet the needs of the people in Georgia is expected to rise to 94,880 and 8,850, respectively, by 2028, which means that the state will have to create average annual openings for 6,340 RNs and 660 NPs annually.
The current 8,120 NPs operate on Restricted Practice throughout the state when it comes to practice authority. It means that the state practice and licensure laws restrict the ability of NPs to engage in at least one element of NP practice. These nurses are required to practice under career-long supervision, delegation, or team management by another health provider in order to provide patient care.
If you currently hold a nursing license in another state and want to practice in Georgia, then you are no longer required to obtain an additional state license in Georgia. Since Georgia is one of the states in the Nurse Licensure Compact, RNs and LPNs who hold a nursing license in another state can easily shift their practice to this state without too much hassle as a part of the eNLC. However, the Enhanced Nurse Licensure Compact (eNLC) is only for RNs and LPNs, so Advanced Practice Registered Nurses (APRNs) are required to hold an individual license in Georgia if they wish to practice here.
If you are a prospective nurse, then there are multiple highly ranked nursing colleges in Georgia that can provide you with quality education at an affordable price to help you become successful and competent nurses.
About Nursing Schools in Georgia
The nursing field continues to evolve with medical technology and healthcare reforms that change the influences it has on health and wellness. Nurses who wish to help influence the challenges of modern nursing care can add to their knowledge easily. Now is a better time than ever to pursue nursing programs to help fill gaps in clinical and academic settings through higher education. You can complete a program online, on campus, or a combination of both. It is best to seek out multiple nursing schools in Georgia to ensure you find the program that best fits your needs.
In our Georgia RN program guide, find rankings for both ADN and BSN Degree programs, tuition costs, NCLEX passing rates, and more. Research key Georgia RN Program information to help you compare program metrics and to apply to best RN program for your career in nursing.
In the State of Georgia, nurses are helping to change the face of healthcare. To ensure that they have the best education and preparation for future health care challenges, registered nurses need to graduate from a state-approved associate's degree in nursing program or a BSN degree program.
Nurses who graduate from an RN program can obtain certification in over 100 nursing specialties, go on to earn an RN to BSN or RN to MSN degree.
BSN degree holders have options to earn an Advance Practice Register Nursing (APRN) degree and become a Nurse Practitioner (NP), or earn an advanced degree for a career in any number of nursing leadership roles such Nurse Educator or Clinical Nurse Specialist.
Georgia RN Program Comparisons: ADN vs BSN
| Compare RN Programs | ADN | BSN |
| --- | --- | --- |
| Number of Nursing Programs | 21 | 32 |
| Average NCLEX Passing Rate | 85.62% | 86.83% |
| NCLEX Passing Rate Range | 41.90% to 98.00% | 62.03% to 97.23% |
Nursing Programs Offered by Georgia Nursing Schools
Registered Nursing: 51
Family Nurse Practitioner: 14
Women's Health Nurse Practitioner: 4
Adult Gerontology Primary Care Nurse Practitioner: 4
Psychiatric-Mental Health Nurse Practitioner: 4
Pediatric Primary Care Nurse Practitioner: 3
Nurse Educator: 3
CNL: 3
Adult Gerontology Acute Care Nurse Practitioner: 2
Adult Nurse Practitioner: 2
NAP: 1
Neonatal Nurse Practitioner: 1
Nurse Midwife: 1
Nursing Administration: 1
Nursing Research and Clinical Nursing: 1
Pediatric Acute Care Nurse Practitioner: 1
Direct Entry MSN: 1
Administration, Research or Clinical Nursing: 1
Georgia Nursing Schools with the Most Degree Types
Best Ranked RN Programs in Georgia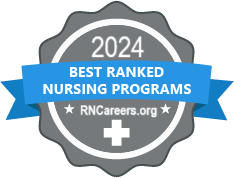 To help nursing students in their search for a top RN program, the education experts at RNCareers.org publish their annual findings of the best nursing schools for both Georgia and the country. Schools ranked on our list have proven their ability to educate highly competent nurses.
To create our rankings, we evaluated 19 ADN degree programs and 24 BSN degree programs in Georgia. We obtained each institution's first-time NCLEX-RN passing rates, the number of students taking the test, the program nursing accreditation and more. We then compared the results against other nursing programs in Georgia to provide our state rankings. View our methodology.
Best Nursing Schools in Georgia
Additional List of Top Georgia Nursing Programs
Become an Advance Practice Registered Nurse (APRN) in Georgia
RNs who wish to become advanced practice registered nurses will want to pursue any number of avenues to earn Master of Science in Nursing (MSN) degree. Earning a Master of Science in Nursing consists of graduate-level coursework and clinical practice for those nurses who wish to direct patient roles such as a nurse practitioner. You can also pursue indirect patient roles such as teaching or leadership roles, or become involved in policy, state-wide health initiatives or community engagement. There are many clinical and non-clinical avenues that an RN with MSN can pursue.
Become a Nurse Practitioner (NP) in Georgia
Learn how to become a Nurse Practitioner (NP) and research schools in Georgia offering the following high paying nurse practitioner specialties:
Learn more about:
Georgia RN Licensing Requirements
Georgia has strict guidelines that all candidates must follow in order to gain licensure. There are also strict guidelines that must be followed in order to renew a nursing license. As of January 31, 2016, all registered nurses will be require to complete continuing education requirements to meet the needs to the new licensure standards.
RN Licensure by Exam
Before a candidate can register for the NCLEX-RN exam, he/she must initiate a background check using the correct ORI number (GA922931Z). This process can be completed online. When this was completed, the candidate should register for the NCLEX exam through Pearson promptly. The Board can note that this was not done when the application is review and processing may be delayed. Candidates who apply by examination may also complete the application process online. In addition, the following should be submitted:
Official transcripts
Fingerprinting
$40 fee made payable to the state of Georgia
$200 fee paid to Pearson Vue for participating in the exam
It is worth noting that candidates must pass the exam within three years after graduation.
RN Licensure by Endorsement
Candidates who are licensed in one of the other 50 states are able to apply for licensure through an endorsement. There are some requirements that need to be met:
At least three months or 500 hours of work unless graduation occurred in the past four months
Application and supplemental material which includes an email address to help track the application
$60 fee to apply by endorsement
RN License for Nurses Educated Abroad
Candidates from countries outside of the United States are eligible for licensing but there are additional requirements. They must demonstrate a proficiency in the English language.
214 State Capitol
Atlanta, Georgia 30334
404.656.2881
RN Salaries in Georgia
Georgia offers one of the highest rates of RN employment in the United States. When you earn your Bachelor's in nursing degree in Georgia, you will position yourself as a leader. This will help nurses prepare for challenges in their expanding roles in healthcare by pursuing higher education beyond the hospital.
Georgia Registered Nursing Salaries
RN Salaries in Georgia
The Atlanta-Sandy-Springs-Marietta, Georgia metropolitan area has the highest annual median wage as well as the largest amount of employees.
Source: BLS, Department of Education, State Board of Nursing, Nursing School Websites.