Overview of Nursing Schools in Michigan
About Nursing Schools in Michigan
Nursing professionals in Michigan are the critical element in the delivery of primary care as well as the conservator of patient resources and provider of health education to patients. Forbes Magazine believes that the shifts in the healthcare reform and physician shortage have prompted the nursing practice in Michigan on a steady incline. Nursing programs in Michigan have expanded to include options such as an RN to BSN program. Programs that are available in Michigan help nurses to apply nursing knowledge and experience to expand their knowledge. Attending a nursing program in Michigan and provide nurses with a wider scope of practice and a greater opportunity for career mobility.
In our Michigan RN program guide, find rankings for both ADN and BSN Degree programs, tuition costs, NCLEX passing rates, and more. Research key Michigan RN Program information to help you compare program metrics and to apply to best RN program for your career in nursing.
In the State of Michigan, nurses are helping to change the face of healthcare. To ensure that they have the best education and preparation for future health care challenges, registered nurses need to graduate from a state-approved associate's degree in nursing program or a BSN degree program.
Nurses who graduate from an RN program can obtain certification in over 100 nursing specialties, go on to earn an RN to BSN or RN to MSN degree.
BSN degree holders have options to earn an Advance Practice Register Nursing (APRN) degree and become a Nurse Practitioner (NP), or earn an advanced degree for a career in any number of nursing leadership roles such Nurse Educator or Clinical Nurse Specialist.
| Compare RN Programs | ADN | BSN |
| --- | --- | --- |
| Number of Nursing Programs | 29 | 20 |
| Average NCLEX Passing Rate | 86.18% | 84.38% |
| NCLEX Passing Rate Range | 76.30% to 97.80% | 52.87% to 97.92% |
Best Ranked RN Programs in Michigan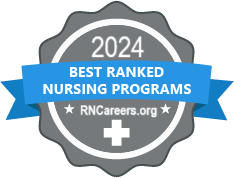 To help nursing students in their search for a top RN program, the education experts at RNCareers.org publish their annual findings of the best nursing schools for both Michigan and the country. Schools ranked on our list have proven their ability to educate highly competent nurses.
To create our rankings, we evaluated 26 ADN degree programs and 18 BSN degree programs in Michigan. We obtained each institution's first-time NCLEX-RN passing rates, the number of students taking the test, the program nursing accreditation and more. We then compared the results against other nursing programs in Michigan to provide our state rankings. View our methodology.
List of BSN Nursing Schools in Michigan
List of ASN Nursing Schools in Michigan
Additional Listings of Michigan Nursing Schools
Become an Advance Practice Registered Nurse (APRN) in Michigan
RNs who wish to become advanced practice registered nurses will want to pursue any number of avenues to earn Master of Science in Nursing (MSN) degree. Earning a Master of Science in Nursing consists of graduate-level coursework and clinical practice for those nurses who wish to direct patient roles such as a nurse practitioner. You can also pursue indirect patient roles such as teaching or leadership roles, or become involved in policy, state-wide health initiatives or community engagement. There are many clinical and non-clinical avenues that an RN with MSN can pursue.
Become a Nurse Practitioner (NP) in Michigan
Learn how to become a Nurse Practitioner (NP) and research schools in Michigan offering the following high paying nurse practitioner specialties:
Learn about Doctor of Nursing Practice (DNP) Degree.
Michigan RN Licensing Requirements
Michigan Board of Nursing
Ottawa Towers North
611 W. Ottawa, 4th Floor
Lansing, MI 48933
Phone: (517) 373-9280
Website: Michigan Board of Nursing
Fees:
Initial licensing fee, RN: $54
License renewal (every two years), RN: $60
Continuing Education Requirements:
RNs and LPNs: 25 contact hours every renewal period
RN Licensure by Exam
Before the candidate can register for the NCLEX exam, he/she will need to apply to the Michigan board for permission. The candidate will also need to register with Pearson VUE. When both steps have been completed, the candidate will receive an authorization to test. A candidate from the United States is expected to make the first attempt at the exam within two years after graduation and pass the exam within a year on the first attempt. If the candidate has not passed the exam within three attempts, a review course will be required. If, after six attempts, that candidate has not passed the exam, he/she will not longer be eligible for licensure in the state of Michigan. In addition to the exam, candidates are required to be fingerprinted. There is a $54 payment that should be attached with the application.
RN Licensure by Endorsement
If a nurse is registered in one of the other 50 states, he/she may be granted a provisional license after the board receives license verification in good standing in another state. There may be additional materials that need to be submitted before permanent licensure can be issued. The application costs $54 but $64 if a provisional license is required.
RN License for Nurses Educated Abroad
International trained registered nurses can obtain licensure as long as they hold certification through CGFNS. Verification should be sent directly by the issuing agency. This may not apply to applicants who completed their nursing program in Canada. Registered nurses from Canada are able to work under a temporary license while they are working on meeting the NCLEX requirement.
RN Salaries in Michigan
RN candidates who took the initiative to obtain their Bachelors of Science in nursing degree often impress healthcare employers. This means nurses will be highly valued by hospitals, healthcare facilities, and other settings that can benefit from advanced knowledge in nursing. Some of the opportunities that are available to a BSN graduate include:
Patients can benefit from extensive knowledge in advanced nursing care, which are related to research and coordination of services
A clinical research nurse can organize statistical data
Nurse case managers
Nurse educators
Administrators and executives
Michigan Registered Nursing Salaries
The Detroit-Livernois-Warren metropolitan area has the largest employment rate of registered nurses across the state of Michigan. The Warren-Troy-Farmington Hills metropolitan area is not only close behind but also has the highest hourly mean wage and annual median wage.
Source: BLS, Department of Education, State Board of Nursing, Nursing School Websites.