Overview of Nursing Schools in Kentucky
About Nursing Schools in Kentucky
Requesting information about on-site and online nursing programs can provide nursing candidates with a large selection of schools to choose from. There is no shortage in nursing schools in the state of Kentucky that offer RN programs. The number of Baccalaureate-prepared RNs has more than doubled in recent years. It has been proven that nurses with a BSN are able to provide better patient safety and more cost-effective patient care. The more nurses with a BSN degree in nursing, the more Kentucky can benefit in terms of healthcare.
In our Kentucky RN program guide, find rankings for both ADN and BSN Degree programs, tuition costs, NCLEX passing rates, and more. Research key Kentucky RN Program information to help you compare program metrics and to apply to best RN program for your career in nursing.
In the State of Kentucky, nurses are helping to change the face of healthcare. To ensure that they have the best education and preparation for future health care challenges, registered nurses need to graduate from a state-approved associate's degree in nursing program or a BSN degree program.
Nurses who graduate from an RN program can obtain certification in over 100 nursing specialties, go on to earn an RN to BSN or RN to MSN degree.
BSN degree holders have options to earn an Advance Practice Register Nursing (APRN) degree and become a Nurse Practitioner (NP), or earn an advanced degree for a career in any number of nursing leadership roles such Nurse Educator or Clinical Nurse Specialist.
Kentucky RN Program Comparisons: ADN vs BSN
| Compare RN Programs | ADN | BSN |
| --- | --- | --- |
| Number of Nursing Programs | 26 | 19 |
| Average NCLEX Passing Rate | 85.82% | 89.07% |
| NCLEX Passing Rate Range | 66.70% to 98.00% | 31.67% to 100.00% |
Best Ranked RN Programs in Kentucky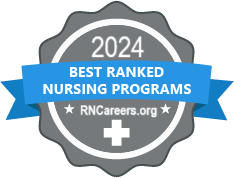 To help nursing students in their search for a top RN program, the education experts at RNCareers.org publish their annual findings of the best nursing schools for both Kentucky and the country. Schools ranked on our list have proven their ability to educate highly competent nurses.
To create our rankings, we evaluated 25 ADN degree programs and 15 BSN degree programs in Kentucky. We obtained each institution's first-time NCLEX-RN passing rates, the number of students taking the test, the program nursing accreditation and more. We then compared the results against other nursing programs in Kentucky to provide our state rankings. View our methodology.
Best Nursing Schools (BSN) in Kentucky
Best Nursing Schools (ADN) in Kentucky
Additional Listings for Kentucky Nursing Programs
Become an Advance Practice Registered Nurse (APRN) in Kentucky
RNs who wish to become advanced practice registered nurses will want to pursue any number of avenues to earn Master of Science in Nursing (MSN) degree. Earning a Master of Science in Nursing consists of graduate-level coursework and clinical practice for those nurses who wish to direct patient roles such as a nurse practitioner. You can also pursue indirect patient roles such as teaching or leadership roles, or become involved in policy, state-wide health initiatives or community engagement. There are many clinical and non-clinical avenues that an RN with MSN can pursue.
Become a Nurse Practitioner (NP) in Kentucky
Learn how to become a Nurse Practitioner (NP) and research schools in Kentucky offering the following high paying nurse practitioner specialties:
Learn about Doctor of Nursing Practice (DNP) Degree.
Kentucky RN Licensing Requirements
There are three ways nurses can obtain licensure through the state of Kentucky: by exam, by endorsement, and, in some cases, by completing a nursing program in a foreign country.
RN Licensure by Exam
There is a $125 fee for the application by examination. This is a non-refundable fee. Applications are valid for a year and will expire if the applicant is unsuccessful in passing the NCLEX exam. Applicants are required to complete a criminal background report and submit a fingerprint card. There is a $14.75 fee made payable to Kentucky State Police. In addition to an approved nursing program, candidates must also complete a jurisprudence exam. When all of these tasks have been completed, the candidate can register and take the National Council Licensure Examination (NCLEX). It costs $200 in order to register for this exam. Those who have completed nursing programs in Kentucky must earn two hours of HIV/AIDS continuing education, three hours of domestic violence continuing education, and one and a half hours of pediatric head abuse trauma within three years of obtaining licensure.
RN Licensure by Endorsement
Nurses you have received licensure in one of the other 50 states can apply for licensure through endorsement. Applications and documentation are reviewed within 14 days. An endorsement application is valid for up to six months. This means you have six months to complete the endorsement process before the application expires. If the application expires before a temporary permit or license has been issued, candidates will be required to submit a new application, fingerprint card, and fees. There is a $165 fee for the endorsement application. In addition to the requirements that are needed for licensure by exam, candidates must also submit verification of original licensure and transcripts.
RN License for Nurses Educated Abroad
Nurses who were trained abroad must complete the following:
Copy of a Visa Screen for Licensure
Application and fee with a request for a social security number if the candidate doesn't already have one
Legal residency in the United States
RN Salaries in Kentucky
The average mean wage of RNs in Kentucky is approximately $57,520. This figure will often fluctuate for nurses who have sought out higher education. There are over 60,000 nurses actively registered in Kentucky. It is also reported that more students than ever are pursuing a bachelor's degree in nursing. The hospitals in Kentucky provide nurses with many job opportunities in areas such as management, utilization review, quality control, infection control, and wound care specialization. There are also case manager positions available within a hospital as well as home healthcare and community-based healthcare facilities.
Kentucky Registered Nursing Salaries
A majority of the registered nurses are working in the Louisville area. Nurses in this area also make the highest annual median wage.
Source: BLS, Department of Education, State Board of Nursing, Nursing School Websites.