Overview of Nursing Schools in Rhode Island
There are 5 nursing schools in Rhode Island. The CCNE accredits 3 nursing schools and the ACEN accredits 5 schools in Rhode Island.
Typically, an Associate Degree in Nursing (ADN) will take between 18 to 24 months to complete, and a Bachelor Degree in Nursing (BSN) will take about 4 years to complete.
The average NCLEX passing rate range for ADN students in Rhode Island is between 84.60% and 86.80%.
The average NCLEX passing rate range for BSN students in Rhode Island is between 85.46% and 94.98%.
The average annual salary for registered nurses is between $52,080 to $111,220 a year.
Registered Nurses (RN) throughout the country and in Rhode Island can expect a favorable job growth of 15 percent from 2016 to 2026 which much faster than the average for all occupations.
About Nursing Schools in Rhode Island
New healthcare initiatives in Rhode Island have presented nurses with new challenges to face. Some of the challenges that will present themselves include: an aging population, health care reforms, new preventative care initiatives, and the constant evolution of medical technology. There are registered nurses taking the initiative every day and pursuing higher education in order to meet these challenges. An educated nurse is a very powerful member of the healthcare industry. Nurses have busy schedules and life can become more hectic when schooling is added into the mix. Finding the school with the best program can be overwhelming but, at the end of the day, it is worth it.
In our Rhode Island RN program guide, find rankings for both ADN and BSN Degree programs, tuition costs, NCLEX passing rates, and more. Research key Rhode Island RN Program information to help you compare program metrics and to apply to best RN program for your career in nursing.
In the State of Rhode Island, nurses are helping to change the face of healthcare. To ensure that they have the best education and preparation for future health care challenges, registered nurses need to graduate from a state-approved associate's degree in nursing program or a BSN degree program.
Nurses who graduate from an RN program can obtain certification in over 100 nursing specialties, go on to earn an RN to BSN or RN to MSN degree.
BSN degree holders have options to earn an Advance Practice Register Nursing (APRN) degree and become a Nurse Practitioner (NP), or earn an advanced degree for a career in any number of nursing leadership roles such Nurse Educator or Clinical Nurse Specialist.
Rhode Island RN Program Comparisons: ADN vs BSN
| Compare RN Programs | ADN | BSN |
| --- | --- | --- |
| Number of Nursing Programs | 2 | 4 |
| Average NCLEX Passing Rate | 85.63% | 89.11% |
| NCLEX Passing Rate Range | 84.60% to 86.80% | 85.46% to 94.98% |
Nursing Programs Offered by Rhode Island Nursing Schools
Registered Nursing: 5
Family Nurse Practitioner: 2
Adult Acute Care Nurse Practitioner: 1
Adult Gerontology Acute Care Nurse Practitioner: 1
CNL: 1
Rhode Island Nursing Schools with the Most Degree Types
Best Ranked RN Programs in Rhode Island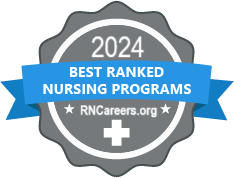 To help nursing students in their search for a top RN program, the education experts at RNCareers.org publish their annual findings of the best nursing schools for both Rhode Island and the country. Schools ranked on our list have proven their ability to educate highly competent nurses.
To create our rankings, we evaluated 2 ADN degree programs and 4 BSN degree programs in Rhode Island. We obtained each institution's first-time NCLEX-RN passing rates, the number of students taking the test, the program nursing accreditation and more. We then compared the results against other nursing programs in Rhode Island to provide our state rankings. View our methodology.
Jump to a Best Ranked Nursing Programs
94.98% 3-Year
Pass Rate
600 Mount Pleasant Ave, Providence, RI - 02908

(401) 456-8000

Nurse Admin: Carolynn Masters, PhD, RN
Title: Dean
NCLEX Passing Rate: (A) 94.98%
Programs: Adult Gerontology Acute Care Nurse Practitioner, Registered Nursing
Award Levels: Bachelor, MSN
University Information
Total Faculty: 319
In-State Undergraduate Tuition: $10,702
Book and Supplies: $1,200
Percent Received Aid: 93%
Average Grant or Scholarship: $5,674
Percent Admitted: 81%
Percent Admitted who Enrolled: 21%
Graduation Rate: 46%
Located in Providence, Rhode Island, Rhode Island College Zavart Onanian School of Nursing offers multiple degree tracks for nursing students. The nursing program at Rhode Island College is ranked among the best in the state and the nation, the average NCLEX-RN pass rate of 97% is a testimony to this ranking. 
The competitive programs and rigorous course-work work towards developing intellectual development, personal growth and professional collaboration among the students. While studying here, the students enjoy the benefits of state-of-the-art technology in classrooms, simulated clinical experiences, and highly dedicated and trained faculty members. Upon completion of their practice in simulation labs, students move on to clinical practice where they learn to take care of patients of all kinds and all ages in different healthcare institutions under the guidance of seasoned healthcare professionals. Students also learn the importance of interdepartmental collaboration, critical thinking, and cultural competence while in clinical rotations.
Rhode Island College also provides Federal Student Aid along with multiple other aids, grants and scholarships to help students fund their education and start their journey of becoming celebrated healthcare professionals.
Undergraduate Programs: Rhode Island College Zavart Onanian School of Nursing Basic Baccalaureate Program B.S.N, Basic Baccalaureate Program for Second Degree Candidate B.S.N., and R.N. to B.S.N. program. All these programs prepare different groups of nursing students for a common goal of serving a diverse population in the challenging healthcare environment of the modern age.
Graduate Programs: At Rhode Island College the M.S.N. degree is intended to prepare expert nurses for roles in advanced practice. Adult/gerontology acute care (CNS or NP role), nurse anesthesia, and population/public health are the three specialty concentrations. 
The Zavart Onanian School of Nursing also houses a Master's program that prepares nurses to become leaders, clinical scholars and experts who can influence healthcare policy. Furthermore, there is also a BSN to DNP program with specialization in nurse anesthesia.
Become an Advance Practice Registered Nurse (APRN) in Rhode Island
RNs who wish to become advanced practice registered nurses will want to pursue any number of avenues to earn Master of Science in Nursing (MSN) degree. Earning a Master of Science in Nursing consists of graduate-level coursework and clinical practice for those nurses who wish to direct patient roles such as a nurse practitioner. You can also pursue indirect patient roles such as teaching or leadership roles, or become involved in policy, state-wide health initiatives or community engagement. There are many clinical and non-clinical avenues that an RN with MSN can pursue.
Become a Nurse Practitioner (NP) in Rhode Island
Learn how to become a Nurse Practitioner (NP) and research schools in Rhode Island offering the following high paying nurse practitioner specialties:
Learn about Doctor of Nursing Practice (DNP) Degree.
Rhode Island RN Licensing Requirements
Pennsylvania State Board of Nursing
PO Box 2649
Harrisburg, PA 17105-2649
(717) 783-7142
Fees:
Initial licensing fee, RN: $35
License renewal (every two years), RN: $65; LPN: $60
Continuing Education Requirements:
RNs: 30 contact hours every renewal period; LPNs: None
RN Licensure by Exams
When a candidate has completed an approved nursing program, he/she will be authorized to work as a Graduate Professional Nurse (GN) while waiting to take the NCLEX. A GN permit is only good for 90 days. Before the candidate is able to apply to the Board, he/she must register for the exam and pay the $200 fee. When the candidate has submitted a background check and a transcript he/she will pay the $135 application fee. When authorization to test has been received, the candidate will be able to schedule the exam. The exam may be retaken but it will require additional fees and paperwork.
RN Licensure by Endorsement
Nurses who obtained licensure in one of the other 50 states may apply for licensure in Rhode Island by endorsement. The candidate will be required to provide verification of licensure.
RN License for Nurses Educated Abroad
Nurses who were educated outside of the United States may be eligible for licensure by examination if the credentials have been evaluated and are found to be at an appropriate level. Candidates will be required to pass an English language proficiency exam.
RN Salaries in Rhode Island
Registered nurses who have obtained a BSN will have a wide selection of positions available to them. Nurses are able to work in specialty areas such as executive positions and certified areas. Some career choices that are available to a baccalaureate prepare nurse include:
Nursing Educators
Obstetrics and Gynecology (OB/GYN)
Certified Pediatric Nurses
Source: BLS, Department of Education, State Board of Nursing, Nursing School Websites.