Overview of Nursing Schools in Minnesota
There are 49 nursing schools in Minnesota. The CCNE accredits 22 nursing schools and the ACEN accredits 23 schools in Minnesota.
On average, attending an RN program in Minnesota will cost you between $8,463.00 and $26,915.00 per year.
In Minnesota, the average undergraduate student borrows between $4,725.00 and $14,000.00 per year.
Typically, an Associate Degree in Nursing (ADN) will take between 18 to 24 months to complete, and a Bachelor Degree in Nursing (BSN) will take about 4 years to complete.
The average, the NCLEX passing rate range for Minnesota ADN students is between 61.99% and 91.59%.
On average, the NCLEX passing rate range for Minnesota BSN students is between 61.88% and 95.65%.
The average annual salary for a registered nurse in Minnesota is between $52,080 to $111,220 a year.
Registered Nurses (RN) throughout the country and in Minnesota can expect a favorable job growth of 15 percent from 2016 to 2026 which much faster than the average for all occupations.
Online BSN Programs Liked by Registered Nurses
Learn about start dates, transferring credits, availability of financial aid, and more by contacting the universities below.
About Nursing Schools in Minnesota
In our Minnesota RN program guide, find rankings for both ADN and BSN Degree programs, tuition costs, NCLEX passing rates, and more. Research key Minnesota RN Program information to help you compare program metrics and to apply to best RN program for your career in nursing.
In the State of Minnesota, nurses are helping to change the face of healthcare. To ensure that they have the best education and preparation for future health care challenges, registered nurses need to graduate from a state-approved associate's degree in nursing program or a BSN degree program.
Nurses who graduate from an RN program can obtain certification in over 100 nursing specialties, go on to earn an RN to BSN or RN to MSN degree.
BSN degree holders have options to earn an Advance Practice Register Nursing (APRN) degree and become a Nurse Practitioner (NP), or earn an advanced degree for a career in any number of nursing leadership roles such Nurse Educator or Clinical Nurse Specialist.
Minnesota RN Program Comparisons: ADN vs BSN
| Compare RN Programs | ADN | BSN |
| --- | --- | --- |
| Number of Nursing Programs | 25 | 25 |
| Average NCLEX Passing Rate | 81.98% | 85.04% |
| NCLEX Passing Rate Range | 61.99% to 91.59% | 61.88% to 95.65% |
| Average Net Price | $12,185.24 | $19,283.76 |
| Average Net Price Range | $8,463.00 to $23,994.00 | $12,269.00 to $26,915.00 |
| Average Student Loan | $10,748.60 | $18,017.42 |
| Average Student Loan Range | $8,000.00 to $25,000.00 | $8,549.00 to $26,457.00 |
| See Additional Detail | ADN Rankings for Minnesota State | BSN Rankings for Minnesota State |
Best Ranked RN Programs in Minnesota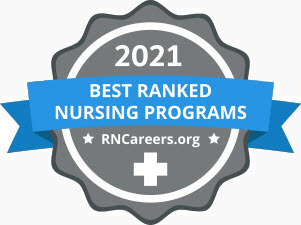 To help nursing students in their search for a top RN program, the education experts at RNCareers.org publish their annual findings of the best nursing schools for both Minnesota and the country. Schools ranked on our list have proven their ability to educate highly competent nurses.
To create our rankings, we evaluated 24 ADN degree programs and 18 BSN degree programs in Minnesota. We obtained each institution's first-time NCLEX-RN passing rates, the number of students taking the test, the program nursing accreditation and more. We then compared the results against other nursing programs in Minnesota to provide our state rankings. View our methodology.
Best Nursing Schools (BSN) in Minnesota
The eligibility for acceptance into a Minnesota BSN program has the same general requirements and they include:
Current Minnesota RN license
Official transcript
Minimum GPA of 2.5 and a 3.0 in previous nursing courses
Completed prerequisite courses
Personal reference forms
Official degree plan completed with an academic advisor
Programs can be completed online or at a campus but the programs are very similar. There is usually a transition course that must be completed before other nurse courses. A typical program requires the following courses:
Theoretical Foundation for Nursing Practice
Nursing Research
Care of Diverse Populations
Public Health Nursing
Gerontological Nursing to Promote Successful Aging
Leadership and Professional Development
#1
3900 Bethel Dr, Saint Paul, MN - 55112
(651) 638-6400
Grade:

(A) 94.85%

Programs:

Registered Nursing

Award Levels:

Bachelor, MSN
It is exciting to study in a major city in the UX and Saint Paul, Minnesota is certainly one of them. It home to Bethel University's Department of Nursing. Students will enjoy being surrounded by the east bank of the Mississippi River at its confluence with the Minnesota River. Proximity
View More →
#1
901 S 8th St, Moorhead, MN - 56562
(218) 299-4000
Grade:

(A) 94.85%

Programs:

Registered Nursing

Award Levels:

Accelerated BSN, Bachelor
Concordia College at Moorhead was founded in 1891 by Norwegian settlers who valued education and their religious heritage. Of note, it opened its doors with 12 students and three instructors. According to its handbook, Concordia College at Moorhead is a four-year liberal arts college focused on preparing students to be
View More →
#2
175 West Mark Street, Winona, MN - 55987-5838
(507) 457-5000
Grade:

(A) 93.15%

Programs:

Adult Gerontology Acute Care Nurse Practitioner, Adult Gerontology Primary Care Nurse Practitioner, Family Nurse Practitioner, Registered Nursing

Award Levels:

APRN Certificate, Bachelor, BSN to DNP, MSN, MSN to DNP, Post Master's NP Certificate, RN to MSN
Founded in 1858, Winona State University is the oldest member of the Minnesota State System of colleges and universities. Founded in 1858 as a teacher training school, it now serves students on two campuses in Winona and Rochester, Minnesota. Nursing is a standout among the over 80 majors. Students enjoy small class sizes and expert, caring
View More →
#3
37 S. College Ave., Saint Joseph, MN - 56374
(320) 363-5011
Grade:

(A) 91.45%

Programs:

Registered Nursing

Award Levels:

Bachelor
#4
720 Fourth Ave. South, Saint Cloud, MN - 56301-4498
(320) 308-0121
Grade:

(A) 91.27%

Programs:

Registered Nursing

Award Levels:

Bachelor
St. Cloud State University is located in Saint Cloud, Minnesota.  They offer both a BSN and an RN to BSN program.  St. Cloud State University is proud to note that they offer education to over 700 student veterans and active military servicemen and servicewomen.
Best Nursing Schools (ADN) in Minnesota
Nursing students in Minnesota have the option of attending schools that have partnerships with universities under the Minnesota Alliance for Nursing Education (MANE).  MANE allows students to advance into BSN degrees post-graduation quickly and easily.  This allows students to begin their education at a community college and finish at the university-level, whether it is transferring when appropriate credits are earned or after the RN degree is earned.
#1
9700 France Ave S, Bloomington, MN - 55431-4399
(952) 358-8200
Grade:

(A) 92.00%

Programs:

Registered Nursing

Award Levels:

Associate
Normandale Community College is located in Bloomington, Minnesota.  They offer an ADN program.  While there is not a specific LPN to RN program, LPNs do take a separate transitions course in place of a 9 credit foundations course.  Normandale nursing students can also earn their BSN in conjunction with various
View More →
#2
851 30th Ave SE, Rochester, MN - 55904-4999
(507) 285-7210
Grade:

(A) 91.70%

Programs:

Registered Nursing

Award Levels:

Associate
Rochester Community and Technical College is located in Rochester, Minnesota.  They offer an ADN degree.  There is not a separate LPN to RN program, but LPNs are given advanced placement based on their past education and licensure.
#2
501 West College Drive, Brainerd, MN - 56401-3900
(218) 855-8000
Grade:

(A) 91.70%

Programs:

Registered Nursing

Award Levels:

Associate
Additional Listings for Minnesota Nursing Schools
Become an Advance Practice Registered Nurse (APRN) in Minnesota
RNs who wish to become advanced practice registered nurses will want to pursue any number of avenues to earn Master of Science in Nursing (MSN) degree. Earning a Master of Science in Nursing consists of graduate-level coursework and clinical practice for those nurses who wish to direct patient roles such as a nurse practitioner. You can also pursue indirect patient roles such as teaching or leadership roles, or become involved in policy, state-wide health initiatives or community engagement. There are many clinical and non-clinical avenues that an RN with MSN can pursue.
Become a Nurse Practitioner (NP) in Minnesota
Learn how to become a Nurse Practitioner (NP) and research schools in Minnesota offering the following high paying nurse practitioner specialties:
Learn about Doctor of Nursing Practice (DNP) Degree.
Online NP Programs Liked by Minnesota Nurses
Learn about start dates, transferring credits, availability of financial aid, and more by contacting the universities below.
Minnesota RN Licensing Requirements
Minnesota State Board of Nursing
2829 University Avenue SE
Suite 200
Minneapolis, MN 55414
Phone: (612) 617-2270
Website: http://www.nursingboard.state.mn.us/
Fees:
Initial licensing fee, RN: $115.50
License renewal (every two years), RN: $93.50
Continuing Education Requirements:
RNs: 24 contact hours every renewal period LPNs: 12 contact hours every renewal period
A candidate is required to complete a professional nursing program that has been approved in Minnesota or the board in one of the other 50 states. As of 2016, nursing programs in Minnesota will be required to hold programmatic accreditation or candidate status. There are several resources available to nurses who are looking for the best nursing program possible. One resource is the Minnesota Student Nurses Association and membership is not required.
RN Licensure by Exam
Before a candidate can apply for the NCLEX exam, he/she must submit a Registered Nurse Licensure by Examination Application and submit the necessary non-refundable fee. Candidates must also provide evidence that they have not engaged in conduct, which warranted disciplinary action. The school must submit a completed Confirmation of Program Completion from a nursing program. When these steps have been completed, register to take the NCLEX through the Pearson VUE website and schedule a test when an authorization to test has been received. This authorization is valid for 90 days.
RN Licensure by Endorsement
Registered nurses who have obtained licensure in one of the other 50 states may obtain licensure in the state of Minnesota by endorsement. In order to be granted licensure by endorsement, candidates must complete the following:
Submit a Licensure by Endorsement Application form and fee
Verification of Licensure
Confirmation of Nursing Employment for Licensure by Endorsement
RN License for Nurses Educated Abroad
In some cases, nurses can gain licensure after being trained in a foreign country. In order to do so, the following tasks must be completed:
Pass an approved English proficiency test such as TOEFL unless the candidate has graduated from a nursing education program in an English-speaking country
Successfully pass the NCLEX exam
Acceptable non-refundable application fee
RN Salaries in Minnesota
There are many options available to nurses who have obtained a bachelor's degree. Some of the options include: long-term care facilities, hospice, occupational, public health departments, clinics, schools, and home health. This degree will prove to be worth the time and hard work that are used in obtaining a bachelor's degree. There are currently more than 57,000 registered nurses working in Minnesota earning a mean average income of $67,930 annually. Salaries are dependent on years of experience, education, and specialization area. The management positions tend to pay a higher salary.
Minnesota Registered Nursing Salaries
The Minneapolis metropolitan area has the largest amount of registered nurses employed than any other area. However, the St. Cloud metropolitan area has the highest hourly mean wage and annual median wage.
Source: BLS, Department of Education, State Board of Nursing, Nursing School Websites.
Take the next step toward your healthcare future with online learning.
Discover schools with the programs and courses you're interested in, and start learning today.