Overview of Nursing Schools in Utah
There are 17 nursing schools in Utah. The CCNE accredits 8 nursing schools and the ACEN accredits 12 schools in Utah.
On average, attending an RN program in Utah will cost you between $6,799.00 and $32,165.00 per year.
In Utah, the average undergraduate student borrows between $4,725.00 and $14,000.00 per year.
Typically, an Associate Degree in Nursing (ADN) will take between 18 to 24 months to complete, and a Bachelor Degree in Nursing (BSN) will take about 4 years to complete.
The average, the NCLEX passing rate range for Utah ADN students is between 54.47% and 186.10%.
On average, the NCLEX passing rate range for Utah BSN students is between 71.11% and 98.67%.
The average annual salary for a registered nurse in Utah is between $52,080 to $111,220 a year.
Registered Nurses (RN) throughout the country and in Utah can expect a favorable job growth of 15 percent from 2016 to 2026 which much faster than the average for all occupations.
Nursing Programs Recommended by Our Education Experts
Learn about start dates, transferring credits, availability of financial aid, and more by contacting the universities below.
About Nursing Schools in Utah
Utah has had a nursing shortage for several years and has been working hard to fill the voids. Nursing schools have responded to the call by creating nursing programs with flexibility to meet the needs of busy, working adults.
Nursing is becoming one of the best career choices in Utah, especially during the current times. There are currently 23,690 Registered Nurses employed in Utah across all kinds of healthcare facilities. These nurses earn $71,353 on average, with the ones with more than 20 years of experience earning more than $92,000 annually. However, these figures are expected to go up exponentially as the state is projected to need 30,000 RNs by 2028, which means that the annual wage will also increase.
In addition, if you are planning to work in Utah as a Nurse Practitioner, you'd be happy to know that the 1,610 NPs working there are currently earning $158,890 on average annually. Also, the state is expected to need 590 NPs more by the year 2028, which means an average annual opening of 170 NPs. NPs in Utah have a Reduced Practice authority which means that the State practice and license laws reduce the ability of all NPs to engage in at least one element of NP practice. The NPs require career-long regulated collaborative agreements with another healthcare provider in order to provide patient care.
It is also good news that Utah is one of the many states that have implemented the Enhanced Nurse Licensure Compact (eNLC). An eNLC allows nurses to work in the Nurse Licensure Compact states regardless of which state they obtained their license in. Therefore, if you are an RN or LPN currently holding a license in another Nurse License Compact state, then you will not need to obtain a separate license to work in Utah. However, this legislation currently doesn't benefit the APRNs, so they will have to pass their licensure examination and obtain a license in Utah should they wish to practice here.
Utah has multiple high-ranking nursing schools that are equipped with state-of-the-art facilities and highly-qualified instructors. These schools offer multiple courses at the graduate and undergraduate levels, leading up to PhD and DNP as well.
In our Utah RN program guide, find rankings for both ADN and BSN Degree programs, tuition costs, NCLEX passing rates, and more. Research key Utah RN Program information to help you compare program metrics and to apply to best RN program for your career in nursing.
In the State of Utah, nurses are helping to change the face of healthcare. To ensure that they have the best education and preparation for future health care challenges, registered nurses need to graduate from a state-approved associate's degree in nursing program or a BSN degree program.
Nurses who graduate from an RN program can obtain certification in over 100 nursing specialties, go on to earn an RN to BSN or RN to MSN degree.
BSN degree holders have options to earn an Advance Practice Register Nursing (APRN) degree and become a Nurse Practitioner (NP), or earn an advanced degree for a career in any number of nursing leadership roles such Nurse Educator or Clinical Nurse Specialist.
Utah RN Program Comparisons: ADN vs BSN
| Compare RN Programs | ADN | BSN |
| --- | --- | --- |
| Number of Nursing Programs | 11 | 11 |
| Average NCLEX Passing Rate | 92.40% | 86.33% |
| NCLEX Passing Rate Range | 54.47% to 186.10% | 71.11% to 98.67% |
| Average Net Price | $15,238.00 | $15,556.00 |
| Average Net Price Range | $6,799.00 to $32,165.00 | $9,122.00 to $32,165.00 |
| Average Student Loan | $10,113.10 | $11,545.70 |
| Average Student Loan Range | $3,500.00 to $15,275.00 | $8,075.00 to $17,936.00 |
| See Additional Detail | ADN Rankings for Utah State | BSN Rankings for Utah State |
Best Ranked RN Programs in Utah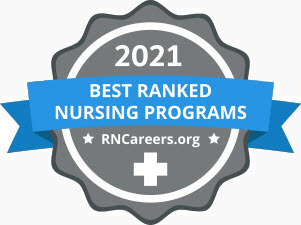 To help nursing students in their search for a top RN program, the education experts at RNCareers.org publish their annual findings of the best nursing schools for both Utah and the country. Schools ranked on our list have proven their ability to educate highly competent nurses.
To create our rankings, we evaluated 7 ADN degree programs and 7 BSN degree programs in Utah. We obtained each institution's first-time NCLEX-RN passing rates, the number of students taking the test, the program nursing accreditation and more. We then compared the results against other nursing programs in Utah to provide our state rankings. View our methodology.
#1
4001 South 700 East Suite 700, Salt Lake City, UT - 84107
(801) 274-3280
Grade:

(A) 97.91%

Programs:

CNL, Registered Nursing

Award Levels:

Accelerated BSN, Bachelor, MSN, RN to MSN
Western Governors University is located in Salt Lake City, Utah.  WGU is a non-traditional university and their education is based on competencies, which means that their approach allows the students to learn things they do not already know, taking into consideration past education and work experience. Western Governors University allows
View More →
#2
351 West University Blvd, Cedar City, UT - 84720
(435) 586-7700
Grade:

(A) 95.50%

Programs:

Registered Nursing

Award Levels:

Bachelor
Southern Utah University offers a learning-centered education that meets the requirements of both the students and employers. The courses combine classroom and experiential learning, emphasizing caring, critical thinking, patient safety, ethical decision-making, communication, civic responsibility, and professional excellence.  The University offers small class sizes, career-focused learning, and hands-on experience that
View More →
#3
800 W University Parkway, Orem, UT - 84058-5999
(801) 863-8000
Grade:

(A) 92.53%

Programs:

Registered Nursing

Award Levels:

Associate, Bachelor
One of the leading nursing colleges in the state, Utah Valley University, prepares nurses for a successful nursing career via a team-oriented learning process and highly skilled faculty. Students learn the required knowledge and clinical judgment skills in order to provide expert nursing care in a dynamic healthcare environment.  Nursing
View More →
#4
225 S University Avenue, Saint George, UT - 84770-3876
(435) 652-7500
Grade:

(A) 92.20%

Programs:

Registered Nursing

Award Levels:

Associate, Bachelor
Dixie State University is located in St. George, Utah.  DSU offers an ADN program and an RN to BSN program.  Students enrolled in the ADN program may continue into the RN to BSN program without reapplying if they pass their courses and the NCLEX-RN.  The RN to BSN program can
View More →
#5
201 Presidents Circle, ROOM 201, Salt Lake City, UT - 84112-9008
(801) 581-7200
Grade:

(A) 91.80%

Programs:

Adult Gerontology Acute Care Nurse Practitioner, Adult Gerontology Primary Care Nurse Practitioner, Adult Nurse Practitioner, Adult Psychiatric - Mental Health Nurse Practitioner, Family Nurse Practitioner, Neonatal Nurse Practitioner, Pediatric Primary Care Nurse Practitioner, Psychiatric-Mental Health Nurse Practitioner, Registered Nursing, Women's Health Nurse Practitioner

Award Levels:

Accelerated BSN, APRN Certificate, Bachelor, BSN to DNP, BSN to PhD, MSN, MSN to DNP
University of Utah College of Nursing is the only college of nursing with a PhD program in Utah, and it is committed to serving the people of Utah and beyond. The college aims for excellence in education, research, and clinical care. Students learn in a diverse, inclusive, and independent environment
View More →
Become an Advance Practice Registered Nurse (APRN) in Utah
RNs who wish to become advanced practice registered nurses will want to pursue any number of avenues to earn Master of Science in Nursing (MSN) degree. Earning a Master of Science in Nursing consists of graduate-level coursework and clinical practice for those nurses who wish to direct patient roles such as a nurse practitioner. You can also pursue indirect patient roles such as teaching or leadership roles, or become involved in policy, state-wide health initiatives or community engagement. There are many clinical and non-clinical avenues that an RN with MSN can pursue.
Become a Nurse Practitioner (NP) in Utah
Learn how to become a Nurse Practitioner (NP) and research schools in Utah offering the following high paying nurse practitioner specialties:
Learn about Doctor of Nursing Practice (DNP) Degree.
MSN Programs Recommended by Our Education Experts
Learn about start dates, transferring credits, availability of financial aid, and more by contacting the universities below.
Utah RN Licensing Requirements
Utah State Board of Nursing
Heber M. Wells Building
160 East 300 South
Salt Lake City, UT 84111
(801) 530-6701
RN Licensure by Exams
Candidates are encouraged to apply to the board during the final semester of nursing school. This will allow for licensure to be gained as soon as the candidate is eligible. There is a $60 fee for the application and two $20 fees for background checks. The background check must be completed through both the Bureau of Criminal Identification and the Federal Bureau of Investigation. Candidates will need to register for the NCLEX ahead of time and pay the $200 testing fee. Official transcripts will be sent to DOPL immediately after graduation. At this point, as long as all requirements have been met, the candidate will be issued authorization to test (ATT) and will be able to schedule the exam. In the case that a candidate is unsuccessful, the candidate may submit a notice of intent to retake in order to verify eligibility.
RN License by Endorsement
A registered nurse who obtained licensure in one of the other 50 states will be able to gain licensure in Utah by endorsement. The candidate will be required to submit verification of licensure. If the candidate is declaring Utah as their primary residence, they must submit a Utah address to the board within 30 days of arriving in the state.
RN License for Nurses Educated Abroad
Registered nurses who obtained licensure outside of the United States will be required to pass the Commission on Graduates of Foreign Nursing Schools (CGFNS) qualifying exam and submit a credential evaluation before taking the NCLEX exam.
RN Salaries in Utah
Salaries in the state of Utah are dependent on the experience and education level of the individual registered nurse. However, the median salary in Utah is just under $59,000 annually. Obtaining a bachelor's degree opens up many opportunities to nurses that would not have been previously available. Some positions include home health care and community agencies. There are also job opportunities outside of direct care, which include case management, among other exciting careers. Advanced training can even open up roles such as hospice care managers.
Utah Registered Nursing Salaries
The Salt Lake City metropolitan area has the highest number or registered nurses employed than any other area statewide. In addition, it also has the highest hourly mean wage and annual median wage.
Source: BLS, Department of Education, State Board of Nursing, Nursing School Websites.
Take the next step toward your healthcare future with online learning.
Discover schools with the programs and courses you're interested in, and start learning today.