What is a Midlevel Provider?
Before getting into the difference between a Nurse Practitioner (NP) and Physician's Assistant (PA), we should probably define the general healthcare provider category that they fall into. NPs and PAs are what we call midlevel providers. This means that they are not medical doctors but have some additional privileges and responsibilities in comparison to nurses. Midlevel providers see patients for routine exams, sick visits, round on patients in hospitals, prescribe medications, order labwork and imaging, and do minor procedures. Midlevel providers have at minimum a master's degree and earn their degrees after 2-3 years of studying. Both NPs and PAs make competitive and similar salaries. They also have similar job descriptions in their given clinical settings. However, there are some key differences between NPs and PAs that we will cover here.
Online Nursing Programs That Might Interest You
Learn about start dates, transferring credits, availability of financial aid, and more by contacting the universities below.
What is a Nurse Practitioner?
Earning your MSN will prepare you to practice nursing at the advanced level by enhancing your assessments, diagnostic, and treating skills. You will have training in using evidence based methods to provide care which will directly impact patient outcomes. With your MSN you will naturally become a leader in the nursing field. You will be equipped to make positive changes in the healthcare system that will benefit the nursing profession and the patients that you serve. RN to MSN programs take your nurse training to the next level. You will delve further into effective treatment methods, making bigger system changes, and impacting patients, families, and populations as a whole. You will play a vital role in improving patient care, enhancing safety, and positively impacting healthcare on a global level. You will have the flexibility and knowledge to shift the way you practice nursing if you desire. You can transition to a more research focused role, business role, or education role if you desire. This will enable you to stay engaged and be a life-long learner as you progress through your nursing career. If that isn't enough of  reason to get your MSN, master's prepared nursing also earn higher salaries.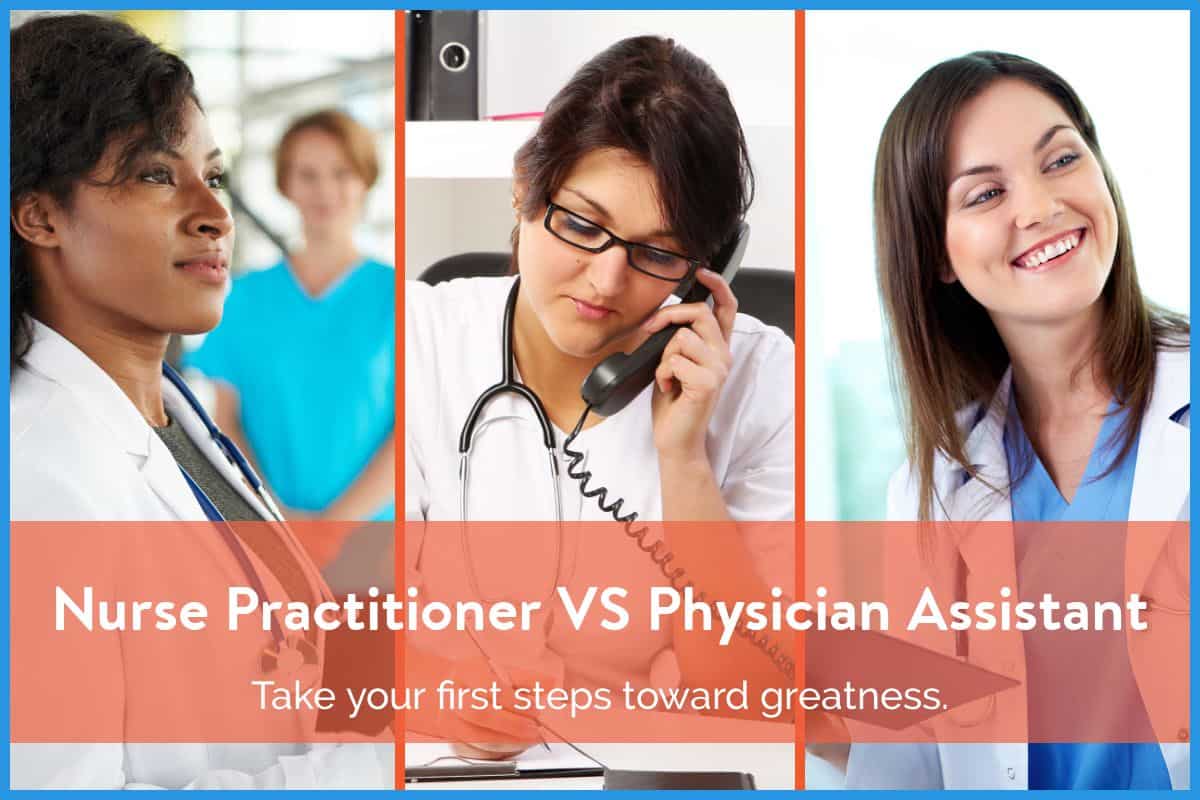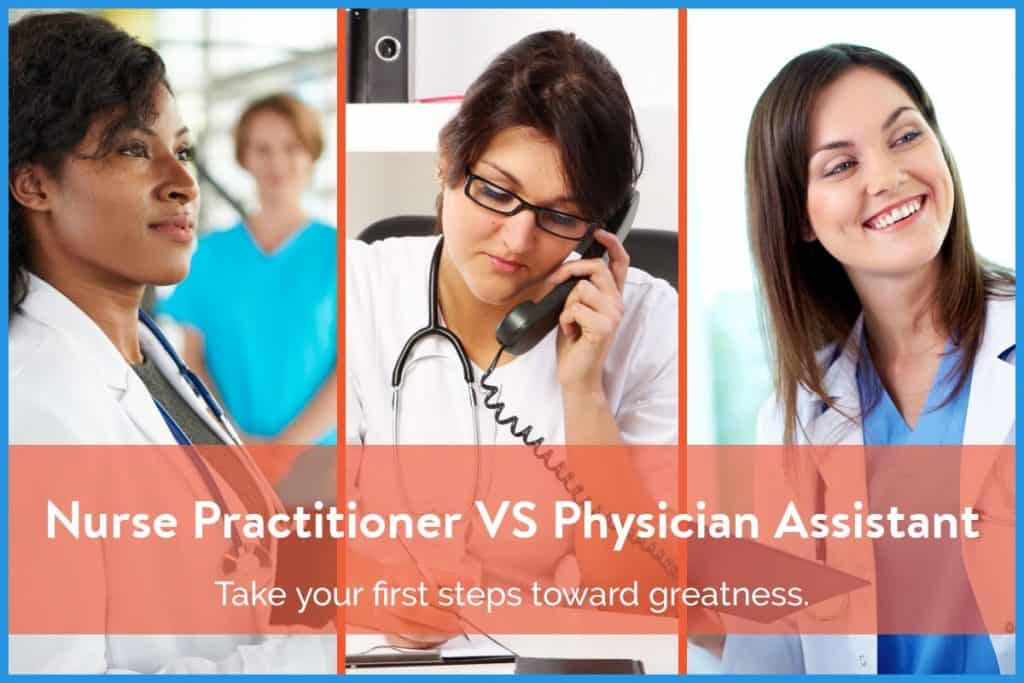 What is a Physician's Assistant?
A PA is a midlevel provider who has master's degree and like an NP has completed a certain number of clinical hours during their program. Unlike many NP programs most PA programs require you to have around 1000 hours of some type of clinical healthcare experience to even enroll in the program. PA's work as a part of a healthcare team to deliver care to patients in a variety of settings. Physician's assistants can work in primary care, acute care, operating rooms, specialty practices and more. They can also work with people of all ages depending on their training and experience. PAs like NPs can assess, diagnose, and treat patients through writing prescriptions.
What are the Key Differences?
Population focus: While NPs need to choose a population focus when they enroll in their program, PAs do not. They are trained across multiple ages and disciplines. This gives them a bit more flexibility later in their careers where they can change populations or specialties that they work in. NPs can also change their clinical focus, but they cannot change populations without re-certifying. For example: a, Adult Gerontology NP cannot work with children.
Supervising physicians: Most states require that PAs have a practice agreement with a physician where they work. For NPs this depends on the state. In some states NPs can have their own practice while this is not an option for PAs.
Program length: In general PA programs take about 3 years. NP programs are typically 2 years in length though some may be 3. A lot of this depends on if you enroll full-time or part-time, and what type of NP program you are doing.
Prior clinical experience: PA schools typically require that you have a minimum of 1000 hours of prior clinical experience. Whether this is through prior EMT work, nursing, or other clinical fields it does not matter as long as it involves direct care. NP schools do not necessarily require previous clinical experience.
Transitional programs: Because all prospective PAs are required to have a Bachelor's degree, there are no "Direct Entry" options or transitional programs for RNs without BSNs.
More clinical hours: PA programs require around 2000 hours of hands on supervised clinical experience during the 3 year program. NP school requirements are less. Part of this is because many NPs also have experience as nurses, and part of this is because NPs do not do rotations in surgical specialties.
Different education models: PA school is modeled after the medical school curriculum while NP school is more nursing focused and holistic in nature.
Certification and Licensure: Since the two professional roles are regulated by different professional bodies, there will be differences in certification and licensure. NPs need to be an Registered Nurse (RN) first, and take their certification exams through their certifying body. Then they must apply for licensure through the Board of Nursing in their state. When PAs finish school they take the Physician's Assistant National Certifying Exam. Then to become licensed they need to apply through the appropriate board in their state. This is usually a medical board or PA specific board.
Prospective Salary and Job Growth
Both NPs and PAs earn competitive and similar salaries. For both types of practitioners salaries can depend on location of work, specialty, and years of experience. PAs may have the potential to earn more than NPs if they are able to work in surgical roles that NPs would not be qualified for. According to the Bureau for Labor Statistics (BLS) PAs earn a median salary of $104,860 per year and the profession is expected to grow by 37 percent by 2026. There is no denying that this is a very attractive salary and potential for career growth. The BLS also says that NPs make a median of $103, 880 annually and that the field is expected to grow by 36 percent by 2026. So clearly if salary and job prospects are your main concern there is not much difference between being a PA or NP.
Online Nursing Programs That Might Interest You
Learn about start dates, transferring credits, availability of financial aid, and more by contacting the universities below.
Education Cost
We have already discussed the basic differences between PA and NP school, but what about cost? It is no surprise that education in the US is expensive, and the cost of graduate school may be intimidating to you. Luckily, whether you choose the NP or PA route, you will make a decent salary. Education program costs can be similar for both type of providers. With NP programs, you may find yourself spending a little less due to the programs being shorter than PA school. Additionally, NP preceptors (or the professionals who wills supervise you during your clinical experiences) may be doing so on a voluntary basis. This means that their paycheck will not have to be factored into your tuition. By applying to state schools where you are a resident you can also save some money. Plus with nursing being the booming field that it is, you will have the option to apply for many different scholarships. Here are two examples of NP and PA school cost for you to compare.
For nurses there are also numerous programs available to help you pay their debt. While there are PA scholarships as well and while you could be eligible for some loan repayment programs as a PA, the nursing shortage has given an added incentive for nursing specific programs to be developed. The following programs may be an option for you when you decide to pay off your NP debt.
Military Programs
Individual Hospital Repayment Programs
Online Programs
With the world turning more and more to technology, online programs are becoming a common way for people to pursue higher education. There are many NP programs in the country that are online. This means that from the comfort of your home you can attend classes, complete assignments, have class discussions, and even take some quizzes. These programs offer flexibility to the busy professional trying to juggle all of life's commitments. For PA school there are similar online options. For both online NP and PA programs you just need to remember that you will still have to complete your hands on clinical hours. This ideally can be arranged in a location near you with some help from your school.
References:
Denisco, S. M., Barker, A. M., (2016). Advanced practice nursing: Essential knowledge for the profession. Burlington, MA: Jones and Barlett Learning.
Take the next step toward your healthcare future with online learning.

Discover schools with the programs and courses you're interested in, and start learning today.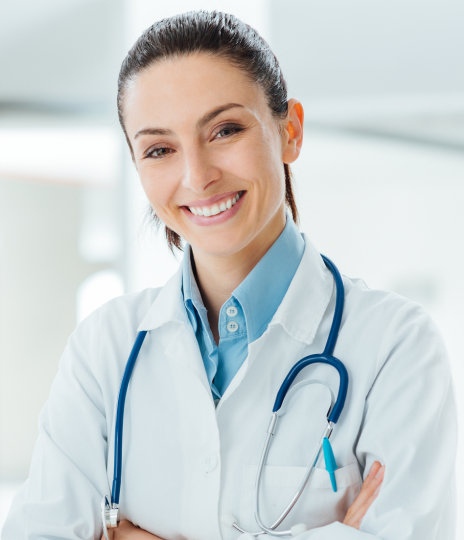 Lauren is a Registered Nurse and Women's Health Nurse Practitioner who works in an OB/GYN clinic in the Boston area. She completed a Direct Entry MSN program at Boston College in May 2017 after obtaining a BS in Forensic Science and a BS in Biology from the University of New Haven, so she has special awareness of how confusing the many paths to nursing can be! She is passionate about enhancing and clarifying the nursing role globally as well as combatting human trafficking from a public health standpoint. In her free time Lauren enjoys writing and traveling.
Sources: 50 State Boards of Nursing, University Websites, U.S. Department of Education, Bureau of Labor Statistics. Ranking Methodology.